Welcome back to a some what overdue Neo Jurassic era with today's carnivore trio being the speedy Carnotaurus, the snappy Baryonyx and the fierce Allosaurus.
Carnotaurus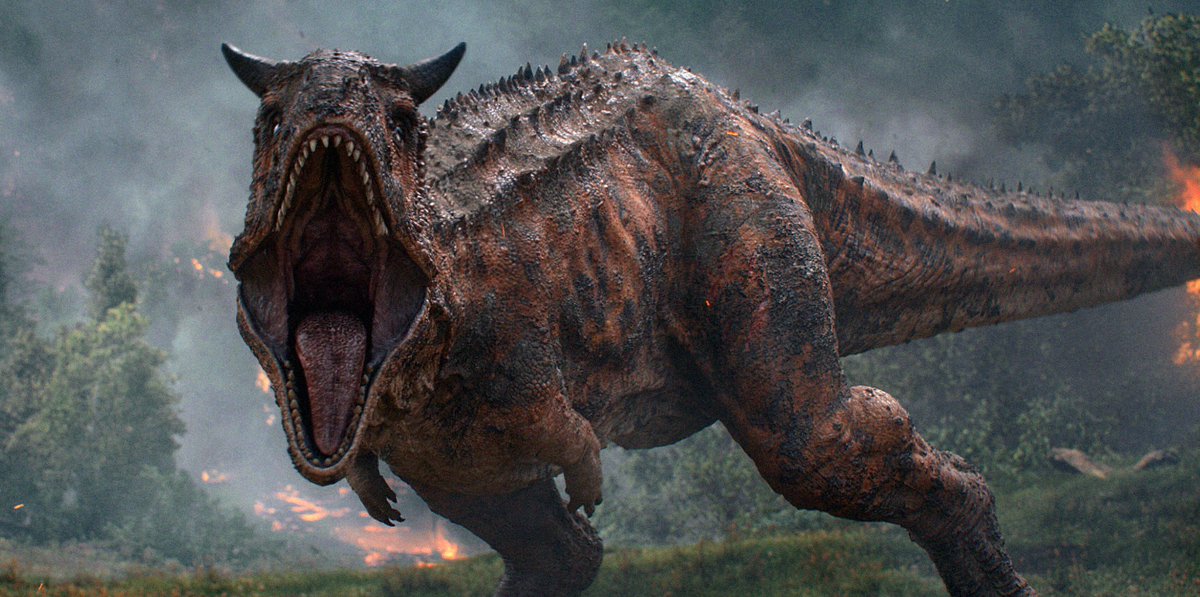 Carnotaurus was one of InGen's largest med size theropods and in 2018 at least 2 to 5 were saved from nublar including a individual who had a broken horn and a scar across his face and they were freed the lockwood estate. Habitats carnotaurus prefer are redwoods,forests and prairies not far from forests. the carnotaur population is about 980 and they lay about 6 to 7 eggs. Male carnotaurus are dark red while the females are light red.
Carnotarus live in pairs but while join up with others when hunting prey. Rivals predators to carnotaur are Teratophoneus,Ceratosaurus,Allosaurus and Albertosaurus but the one predator they have a strong rival with is the t rex which will chase carnotarus of kills and will kill them when she gets the chance. Prefer prey of carnotaurus are elk,deer,both species of parasaurolophus,hadrosarus,Nasutoceratops and others. but there major prey is Sinoceratops and Pachyrhinosaurus.
Baryonyx
The baryonyx cloned by ingen which a odd and unique dinosaur and in 2018 3 to 5 were saved with one being sold to a unknown location with the remaining one's escaping the estate. the habitats baryonyx live in are forests such as redwoods and river to lakes. the baryonyx population is about 1,011 strong and baryonyx lay about 7 to 8 eggs.
Just like most med theropods baryonyx lived in pairs and small groups which helps them when fishing and hunting. rival predators include Suchomimus,carnotarus,t rex,Albertosaurus,Ceratosaurus and others baryonyx is also know to chase of small carnivores from kills. Prey of baryonyx include deer,elk,fish,corythosaurus,hadrosaurus, ankylosaurus and other species.
Allosaurus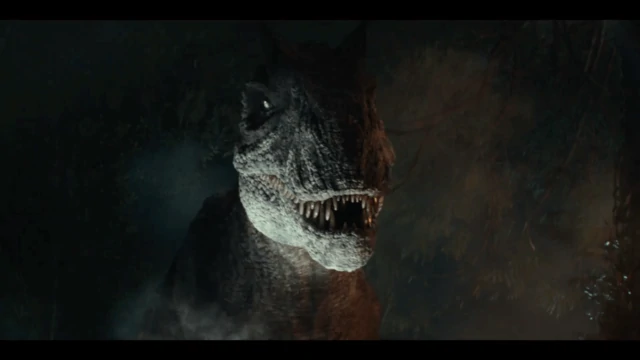 Allosaurus was one of Jurassic's most know predators. in 2018 about 5 were saved from Mt sibo with one juvenile sold with the other being set free into the winderness. Allosaurus prefer habitats in California are forests mainly redwoods and conifer to rocky hills and valleys. population is about 854 with them laying up to 8 to 6 eggs. male allosaurus have red on there crest.
Allosaurus while live in pairs but will split up when hunting at times but they like to work in groups when there are herds of prey. rivals of allosaurs are t rex,carnotarus,albertosarus,Ceratosaurus and Teratophoneus. prey includes Hadrosaurus,elk,deer,bears even,Stegosaurus,Pachycephalosaurus,Gallimimus and other species Nasutoceratops is a major food source for allosaurus.
The first major sighting for allosaurus was at battle at big rock were it hunted some Nasutoceratops and failed to kill some campers. the allosaurus was most likely picking young of from the Nasutoceratops pair with the last one remaining due to not having a protection of a group.