Yes, my friends, it is here!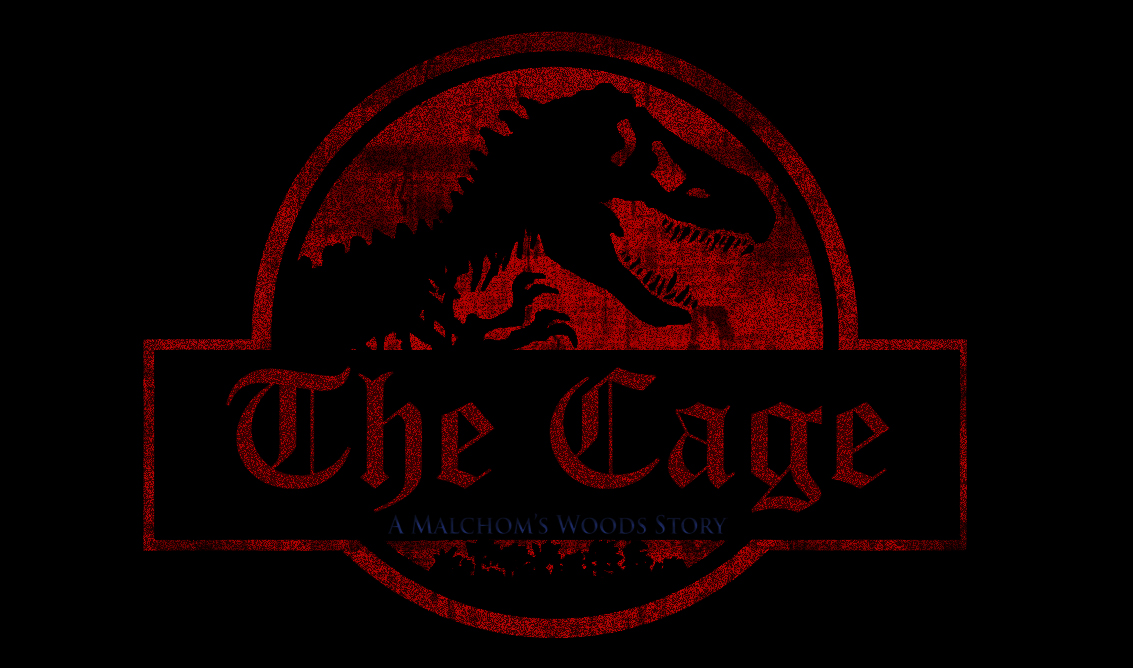 Last year I started pre-production on a short story that would tell the tale of The Cage, a mysterious structure that, in our main story, Malchom's Woods, Joshua Malchom stumbles across on his way through New Mexico. There, in chapter 9, Joshua was abhorred by the scene of bodies, massacred only a few hours before his arrival, by a pack of creatures. In November, I started writing, and now, months of writing have come to this. I hope you guys enjoy this, I've put a lot of effort into this spin-off. This is also my first horror-themed take.
Be sure to leave a ❤️ below to make sure this post stays hot.
NOTE: There are some scenes of gore here, which might not be suitable for younger audiences. With that, let's begin!
Prologue
Summer heat, the morning Sun, shining down on a lonely one...
Bleeding, dying, letting spirit go, done slaying that beastly foe...
Ten remained, though none survived, the time of reaping of souls had arrived...
Dragons, Basilisks, Serpents of old, come to devour those so bold...
The time had come, foretold by none, No where to hide, no where to run...
The desert quiet, the wind now died, The judgment of terror left no one alive...
Day 1: In The Year 2019...
Its hot. It's always hot. I guess that's what we get for being here. I'm sweating so bad, that my clothes are soaked. However, its actually good, because now I feel a little cooler, because its windy, and cool air and water on the skin is a blessing here in New Mexico. Jeff is talking to me, saying something about how most of the plants in the garden are dying, like I don't know we're in a drought; like I don't know there's a way to get water from the lake to use on them, but we barely have a way to get it back home. I glance at him, and he looks tired, and dry looking, as he leans against the fencing. I ask him when his father and uncle get back from hunting. They only go out for a few hours at a time. He says he doesn't know. They haven't been getting good food, so I shouldn't have hoped for having a normal-sized dinner. This drought is beyond terrible, and you know, its not the only thing to deal with. My mind strays to thoughts of why we can't leave. Dinosaurs, a sickness, and ultimately a drought. I wish we could leave... I think of the disease, BX: a name to dread, a name to fear, though we don't know what it means. It's a strange thing, a type of Virus I guess, that just appeared. I remember when everyone just up and left Lakewood. It does something to the animals, and to Humans as well. We're afraid of it, because can mutate, and, KILL. All I think of is how much I want to leave. But the dinosaurs are there. Where the heck did the dinosaurs come from? I know where they came from however(I visited the park they came from a few years before all this), but how did they get to the mainland? The news gave vague information of course: a little thing about some guy named Mills, another name, Lockwood, both dead, and both part of a shifty scheme gone haywire. But that was all you got, and soon it hardly mattered.
I think about how the old town used to be. It was small, but a nice, quiet place. Now its dry, and there's nothing to eat. That reminds me that I'm hungry: I tried to forget I'm hungry, so we don't eat too much; we need to conserve food. We had a small population of two-hundred, and now its a meek ten, comprised of three families:
1. The Reynolds, comprised of Jeffrey, his mother, Catty, his father, Ben, and his uncle Kyle
2. The Lynch's, comprised of Eric, and his two daughters, Michelle and Whitney
3. The Haysons(my family), comprised of me, Timothy, and my parents, Jack, and Amy.
We live in a group of houses--two on one side of the road, one on the other--inside of a man-made structure made from fences, constructed to be taller than two men. In the eastern section of the big thing, there is a garden. The garden is almost completely dead, and to the west part, rests the big entrance(made from salvaged telephone poles, and yet more fencing). The reason for the fences is, well, for protecting the group... protecting it from the dinosaurs.
Day 2: Living Omens
I'm sitting in a rocking chair, on the porch of the Lynch's residents. It's quiet around here, but the chair creeks, and there's a flock of ravens down on the ground, about three yards ahead of me. They're looking for food, just like us, which is too bad: They won't find any here. Birds always interested me, specifically the birds of prey like eagles and hawks. These birds are of no interest to me though. Ravens and crows: birds of decay, and omens of bad luck. I hear a voice behind me. Its Whitney, Whitney Lynch. She's thirteen, with brown hair, and bright blue eyes. She's a spitting image of her mother, whom died when Whitney was only four. Her name was Elizabeth, and she passed away in a house fire before they moved here. She says, "Sorry, we don't have any more." I had been sent by my own still living mother to ask them if they had any eggs to spare. We used to own chickens, but all of them are gone now. And so, we now instead look for dinosaur, or perhaps random bird eggs when we go out. Still, they're never as good as the true breakfast staples. I sit up, and tell her, "Thanks." She nods back, and says that maybe one day we can search for some stray fowl to bring back. I think to myself that we would probably eat them before even getting eggs. I don't say what I'm thinking, because I wouldn't want to destroy her hopes... at least she still has some. I start walking down the stairs, in the direction of my place, and at that very moment, I hear yelling. I perk up, and look around, seeing nothing, but eventually my eyes look towards the west, to see movement. Its Ben and Kyle, back from hunting, but... they're running, and behind them is one of THEM. I yell, to whoever can hear me to open the entrance. If we didn't hurry, they were going to die. I jump from the second step down, and sprint towards the entrance.
Out of the house behind me, comes Whitney's dad, and my own father, Jack from my house. They to see the two brothers out in the desert, running towards us. We finally make it to the gate, and start removing the telephone pole pushed against the gate, held in place by a stone, to keep it shut. Me and Eric role it away, as my Dad starts unlocking the chains which are in place as a fail safe. While he does so, the men are getting closer, and the thing behind them lets out a beastly roar. When the final chain is removed, they are just twenty or so feet away, and the gate flies open. We're yelling at them to hurry, but I can see the two are going as fast as they can. Finally, they make it inside, and now the thing that was chasing them, is just ten feet farther away than where they were when we managed to unlock the gate. Everyone was panicking now, the monster coming closer. By sheer chance it seems, we manage to lock the chains back in place fast enough. Then Kyle yells to everyone to pick up the pole. All together, we lift, our muscles burn once more as we put in place, but now we have two more pairs of arms to help. The poles in place, but we know what will happen next. By no one's orders, everyone bolts away from the fencing, and to their houses. I hope the fence holds.
The creature finally makes it to the fence. Its snarling, and roaring at us inside, agitated that we made it safely inside. Everyone is silent, as it paces back and forth, letting out bursts of hot air from it's mucus-draining nostrils. I hear someone yelling, and so I turn to my left, and see Ben loading his shotgun. It seems he wants to shoot the animal through the fencing. Not smart, because it may not hit it. I tell him to stop, that he's just going to waste ammo. Too late, he fires, and it hits the animal. As the spray comes in contact with the beast's face, it's moans. Now the thing's face is bloody, with little pits where flesh was blown off. In a fit of rage, it smashes itself against the fence, head first. People start to scream, but we know it will hold it back... maybe...
Eventually the animal goes away, barely injured. I'm glad it gave up. I thought the two brothers wouldn't make it. Some time later, everybody is calm, and we have our bonfire started in the middle of construction. Every night we make a fire, to detour the animals. We decided to start after we met them. That's also when we first started building the fencing. Every person is gathered around it, talking, sitting in camping chairs. Next to me is Jeffrey, and Whitney's sister Michelle. Jeff ends his talk with Michelle, and asks me what I know about the animals. He kind of surprises me, because we have been dealing with the animals for a long time, and just now is asking. Michelle speaks, saying: "They're monsters is what they are." I look over at her, and tell her that they're not. Michelle is sixteen. She has black hair, and hazel eyes. She is the youngest of us three, Jeffrey being seventeen, white(like us all) with black hair, green eyes, and I being seventeen as well, brown hair, and brown eyes. I explain to her that they're just predators, doing what they do. Jeff nods slowly in agreement once, and says, "Whatever, I still hate those things." I then respond to Jeff. I tell him they're Allosaurus. A type of Tetanurine Theropod, from the Late Jurassic period. He smiles and jokes about me being some whiz on prehistory, but I just remember what I learned when I saw them at the park. Chances were, I tell them, that the one we saw today is one of the animals I seen in the Park. The animal was also just a young male animal: the older females are worse looking. I myself have been the only of us three to see a female. The thought of the beast makes me shiver.
Day 3: Prickly Pears & Rodents
I'm standing in front of the garden, a small structure of wooden panels encasing a variety of dying plants. I've been selected to get rid of some weeds, and plant the last of the seeds we have left; Timothy Hayson: Weeder And Seeder... Oh well. I look around at the dead Tomato plants, and the still living(though just barely) Green Beans. I spot a weed, and pull it out with ease, it's a small, frail one, it's roots thin, hardly gripping the soil. This shouldn't take long.
Two hours later, and my hands are full of Cactus needles. It may seem strange for a person to have Cacti in their garden, but we grow Prickly Pear Cactus, that produce their watery fruit. I tried plucking some for lunch, and now my hands are stinging. These plants are the only ones that do okay, making them a favorite around here. We mostly eat them with spoons, scooping out the flesh of the fruit. They have been said to help with many bodily issues under Sun, like constipation, a thing I am currently not suffering from. We also use it to catch a rare, but nice meal. They're a type of herbivore I think are called Microceratus. They have a taste for Cacti fruit, and we set up traps made for raccoons to catch them. Tomorrow, myself, Jeffrey, and his uncle are going out to check the traps. It may seem weird to more proper people, but eating a reptile is what we have to do to survive. Now that I'm done with the garden, I leave the pile of weeds, with a bowl of prickly fruit. I head to my house, but I catch a glimpse of something outside of the fencing: a vehicle, a newer model of GMC. I think of how we have the gas to leave, but none of the vehicles work. One day, a time ago, when most of us had enough of this, we decided we were leaving. The next day, we found our vehicle's fuel lines were cut. Suspicion fell on everyone, from everyone. They never found out who did it, but most of us think Kyle did it, considering he was the one who wanted to stay the most. But I know he didn't do so, Kyle wouldn't do anything of the sort. However, I know who really did it. I go to my house, drop off the Pears with my Mother, and and see my Dad is busy cleaning up the house, and before I leave, he tells me, "Hey, be sure to tell Jeffrey and Michelle thanks for helping us." I tell him I will. We have been dealing with mice infesting our house, so Jeffrey volunteered to help us, along with Michelle. We fixed the problem from what we could see. Well, it seems I'll be heading out tomorrow, time to find something else to do.
Day 4: Trapping
I arrive at the other house at high noon, and Jeffrey is waiting for Kyle to get the rest of the equipment. He comes out, rifle in hand(for safety), and he says something about low ammo. That sounds great... Then we head out, going through the process of opening the gate. We set out, hiking to the three locations for traps. The first, which we reached in about ten minutes, is located in a grove of desert trees, a perfect spot for the dinosaurs we're trapping. We check the trap, and find it was set off. But there's no animal. I see that the cage is torn apart. There's blood everywhere, and small chunks of flesh. Kyle looks shocked, but at the same time, angry as hell. I say that something had tore the animal out of the cage. Jeff shakes his head, letting out a sigh, and he kicks a stone. Kyle mutters under his breath. "What do you two think it was?" I ask, and kneel closer to the cage. The whole top was ripped apart, giving easy access to the once existent prey. Kyle answers, aND little too loud, that it was THEM. By THEM, he meant the Allosaurs. "You know, I'm about fed up with them. I'm gonna start hunting those things instead if trapping small Triceratops..." I smirk, but he can't tell: like he would try hunting them. Kyle would be just like the meat chunks. I stand back up, dusting my hands of non-existent dust, (something I do for some reason) And let out a long breath. "What do we do with the trap?" I say. "The only thing we can do," says Jeff with a expression of defeat. "Is to trash it." "Can't we repair it?" "Nope, that thing's done for!" chimes in Kyle.
We leave the site, and continue on to the second place. To our amazement, and happiness, there is an animal inside. Kyle tries to kill it, taking it out by it's tail. The little dinosaur has a massive beak, which it uses to snap at his hands. Still, Kyle slits it's throat. The animal goes limp as it died. Me and Jeff look away, its too morbid to watch. "That means were going to have dinner!" says Kyle, smiling. Jeffrey says, "Yay, more Turkey-imitation meat." Jeff didn't like the meat, but everyone else thought it was fine. It had a strange, game-like taste, like that of Turkey, or other wild fowl. I took the animal, and put it in my bag, adding weight to my light load. Jeff is resetting the trap, placing more Prickly Pear inside. He says, "Jeez! Tim, did you clean these off good enough?" "They should be..." "Well, their most certainly not: I just got a palm full of these needles. Ouch..." "Alright, sorry I thought-" "C'mon, guys," said Kyle, interrupting our exchange. Next up is trap three, and the final trap...
We're in trouble. I, with the two next to me, are standing behind a old shed. In front of us, is a massive form: an Allosaur. "So, is that, uh, a female?" says Jeff. "Ya," I say. She's huge, over thirty feet, with massive spikes and spines coming from her back, neck, and head, sort of like a beast on a metal album cover. Her scales are a deep blue, almost blackish blue. She has scars all across her muscular, menacing form. Currently, she is trying to tear through the cage, that holds OUR food. We stay still, remembering something about staying still, because they can't see you. Don't know how true that is though. Whatever works, I guess. "I'm going to shoot her," says Kyle. "I can get a clear head shot before she finishes tearing apart the cage." "Your nuts!" I say, though a little to loudly. Kyle doesn't say anything else, and dramatically runs out from behind the shed, leaving us two in awe. Jeff yells at him to stop, but Kyle begins shooting at the dinosaur. She whirls, her massive bulk pivoting towards the man. He fires his hunting rifle at her face, hitting it, making it roar, and I see a bullet mark on the side or her face: Kyle only skimmed the side of her head. She snaps at Kyle, but he dodges, and keeps firing and of course missing. Then, Kyle manages to pop off a round right into the eye of the dinosaur, and it explodes with a burst of red. Kyle is caught off guard, as she turns, and swipes her tail, smacking it into him with a WHACK! With that, the Allosaurus roars, and sprints off into the desert, leaving us behind. "Kyle!" yells Jeff, running out from behind the shed. "Your a complete idiot, man," I say. Kyle groans, and roles over onto his back, revealing his front side, which shows a red stain. I realize he's bleeding, so I run over, and pull up his shirt: imbedded in his stomach, is a small spine from the tail of the beast. "Good Lord," says Jeff, not helping. There's a hole in his shirt(where the barb went through). I reach forward, and grip the spike, and pull. It comes out. Kyle moans as his front begins bleeding more. "How do we stop the bleeding?" I ask Jeff. "Here," he replies with uncertainty, taking out his handkerchief, "put it inside of the hole, or something." He hands it too me, and I quickly put it in, and Kyle moans from the pain. It is not very deep, but can he stand, I wonder? It doesn't seem like it went that deep. Kyle says, "Ya, man that hurts... well, I saved the food..." "Yay, good job, Captain Hero," mutters Jeff sarcastically.
Day 5: Corrupt Nature
Stegosaurs are funny creatures; They're big lizards with a pair of thagomizers(not sure what that means) on their tails, and large plates on their high backs. We see a certain herd that comes through here every now and then. Me, Michelle, Jeff, and Whitney are at the west side of the gate, peering through, watching the herd of Stegosaurus. "Why don't we see any other herbivores around here?" asks Michelle. "Probably not many left," says Jeff, scowling. I ask, "What do you mean?" "He means the Allosaurus killed them all," replies Whitney, who scowls as well. I think about that for a moment, but decide that's not it. Most likely they don't come around here because of the carnivores. The plant eaters stay away from the danger. I don't speak my pondering mind, however. Whitney then says she wants to leave. "We could if someone didn't cut the fuel lines..." Michelle tells her sister. Jeff shakes his head, and says, "I can't believe we haven't found out who did it." "Oh come on, Jeff, like we don't know who used their special pocket knife to trap everyone here." Jeff's eyes get big, and his face starts to turn a shade of deep red. "You shut up! It wasn't Kyle!" he yells back, and continues, "You know, it was probably your dad, he's the one who never really wanted to leave your dead mother!" I get tired of them arguing, and slam my fist on the fence, making it shake. "Enough!" I yell, glaring at all of them: I get angry when I'm reminded of the fuel lines. "Alright, alright," says Michelle. Then Whitney yells out, "Guy's, look!" We look: a young Stegosaur is coming are direction, for whatever reason. I can't imagine why it would come toward a large mass of fences. It arrives, and cocks its head, studying us four. It looks kind of unintelligent, but at the same moment, quite adorable. Its much smaller than the rest of herd, and I hope they protect it well, because the Allosaurus would love to get a bite off this one. "Its so cute," says Michelle, as she's reaching forward through the fence. Her hand touches the animal's head, but it doesn't flinch. She goes on rubbing the Stegosaur's head, and it seems to like it, because it's making low, gurgling sounds. We're startled when we hear a member of the herd let out a loud bellow. The Stegosaurs are getting nervous, and begin shuffling about. The infant animal in front of us is walking back to the herd, and probably to it's mother. Jeff says, "Wait, what's scaring them? I don't see any-" His voice stops. We're all hearing it: a terrible roar. I turn, and see coming from the left, a massive form: it's an Allosaur. "He's going to kill the baby!" yells Whitney. The young Stegosaurs looks to it's left, and sees the predator. It begins to run toward the herd, making panicked squeaking sounds. The Allosaur roars, and lunges forward. The baby isn't fast enough: the Allosaur grabs it in his hacking maw. It squeals, and an adult Stego moves forward the help, but out of the blue, another Allosaur appears, and blocks the animal from it's young. It's a pack of them, not just one! The second animal roars in the adult's face, raising it's forearms in attack position, sickle-like claws ready to tear flesh. The adult Stegosaur doesn't move, and becomes tense. Meanwhile, the other Allosaurus is hacking away at the screaming infant, slamming it to the ground to beat the life out of it. Jeff yells: "Get someone, they're going to kill it!" But we remain still watching in horror, and its swiftly bashed into the desert earth. The herd is in a panic, and is moving forward, but they don't see what we see. I spot at least ten more Theropods coming from behind the herd... they're going to massacre the herd. The adult Stegosaur makes his move, charging at the second Allo. The beast retaliates by sidestepping, and turning, giving him a bite of the thing's neck. It bites down, spraying blood on his face, and in it's unique manner, begins biting over and over again, hacking away. But the Stegosaur swings his thagomizers into the animal's face. They stab into the Theropod's side, and hip, causing it to pull away from the attack, gushing red. The baby is now dead, finally beaten to death, it's remains on the ground, in a pool of blood and a cloud of disturbed dust: the poor infant's grave. The Allosaur is trying to defend it's kill from the raging herd, which is moving forward. It is a scene of chaos, but I snap out of my shock and awe, stand, and start running to get someone with a gun. As I run, I hear the herd behind my back bellowing, and the dragons roaring...
I make it to my residence, who for some reason hasn't heard the chaos. The door is ahead of me, and I bust through, to find my Dad, Kyle, and Eric in the living room, talking like everything was fine. "Get the guns!" I yell, panting and sweating. Kyle asks, "Huh, what's wrong?" At that moment, Eric hears the commotion, and he leaps from his seat, heading toward the door. He looks out to see what I had came from. "Oh..." is all he speaks. My Dad and Kyle stand up, and do the same as Eric. They come to the door, and they're eyes open wide. "Get the guns, guys."
The herd is now being ravaged by the pack, and there has to be at least twenty Allosaurs now. They have the animals pushed together, and surrounded by the lizards. On the ground, lays the baby; lying still, but yet moving, for a younger Theropod is ripping away at the carcass. The reason the beasts don't wage a full out attack, from what I can see, is that they would get wounded severely by the Stegosaur's tails, all of which are facing the predators. I'm standing alone, for everyone left to hide, while the men get guns. I can't believe they are this close. If we don't fend them off, they might try to break in, and this place couldn't withstand the force of twenty or so dinosaurs. I hear rustling, and I turn to see Eric running up behind me with his 22. Long Rifle: his since he was my age, from what he told everyone. "They try anything yet?" he asks, scowling. Eric had a funny face, kind of hard to really describe, and when he scowled, his face almost looked like he was straining... strange what you think of in the worse moments. I reply and tell him no, and that I think we are not on they're menu for a while. If they kill a good portion of the herd, they'll have meat for weeks. "Well then," he sighs, while straining to scowl "it might be good to let them get the kills." Maybe, but then the place will smell like a dump. Well, let's hope they don't notice us.
Day 6: All Nightmare Long
My room is dark, gloomy, and perpetually silent. But, the silence is a gift; an offer of peace and quiet. I'm laying in bed, trying to sleep, but my mind is pondering. The peace gives me some time to ponder about the past few days, and even the past few years. You see, I, and the group have been through a lot. Ever since the government announcement that all Americans were advised to leave the states of Arizona, New Mexico, and Texas, we have been through really tough times. I remember when Michelle went out of the fencing in the night, to go on a stroll, and became lost. It took us two days to find her, and when we did, she was hiding behind a tree from a dinosaur. But the dinosaur was the crazy thing. The animal was some type of crested animal(I think it was called Dilophosaurus), and it had a really long arm that was not it's own: it was lanky, and at it the spot where the arm connected with the shoulder, it was rotten. The flesh was greenish-brown, and had small bits of flesh coming off. Beside that, the dinosaur had patches of skin that was not like the rest. In full, it was like a Frankenstein creature. We shot at it, and it ran. I asked my Dad what was wrong with it, and he said it was probably BX. So from what I saw, BX changed animals in some way that I myself do not understand. As well, there was the event of when we first met our nemesis. One day, in the hot of summer, we all were puzzled to find that our local dog--which was the Reynolds--Daisy, was missing. Two days later, me and Eric had found her remains a mile away... in a small pit. All that remained was a leg, some rib bones, and a few vertebrae, all still with meat attached. We almost keeled over, when we noticed other bones, and rotting flesh laying around the pit: scattered like toys. Eric surmised that it was currently the home to at least one carnivore, a dinosaur. We didn't know anything else, other than that it, or they, had killed Daisy. That was far from the end.
A day later, early in the morning, we heard roaring outside. Weary, and tired, some of us got up to investigate. Outside, in the rays of the rising Sun, were two Allosaurs, both males, fighting. They were dueling over mating rights no doubt, and their introduction into our lives were more profound than any of us could guess. Eventually, they started stalking around the houses, and we knew we were a likely meal on their menu if they had the chance. That's when we built up the fences. Afterward, some of us made the decision to leave, and were about to, when we discovered the fuel lines on all the cars had been cut. That part troubles me the most, be because I wish I had... wait, someone's screaming outside. I sit up, a cold sweat breaking out of me. Oh hell, it's Jeffrey...
I hear screaming from the direction of Jeff's house, and the sound of twisting metal. The room is cold, and I shiver as I jump up, and run out of my room, through the hall, and into the living room. No one is up yet, at least no in this house except me. I run out barefoot, not taking time to put shoes on. In fact, I forgot to even put a shirt on, and I run out in an undershirt, and sweatpants. The ground hurts my feet, it being just sand and gravel. The place is still, with the only sound coming from behind the house. I approach the house, run around the side of the house, and to the back yard. We had no fences around individual houses, and no gates, so I don't have to be slowed down. I make it to the back, the back porch light on, given barely any light. I look around. Nothing, I don't see... but I do see something: the section of the fencing behind the house is, well, GONE. THE FENCING IS GONE. There is a massive section torn away from the rest, and pieces of fence lay on the desert ground. I have never felt more vulnerable. It was torn down, ripped apart by something. And I know it was the Allosaurus that did it--nothing else would. "Jeffrey?" I say, for some reason being quite. There is no response, and the wind is blowing, making the limp fencing creak. I call again: "Dang it, Jeffrey, where the hell are you?" Then, out of the black night, I see a shape running towards me. Its running, and upright, which means... I come forward, and Jeff runs into me, collapsing. I grab him, trying to hold him up. Jeff is breathing heavy, really heavy, and he's bruised. "What happened?!" I say, helping him stand up, which doesn't help much, because he's completely limp. He says, "Dinosaur... it ripped... through the fence... I went to look---AGH!" He looks up at me, his face covered in bruises and dirt: "THEY'RE HERE, TIM..." I'm noticing a warm, wet feeling moving down my hand. I move it, and hold it up into the dim light, letting Jeff slump to the ground, but only a little. It's red. It's blood. I look down at Jeffrey, who is on his knees. "Jeff..." I look at where my hand was, on his side. It's bloody, the clothes torn, and... Jeffrey's arm is gone. I nearly throw up. All that is left, is a little flesh hanging from a stump, and white bone jutting jutting out from the muscle that is exposed. I realize that he was bitten, and had gone out to see what was ripping through the fence. And now Jeff is bleeding out, and going to die if I don't do something. I look at Jeff, who is slumped on the ground, bleeding, and dying. I have to get him back to the house, and fast. I grab Jeff, and try lifting him up. He is completely limp now, and it is nearly impossible to drag him back. "Jeff, come on, you need to try!" He moans, and says: "I'm done... Tim. I can't—" I hear a gurgling, nasal sound coming from the new entrance. I peer forward. Out of the black, comes a form, massive, rippling with muscles, and all too familiar... She roars, a terrible sound, a bellowing rage: a hatful sickening fearsome terror. The Matriarch's reptilian eyes see us, and have already decided death is a thing she must worship: and we're her sacrifice. I feel my heart stop, and my blood slow to a cold, and though the night is chill, sweat leaks from my flesh. We're going to die.
I begin dragging Jeff with an adrenaline rush as my aid, I have to save him. He is facing the Allosaur, and his eyes are wide, and full of fear, but he doesn't tell me to go faster. I put one arm under his armpit, and the other on his side, because his arm his missing. Jeffrey is saying, "Go, Tim... drop me, dammit!" "NO, I WON'T, I CAN'T!" "LEAVE ME, TIMOTHY!!" When he yells this, he coughs, and blood comes out his mouth, because now he is internally bleeding. As I drag him, he tries to shake me off, to get me to leave him. The Allosaur is now running toward us, only seconds away. Then, I realize that neither of us will make it, unless I drop Jeff. But I don't, and before I know it, she is upon us. When I see her, in this span of seconds, I drop him, not because he wanted me to, but because I see the jaws, dripping with saliva, and letting forth a rotten stench. I scream. Jeff screams. The Allosaur roars. She hits us with her head, knocking me backward, and onto my back with a thud. Jeff is grabbed by her maw by his legs, and I hear a loud CRUNCH! as she does so. I watch in horror, silent in complete trauma, as she drags him away, screaming. His fingers dig into the ground, and a look of sheer... I don't know what, something worse than horror. The Matriarch stops dragging him, and lifts him up, turns, and walks away, as he cries in pain, being dangled from her closed jaws like a ragdoll. She walks through the ripped fence, and into the night, like a phantom, Jeff's dying cries fading away, until I hear no more...
Day 7: In The Early Mourning
It is morning, at least, I think it is, because I'm not sure if I have woken up from the nightmare from last night. And the thing is, the nightmare was real, and now Jeff is dead, as well as Eric, my dad, mother, Whitney, Ben, and Catty. Since the event of last evening, we have been completely raided, outside, the majority of Allosaurus stalk around the houses, trying to find a way in. They used the hole in the fence to enter, and kill most of us. When I came to my house, everyone was awake, and I told them of what happened. Kyle, Ben and Catty couldn't believe their son, and nephew was dead, and all broke down in tears wailing. It was complete mourning, and we all were frightened. We all didn't know what to do next, since the fence was done for. We then knew what to do, when three Allosaurs came around the Lynch's house, and took out Catty and my dad, who were torn apart, we all made a run to all of our houses, traumatized from the attack. THREE PEOPLE WERE DEAD. Outside, I watched as the beasts tore apart the bodies, until I couldn't watch anymore... my father was now food, and my brain was shut down. This was our situation of the rest of the night:
Me, Michelle, and Eric were at my house, but across from us, was Kyle, in his house, with my mom and Whitney. And between us, a pack of Allosaurs feeding on our dead family. Afterward, a few hours ago, they all made a run to get to us, Kyle using his shotgun to bye some time. Whitney was instantly snatched up, and killed, and my last remaining parent was as well. Kyle was attacked, but only got his leg bitten, because Eric had ran out, and started shooting at the animal, it moved back, and Eric ran to help Kyle to the house, but Eric stayed back to fight off the oncoming pack, as I helped Kyle. He stood there, a frail man, firing his weapon at them, as one dinosaur grabbed him by the legs, and another by the torso, and torn him into two. I didn't watch that, only Michelle did, who screamed at the animals. Now, Kyle is laying on the couch, his leg bleeding, and going to die, and Michelle in the corner, staring off into nothing, I stand near the closed window, looking out at the ground between houses; a no-man's land of flesh, blood, organs, and bone. Body parts lay around, as the Allosaurs feed on what his left. Outside the breached fence, lay the remains of the Stegosaurs, which are still being fed on. Currently, there is a gaggle of young creatures, green in color(I think they are called Compsognathus). They're feeding on the bodies, limbs, and such. I watch a dinosaur, this one a juvenile Allo, comes to the body of my mother, and begins tearing apart the body. We're all going to die, I realize, and its only a matter of time. I walk away, crying, going over to Kyle. He's laying there on the couch, his face pail, a bleeding leg, crushed in the middle, around the knee, laying out, covering the couch with a red stain. "Sorry for making a... mess." he says, referencing, as well as indicating with his head, the blood stain. I reply: "It doesn't matter." He sighs. "What ya mean?" "I mean we're all going to die, Kyle, I mean..." "Perhaps, but that doesn't mean... we shouldn't stay positive, we... should not give up..." I look at him, and see that he is probably going to die soon, he's lost far to much blood. He breathes heavily, but slowly. "Hey," he says, breaking silence, "remember... when we went out to hunt for some food... and I found that one dinosaur with the... big head? I got pretty beat up, and had to have you drag me back? I remember how I was so negative, but it was YOU that kept pushing on... and telling me we would make it. "Jeffrey was my nephew... but I wish he had more positivity like you. And, you were the only one that wasn't family to say I didn't... cut the fuel lines... man, I wish I could find the guy... who did it, and knock him up the head... and..." I listen to him looking out toward the window, and begin to cry again. He's dying, and most likely has only a moment to live. I have to tell him. I turn back to Kyle. "Kyle, I should have told you, and everyone else, but--" I realize then, that he's already gone...
Kyle is now dead, I and Michelle are the only two alive, and she is far worse mentally than myself. I sit by him for a time, crying, regretting, wondering. I look over at Michelle, who is no longer so wide-eyed, and is standing in front of the door, far enough back so that an Allosaur wouldn't get a grip on her. "He's gone, Michelle." I say, with a trembling voice. "I know." She replies, as emotionless as a brick. "What now, we're the only two." "I know." "There's no more ammo, at least, there are only two shot-gun shells." "I know." I get angry. "You know? Can't you contribute something to the conversation? There's a chance we could escape at night, take the little food we have, and make a run towards the north, away from their home. After that, we could try to cross the state border." "There's no way that would work, Tim," She turns to me, a face of complete, and undeniable defeat. "we're done." "You're nuts!" I say, with a tone of astonishment. "Timothy Hayson," she returns, her face now irritated, and now addressing me as if I was under her authoritative guise, "those animals are waiting outside, waiting for any movement of life to come out of these houses. They know we're here, and know we'll make a good meal." Inside, I know she's right, but the last words of Kyle caused a spark of hope to arise in me, and really, I think we might have a slim chance that we should take. "Listen, what are we going to do if we stay here, rotting. Soon, and VERY soon, we'll starve; we have only a few more steaks from the trapped animals, and a couple cans of soup. Come on, Michelle, if there is a chance, we need to take it. Why die here?" "I'm not starving, I have nothing to look forward to, and... there's only one answer." With those words, she begins walking out the door, staring out at the scene of hell. I watch her, in astonishment, and then realize... "MICHELLE, NO!" I scream, jumping up and running toward the door. When I get there, Michelle is already standing outside, exposed to the evil world of primordial carnage. She stands there, as I watch, wanting to grab her, but too afraid to risk my own life. Why did she do this? How could she just let them take her? I never thought I see Michelle so hopeless. "What are you doing?!" She looks at me, turning to give me a face of despair. "My sister and dad are dead, and all around me: I might as well join them." She turns away, and faces an unseen thing... "Bye, Tim." I'm watching as a shadow comes to us, invited by her choice, and towering over her. I look up, to see what I already knew was there: blue scales, sharp spikes and horns, and a head covered in scratches and scars. Its the Matriarch. She's looking at Michelle, who looks back, her face now fearful, but accepting. The Allosaur is growling a deep guttural sound, and then roars, a sound that pierces my eardrums. The monster reaches down with her big head, grabs the silent Michelle, and shakes her body. I turn away, and start running to the back of the house. I hide in my room, in complete panic. I'm the only one left. Michelle's dead, and everyone else had already been killed. I begin to ponder over what Michelle said about how the place was completely surrounded. The Allosaurs would be waiting for me, unless. A thought comes to my mind, and I think of something long forgotten... I think I know how to deal a blow to the animals.
I run from my room to the back door. I look out the door after cracking it, seeing nothing. With that, I walk out looking left and to right. All of a sudden, there's a feeling in the air, that seems to slay the last bit of jubilation I could summon. I'm searching the backyard, until I see it: a long metal rod, tapering at the end to a deadly point. When everyone else was alive, Eric and my Dad had the idea to craft a spear for a weapon, and they made one. However, they never used it. That is, THEY never used it. Who said I wouldn't? I'm going to try to kill the Matriarch, and possibly scare the beasts, if they saw their leader killed by a human. I think there is a small chance it will work, but I need a lot of luck, and most likely a cosmic glitch to get me to pull it off. I have a strong right arm, so I know I would be able to throw it. I walk over and grab the spear, feeling the cold metal against my equally cold hand. I lift it up and carry it back into the house. I'm at the door now, looking out, holding the metal projectile in my hand, realizing that it actually quite heavy. I take a deep breath, and yell, closing my eyes. "HEY OVER HERE! COME GET IT!" I see no Allosaur to signal to, but if there are any around they will come running, and sure enough, I'm watching as one comes out from behind the former Lynch's house, and I see it is the Matriarch herself, her evil presence coming with the physical terror. She sees me, and roars, saliva draining from her jaws that I would fit right into. "Ya, that's right, over here..." She comes at a run, hoping to grab me before I get inside, as she arrives, I feel sweat break out on my skin, and that fear of death so familiar. Ten feet, eight... STRIKE. I throw the metal spear, aiming for her chest, hoping to puncture her lungs. It flies, aimed right at her, and hits the mark... but doesn't go deep. She roars in pain, and stops, only a few feet away. The Matriarch grabs the spear with her long arms, and clumsily pulls out the thing like a person would a thorn. I then realize my mistake. She grapples the metal pole, and tosses it aside in a creepily human manner. Her chest bleeding, she attacks, and I'm frozen still as she grabs me by the side with her jaws, and I feel searing pain. The world twirls, as I am thrown off somewhere, until I hit the ground, and feel metal fencing hitting me as well. I almost blacking out, as I lay here, but I push myself to not do so. I regain full consciousness. I'm trying to sit up, and my body racks with pain. I manage, and lean myself up against the fencing, making a uncomfortable support. My leg is numb, and the reason: the lower part it mangled from the Allosaur's bite, which also got some of my torso. Both are bleeding out. I never thought I'd end up like this. Oh, God, its all over. Now I am really going to die. I feel my body start going to cold, telling me death is near. Around me, I notice, are the dinosaurs, watching me from a distance in the compound, and directly in front of me, is the Matriarch, chest bleeding, and hate burning in her dark green, wicked eyes. She is standing there, saliva still leaving her maw. The monster is watching me, wanting to end me, which she will do any moment, among the crowd of subordinate scum, who cower, and will appreciate her even a more once she eats me. I close my eyes, waiting for the strike of finalization. But I open my eyes for some reason, and see our of the corner of my eye... I see... the spear. When the Matriarch had thrown it away. It had landed a few feet from where I am now. I light ignites in me once more, telling me what to do. I can still do what I had to. And that was get revenge. She roars, her coals of disposition being kindled one time more. The Allosaur charges, running at lightning speed. Its now or never, and never is a word I don't use. I reach to my left, sprawling, and grab the weapon. As she makes her final strides, I sit up, my last bit of adrenaline burning, and aim the spear, positioning the butt against the ground, and my hands steadying it. I scream: "DIE, YOU WHORE!" She makes her final stride, aiming her head at me, jaws wide, welcoming a projectile turned javelin. The spear pierces the neck through the mouth, and her force drives the pole deeper into her rotten body. I feel, and hear muscles ripping, blood gushing, and bone cracking, as the spear pierces her. The Matriarch's roar that she had made turned into a gurgle, as her recently vacated corpse collapses, almost hitting me. I smell her evil body. The Matriarch is dead.
The crowd of Allosaurs that had appeared, watching with baited, but yet rotten breath, had dispersed after they had seen their queen slain. And so, the result leaving me alone. Everything is quiet, except for the wind, which blows. The Sun is still present, witness to it all. In front of me still, lays the body of a dinosaur, deader than death. A pool of blood is pouring from her mouth, and I am laying in it. The blood is mine as well. I feel the world going cold, though it is warm. I begin thinking of my success. I managed to get the revenge for everyone... but I feel as though there was more I could have done, and truly there was. If the fuel lines had not been cut, we would have made it. But know, nine are dead, and the tenth, myself will be either meeting them, or not existing at all; I don't know. But there is a thing that burns my soul before death. Something that can never be fixed, and... its that... I was the one that cut the fuel lines. All the blame had gone to Kyle, and even until his death, he never knew who had caused him the rebuke, and all the time, it was someone he knew as family: Me. I had cut the lines because I didn't want to leave, I didn't want leave my home. I never thought my decision would lead to this, this... massacre. No one knew it was me, and I never got to tell anyone what I had done. Nine people's blood are on my hands, but not even my act of revenge could redeem me. I begin to cry as I think of it. Why? Why was I such an idiot? However, there is nothing I can do. What is done is done, and I come to except my death. I look to the sky, wanting to see someone, and say, "I'm sorry..." I wonder if anyone will ever find out what had happened, and something tells me it will be found. And so, my world is going black. I accept the end, tears running down my face, and take my last breath as life leaves me. I have come this far. So now a coldness is coming over me, but yet a warmth remains in me. Everything fades away, as I say goodbye...
THE END
I hope you guys enjoyed the story! Please leave your thoughts below.
*Two Finger Salute*