This page needs serious attention!
---
This article does not currently meet the standards set at
Park Pedia: The Jurassic Park Wiki. Please feel free to edit it, and pose any
questions you might have on the article's talk page.
Alangasaurus
was made available in
Jurassic World: The Game
on June 29, 2016, as a common hybrid carnivore.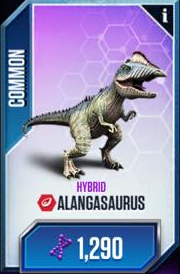 Information
Alangasaurus is unlocked by fusing a level 40 Alanqa and a level 40 Majungasaurus. Once unlocked, additional individuals can be purchased in the market for 1,290 DNA or found in card packs.
Cost and incubation time
Type
Hybrid
Subtype
Carnivore
Rarity
Common
Maximum earning rate
(coins per minute)
806
Costs and incubation times
Level
Cost
Incubation time
(D:HH:MM)
Selling cost
1
1,290
0:00:52
650
11
80
0:01:00
1,290
21
100
0:02:00
2,580
31
120
0:04:00
5,160
Trivia
Level
Rewards
Trivia
Bucks
Food
DNA
LP
Evo 1
—
1,620
—
—
Created by InGen for Jurassic World, the Alangasaurus has striped, mottled scales and a distinct nose fin!
Evo 2
—
11,740
—
—
Did you know that Alangasaurus means 'phoenix lizard'? This hybrid combines the DNA of an Alanqa and Majungasaurus.
Evo 3
52
26,880
—
—
The Alangasaurus is much lighter in build than its Majungasaurus progenitor, weighing in at 900 lbs. That's less than a cow!
Evo 4
100
56,740
103
—
What the Alangasaurus loses in sheer brute strength it makes up for in speed and agility, thanks to its light frame.
Stats
Level
Health
Attack
Earning rates
(per 30 minutes)
Feeding costs
1
145
68
76
1,620
2
153
72
152
3,210
3
161
76
227
4,830
4
169
79
303
6,390
5
177
83
378
8,010
6
185
87
454
9,600
7
194
91
530
11,220
8
202
95
605
12,780
9
210
98
681
14,400
10
218
102
756
Evolve
11
282
132
1,664
11,740
12
292
137
1,815
12,800
13
303
142
1,966
13,880
14
312
146
2,117
14,920
15
323
151
2,268
16,000
16
333
156
2,420
17,060
17
343
161
2,571
18,140
18
353
165
2,722
19,180
19
363
170
2,873
20,280
20
373
175
3,024
Evolve
21
22
23
24
25
26
27
28
29
30
569
266
9,072
Evolve
31
32
33
34
35
36
37
38
39
40
804
377
24,192
Max
Appearance
Gallery