Argentinosaurus
is creatable in
Jurassic World: The Game
as a Common herbivore.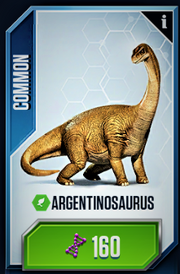 Information
Argentinosaurus is unlocked by completing Battle Stage 4. Additional individuals can be purchased in the market for 160 DNA or found through card packs.
As of June 29, 2016, a Level 40 Argentinosaurus can be fused with a Level 40 Labyrinthodontia to make the hybrid Labyrinthosaurus.
Cost and Time to Hatch
Availability
Common
Incubation Period
00:15:00
Placement Cost
160 DNA
Selling Reward
80 DNA
Maximum Earning Rate
249.6 Coins/Minute
Additional Information
Argentinosaurus
Appearance
Unlockable Trivia
Evo 1
Reward: 235 Food
"The Argentinosaurus is one of the largest known dinosaurs to ever walk the Earth!"
Evo 2
Reward: 2545 Food
Did you know that when the Argentinosaurus was discovered its leg fossil was mistaken for a giant piece of wood?"
Evo 3
Reward: 6 Dino Bucks, __ Food
"Enormous as adults, Argentinosaurus' infants are often quite small. They grow 25 times their original size by the time they reach maturity!"
Evo 4
Reward: 13 Dino Bucks, __ Food, __ DNA
"Due to their incredible size, the Argentinosaurus can only run 5 miles per hour. That's slower than a swimming sea turtle!"
Level-Based Stats
| Level | Unmodified Earning Rates (30 mins) | Feeding Costs | Life | Attack |
| --- | --- | --- | --- | --- |
| 1 | 24 | 47 (5x = 235) | 51 | 13 |
| 2 | 47 | 93 (5x = 465) | 54 | 14 |
| 3 | 71 | 140 (5x = 700) | 56 | 14 |
| 4 | 94 | 185 (5x = 925) | 58 | 15 |
| 5 | 117 | 232 (5x =1,160) | 62 | 16 |
| 6 | 141 | 277 (5x =1,385) | 65 | 17 |
| 7 | 164 | 324 (5x = 1,620) | 68 | 17 |
| 8 | 188 | 370 (5x = 1,850) | 70 | 18 |
| 9 | 211 | 416 (5x = 2,080) | 73 | 19 |
| 10 | 234 | Evolve (00:05:00 @ 40 DNA) | 76 | 19 |
| 11 | 515 | 509 (5x = 2,545) | 99 | 25 |
| 12 | 562 | 554 (5x = 2,770) | 102 | 26 |
| 13 | 609 | 601 (5x = 3,005) | 106 | 27 |
| 14 | 656 | 648 (5x = 3,240) | 109 | 28 |
| 15 | 702 | 695 (5x = 3,475) | 113 | 29 |
| 16 | 749 | 740 (5x = 3,700) | 116 | 30 |
| 17 | 796 | 787 (5x = 3,935) | 120 | 31 |
| 18 | 843 | 832 (5x = 4,160) | 123 | 32 |
| 19 | 890 | 879 (5x = 4,395) | 127 | 32 |
| 20 | 936 | Evolve (00:30:00 @ 50 DNA) | 130 | 33 |
| 21 | 1,966 | 1,167 (5x = 5,835) | 161 | 41 |
| 22 | 2,060 | 1,221 (5x = 6,105) | 165 | 42 |
| 23 | 2,153 | 1,227 (5x = 6,135) | 169 | 43 |
| 24 | 2,247 | 1,332 (5x = 6,660) | 173 | 44 |
| 25 | 2,340 | 1,388 (5x = 6,940) | 177 | 45 |
| 26 | 2,434 | 1,442 (5x = 7,210) | 182 | 46 |
| 27 | 2,528 | 1,498 (5x = 7,490) | 186 | 48 |
| 28 | 2,621 | 1,553 (5x = 7,765) | 190 | 49 |
| 29 | 2,715 | 1,610 (5x = 8,050) | 194 | 50 |
| 30 | 2,808 | Evolve (01:00:00 @ 60 DNA) | 199 | 51 |
| 31 | 5,804 | 1,849 (5x = 9,245) | 237 | 60 |
| 32 | 5,991 | 1,910 (5x = 9,550) | 241 | 62 |
| 33 | 6,178 | 1,970 (5x = 9,850) | 246 | 63 |
| 34 | 6,365 | 2,028 (5x = 10,140) | 251 | 64 |
| 35 | 6,552 | 2,090 (5x = 10,450) | 256 | 66 |
| 36 | 6,740 | 148 (5x = 10,740) | 261 | 67 |
| 37 | 6,927 | 2,208 (5x = 11,040) | 266 | 68 |
| 38 | 7,114 | 2,266 (5x = 11,330) | 271 | 69 |
| 39 | 7,301 | 2,327 (5x = 11,635) | 276 | 71 |
| 40 | 7,488 | Fuse(04:00:00 @ 100 DNA) | 281 | 72 |
Gallery