This page needs serious attention!
---
This article does not currently meet the standards set at
Park Pedia: The Jurassic Park Wiki. Please feel free to edit it, and pose any
questions you might have on the article's talk page.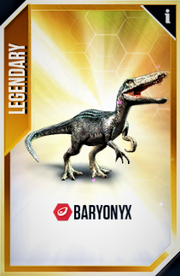 Baryonyx was made available in Jurassic World: The Game on October 26, 2018 as a legendary carnivore.
Information
Baryonyx is available only to VIP members and is found by opening Loyalty Points card packs.
No hybrids are associated with this creature.
Cost and incubation time
Type
Land
Subtype
Carnivore
Rarity
Legendary (VIP exclusive)
Maximum earning rate
(coins per minute)
640
Additional information
Baryonyx
Costs and incubation times
Level
Cost
Incubation time
(D:HH:MM)
Selling cost
1
N/A
0:06:00
5,000
11
70
0:02:00
10,000
21
80
0:04:00
20,000
31
90
0:08:00
40,000
Trivia
Level
Rewards
Trivia
Bucks
Food
DNA
LP
Evo 1
—
9,000
—
—
Baryonyx means 'Heavy Claw.' It got the name from the large claw on each of its forefingers!
Evo 2
—
76,375
—
—
Baryonyx is a riverside predator. Its conical teeth are well adapted for catching and holding onto fish.
Evo 3
100
350,000
—
—
The Baryonyx is a member of the Spinosaur family, and is related to the Spinosaurus, Suchomimus, and Irritator!
Evo 4
100
1,479,250
—
208
Baryonyx preyed on baby dinosaurs as well as fish.
Stats
Level
Health
Attack
Earning rates
(per 9 hours)
Feeding costs
1
864
270
1,080
9,000
2
912
285
2,160
17,750
3
960
300
3,240
26,750
4
1,008
315
4,320
35,500
5
1,056
330
5,400
44,500
6
1,104
345
6,480
53,250
7
1,152
360
7,560
62,250
8
1,200
375
8,640
71,000
9
1,248
390
9,720
80,000
10
1,296
405
10,800
Evolve
11
1,680
525
23,760
76,375
12
1,740
544
25,920
83,375
13
1,800
563
28,080
90,375
14
1,860
581
30,240
97,125
15
1,920
600
32,400
104,000
16
1,980
619
34,560
111,000
17
2,040
638
36,720
118,000
18
2,100
656
38,880
124,875
19
2,160
675
41,040
131,875
20
2,220
694
43,200
Evolve
21
22
23
24
25
26
27
28
29
30
3,384
1,058
129,600
Evolve
31
32
33
34
35
36
37
38
39
40
4,788
1,496
345,600
Max
Appearance
Gallery