The Sandman Will Keep You Awake - The Loop
Play Sound
Bryce Dallas Howard (born March 2, 1981) is an American actress, writer and director. She is the eldest daughter of actor and filmmaker Ron Howard. She attended New York University's Tisch School of the Arts. She left before graduating to take roles on Broadway, but eventually graduated in 2020. She portrays Claire Dearing in the Jurassic World Trilogy beginning with 2015's Jurassic World, 2018's Jurassic World: Fallen Kingdom, and 2022's Jurassic World Dominion. Howard has also portrayed Claire Dearing in a number of expanded media projects.
Background
Bryce Dallas Howard was born on March 2, 1981 to director and actor Ron Howard and writer Cheryl Howard in Los Angeles, California. She was raised in Conneticut along with her three siblings.
While in school in New York CIty, Howard met Seth Gabel whom she later married in 2006. The two have two children and the family is private.
In several interviews, Howard recounted a story about how her mother and father were hesitant to let her see Jurassic Park (she says she was twelve when the movie came out, but it was released more than three months after her thirteenth birthday), but when they saw it opening night, insisted that she see it before the weekend was over, saying it was "film history in the making".
Career
Bryce Dallas Howard's career as an actress began in New York City in theatre performing for various plays and shows. It was while in theatre that she was first spotted by acclaimed / infamous film director M. Night Shamylan who was greatly impressed by her performance. Two weeks later he casted Howard in her first feature film The Village.
Howard's performance in The Village recieved praise and in more recent years with reappreciation by film fans, Howard has recieved further notierty. She would collaborate again with Shamylan in The Lady in the Water in which she also starred. However the film was less successful.
Her career led to starring and appearing in several other films and TV series. In the 2000s to the 2010s Howard was in films such as Manderlay, As You Like it, Spider-Man 3, The Loss of a Teardrop Diamond, The Twilight Saga: Eclipse, The Help, Pete's Dragon, Gold, Black Mirror: Nosedive, and Rocketman.
Howard's performance starring in Nosedive was critically acclaimed and she was hailed by fans and critics. In the later 2010s, Howard expressed an interest in directing and had been for years directing smaller projects such as music videos. In 2019 two major projects directed by Howard debuted. First was Dads, a documentary about fathers and modern fatherhood which premiered in September, 2019 at the Toronto International Film Festival. It was later acquired by Apple TV+ and released on the platform in 2020. 
In 2019, Howard collaborated with Jon Favreau to direct Episode 4 of The Mandalorian, a Disney+ original series set in the Star Wars universe. Howard also directed an additional episode for the second season to premiere in 2020.
In March of 2020, Howard founded Nine Muses Entertainment featuring diverse and female creators. The first major project Howard is developing is The Swans of Fifth Avenue, a limited series based on Melanie Benjamin's New York Times best-selling historical novel. Additionally, Howard will direct the fairy tale film Fairy Tale, Ending about five fairy tale princess divorcees, alongside Seth McFarlane and Octavia Spencer. 
On May 21, 2020, Bryce Dallas Howard graduated from New York University officially after initially enrolling 21 years prior and not finishing due to entering the film industry.
Jurassic World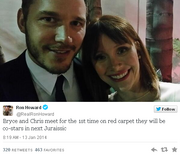 Howard was the first of the finalized cast of the then Jurassic Park 4 to be casted in May 2013. Her announcement would come much later into production. At the 71st Annual Golden Globe Awards (2014-01-13), Bryce's father tweeted that she and Chris Pratt would co-star in the next Jurassic Park film. The first image of Howard as her character Claire would be released later in 2014.
Bryce Dallas Howard starred as the character of Claire Dearing in Jurassic World . Claire is the Park Manager of Jurassic World , the fully functioning theme park successor to Jurassic Park. Howard received praise for her performance as Claire but also some complaints due to how the writing portrayed her. However this did not stop Claire from becoming a fan favorite character to old and especially newer Jurassic fans. This role saw Howard in a more actionized part as Claire goes from someone who is bound to sterile walls and the Park Control Room working to an action heroine traversing the jungle and getting into action when dinosaurs escape.
Howard also wore high heels for the entirety of the movie which the actress embraced. Claire was a strong female leading character who was out of her element which Howard found empowering. She enjoyed that Claire embodied femininity while also being strong and capable of action. An infamous scene features Howard as Claire running in high heels away from the famous Tyrannosaurus rex which fans online complained about due to believing it was unrealistic. This was in spite of the fact that it was Bryce Dallas Howard who actually ran throughout the movie in high heels (and that Claire was a stronger character because she could perform such a feat).
Bryce Dallas Howard returned to the role of Claire Dearing in several Jurassic World projects and expanded media. At first she appeared in spin off media such as Lego Jurassic World: The Indominus Escape, Lego Jurassic World: The Video Game, Jurassic World Evolution, and in promotional videos for Jurassic World: The Ride and the Dinosaur Protection Group website and promo videos on their social media. Howard's first canonical return was in the DPG videos preceding her return to the films in Jurassic World: Fallen Kingdom  which saw Claire a changed character concerned with dinosaur welfare and leading other activists / volunteers in trying to save the dinosaurs. Howard was once again praised for her role and her growth from the previous film. Claire was humanized and this was emphasized with Claire being more of a relatable person on screen and being more empathetic much like Howard herself. 
Even more so than the last film, Howard as Claire became an action hero being involved in many scenes of action involving dinosaurs or radical sequences. Such as being trapped in a gyrosphere then being trapped in it under water, an action scene running from volcanic eruption to a truck then launching said truck on a boat, a scene atop of the head of the Tyrannosaurus rex, and then in a mansion battling a dinosaur hybrid. In a humorous nod to the heels controversy, Howard wears boots for the majority of the film and prior to any filming was told by Colin Trevorrow "#Noheels2018".
In 2021, Howard is to reprise her role as Claire Dearing in the third and final film in the Jurassic World Trilogy: Jurassic World Dominion. Prior to that, Howard expressed having actors from the original Jurassic Park return for the final film being a desire of hers. To that end, Howard humorously appeared on Good Morning America in the audience to ask Laura Dern (who starred as Ellie Sattler) if she would come back to reprise her role. Dern replied she would if asked and later on in 2019 confirmed she would with Sam Neill and Jeff Goldblum .
Gallery
Trivia
Bryce Dallas Howard is able to cry on command as an acting technique. It is noted to be convincingly done well that Howard looks actually emotionally distressed when she is actually not.
Howard's eldest child cameos in Jurassic World as the little boy riding a baby triceratops.
Jurassic World is the second time that Bryce Dallas Howard and Judy Greer portrayed each other's sister. The first was eleven years prior in M. Night Shamylan's The Village.
Howard also previously co-starred with her Fallen Kingdom co-star James Cromwell in Spider-Man 3. Howard portrayed Spider-Man love interest Gwen Stacy and Cromwell portrayed her father, NYPD Captain George Stacy.
Despite being "late" to social media, Howard has a dedicated online fanbase who follow her work and some of whom created "The Bryce Dallas Howard Network" which is a fanclub made in her honor. The group posts high quality photos and interviews chronicling Howard's career and Howard has interacted with and acknowledged BDHN.
Bryce Dallas Howard and her co-star from The Help, American actress Jessica Chastain, bear a great resemblance to one another which has humorously led to fans, the press, and even some of their loved ones to mistake the two for the other. Fascinatingly, in interviews Howard has said this goes back to even before either were famous when both were studying in New York and would be told of their respective other who looked like them and who'd get confused for each other when ordering coffee.
External links
References