"We should go to Version 4.4."
The following article contains needs to be updated due to either outdated information or needs a major over haul of new information from a recent installment from the Jurassic Park Franchise added to it.

    Bryce Dallas Howard (born March 2, 1981) is an American film actress, writer and director. She portrays Claire Dearing in Jurassic World and has reprised her role in its sequel Jurassic World: Fallen Kingdom. She wanted the old characters from original film to return in Jurassic World III
In early November 2013, Howard was cast in Jurassic World, the fourth installment in the Jurassic Park film franchise. It was confirmed that she would play a scientist.
Howard and Jurassic ParkEdit
In several interviews, Howard recounted a story about how her mother and father were hesitant to let her see the film (she says she was twelve when the movie came out, but it was released more than three months after her thirteenth birthday), but when they saw it opening night, insisted that she see it before the weekend was over, saying it was "film history in the making".
Jurassic WorldEdit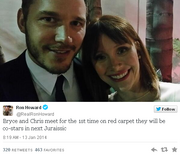 At the 71st Annual Golden Globe Awards (2014-01-13), film director Ron Howard tweeted that his daughter, Bryce Dallas Howard, and Chris Pratt "will be co-stars in next Juraissic" [Sic]
Howard previously co-starred Greer as her character's sister as well in The Village 11 years before they both acted in Jurassic World.
External links
Edit
References
Edit
↑ IGN - Jurassic World Sequel Coming in 2018 (July 23, 2015) Retrieved from http://www.ign.com/articles/2015/07/23/jurassic-world-sequel-coming-in-2018
Community content is available under
CC-BY-SA
unless otherwise noted.