Cerazinosaurus
 was made creatable in 
Jurassic World: The Game
on April 23, 2018 as a Legendary Hybrid carnivore.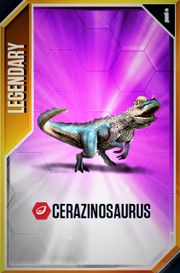 Information
Cerazinosaurus is unlocked in the market by fusing a level 40 Therizinosaurus and a level 40 Ceratosaurus. Additional individuals can be purchased in the market.
Cost and Time to Hatch
Availability
Legendary Hybrid
Incubation Period

7 Days

Placement Cost
48,000 DNA
Selling Reward
24,000 DNA
Maximum Earning Rate
1,360.8 Gold/Minute
Appearance
Unlocked Trivia
Evo 1
Reward: 26,325 Food
"The Cerazinosaurus is a hybrid of Therizinosaurus and Ceratosaurus, two predators that may have lived up to 100 million years apart!"
Evo 2
Reward: 190,350 Food
"Cerazinosaurus, or 'horn rake lizard,' takes its name from the Ceratosaurus's sharp horn and the raking claws of the Therizinosaurus!"
Evo 3
Reward: 871,560 Food, 100 Dino Bucks
"Created by InGen, the Cerazinosaurus has both feathers and scales, inherited from each of its "parent"!"
Evo 4
Reward: 3,685,605 Food, 100 Dino Bucks, 1,500 DNA
"The forelimbs of the Cerazinosaurus are more flexible than those of Ceratosaurus. An inheritance from the long-armed Therzinosaurus."
Level-Based Stats
| Level | Unmodified Earning Rates (9 Hours) | Feeding Costs | Life | Attack |
| --- | --- | --- | --- | --- |
| 1 | 2,297 | 26,325 | 1,653 | 632 |
| 2 | 4,593 | 51,840 | 1,745 | 667 |
| 3 | 6,890 | 78,064 | 1,837 | 702 |
| 4 | 9,186 | 103,579 | 1,929 | 737 |
| 5 | 11,482 | 129,803 | 2,021 | 772 |
| 6 | 13,779 | 155,318 | 2,113 | 807 |
| 7 | 16,075 | 181,542 | 2,205 | 842 |
| 8 | 18,371 | 207,057 | 2,296 | 877 |
| 9 | 20,668 | 233,280 | 2,388 | 912 |
| 10 | 22,964 | Evolve (8:00:00 @ 140 DNA) | 2,480 | 947 |
| 11 | 50,520 | 190,350 | 3,215 | 1,228 |
| 12 | 55,113 | 207,259 | 3,330 | 1,272 |
| 13 | 59,706 | 224,775 | 3,445 | 1,316 |
| 14 | 64,298 | 241,887 | 3,559 | 1,360 |
| 15 | 68,891 | 259,403 | 3,674 | 1,403 |
| 16 | 73,484 | 276,312 | 3,789 | 1,447 |
| 17 | 78,076 | 293,828 | 3,904 | 1,491 |
| 18 | 82,669 | 310,939 | 4,019 | 1,535 |
| 19 | 87,262 | 328,455 | 4,134 | 1,579 |
| 20 | 91,854 | Evolve (12:00:00 @ 160 DNA) | 4,248 | 1,623 |
| 21 | 192,894 | 871,560 | 5,236 | 2,000 |
| 22 | 202,079 | 912,769 | 5,374 | 2,052 |
| 23 | 211,265 | 954,585 | 5,511 | 2,105 |
| 24 | 220,450 | 995,389 | 5,649 | 2,158 |
| 25 | 229,636 | 1,037,408 | 5,787 | 2,210 |
| 26 | 238,821 | 1,078,617 | 5,925 | 2,263 |
| 27 | 248,006 | 1,120,534 | 6,062 | 2,316 |
| 28 | 257,192 | 1,161,338 | 6,200 | 2,368 |
| 29 | 266,377 | 1,203,357 | 6,338 | 2,421 |
| 30 | 275,562 | Evolve (00:00:00 @ DNA) | 6,476 | 2,473 |
| 31 | | | | |
| 32 | | | | |
| 33 | | | | |
| 34 | | | | |
| 35 | | | | |
| 36 | | | | |
| 37 | | | | |
| 38 | | | | |
| 39 | | | | |
| 40 | 734,832 | Max | 9,163 | 3,500 |
Gallery