Dimetrodon
is able to be created in 
Jurassic World: The Game
 as a Legendary carnivore.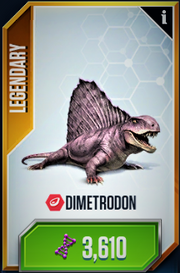 Information
It is unlocked by beating battle stage 29. More individuals can be purchased in the market for 3,610 DNA or found through card packs.
As of March 16, 2016, a level 40 Dimetrodon can be fused with a level 40 Prionosuchus to create the hybrid Priotrodon.
Cost and incubation time
Type
Land
Subtype
Carnivore
Rarity
Legendary
Maximum earning rate
(coins per minute)
185
Additional Information
Dimetrodon
Costs and Incubation Times
Level
Cost
Incubation time
(D:HH:MM)
Selling cost
1
3,160
2:12:00
1,805
11
70
0:02:00
21
80
0:04:00
31
90
0:08:00
Trivia
Level
Rewards
Trivia
Bucks
Food
DNA
LP
Evo 1
—
2,600
—
—
The Dimetrodon is a type of prehistoric reptile called Pelycosaur. They lived 50 million years before the dinosaurs.
Evo 2
—
22,060
—
—
Did you know that Dimetrodon is more closely related to mammals than dinosaurs?
Evo 3
100
101,080
—
—
The Dimetrodon is best identified by its distinctive sail, which may have evolved to regulate its body temperature!
Evo 4
100
427,210
289
—
Level-Based Stats
Level
Unmodified Earning Rates
(9 Hours)
Feeding Costs
Life
Attack
1
312
520 (5x = 2,600)
274
105
2
624
1,026 (5x = 5,130)
290
111
3
936
1,546 (5x = 7,730)
305
116
4
1,248
2,051 (5x = 10,255)
320
122
5
1,560
2,571 (5x = 12,855)
335
128
6
1,872
3,076 (5x = 15,380)
351
134
7
2,184
3,596 (5x = 17,980)
366
140
8
2,496
4,101 (5x = 20,505)
381
146
9
2,808
4,621 (5x = 23,105)
396
151
10
3,120
Evolve (02:00:00 @ 70 DNA)
412
157
11
6,862
4,412 (5x = 22,060)
533
204
12
7,486
4,816 (5x = 24,080)
553
211
13
8,110
5,221 (5x = 26,105)
572
218
14
8,734
5,610 (5x = 28,050)
591
226
15
9,358
6,008 (5x = 30,040)
610
233
16
9,981
6,412 (5x = 32,060)
629
240
17
10,605
6,816 (5x = 34,080)
648
247
18
11,229
7,213 (5x = 36,065)
667
255
19
11,853
7,618 (5x = 38,090)
686
262
20
12,477
Evolve (04:00:00 @ 80 DNA)
705
269
21
26,200
101,080
869
332
22
27,448
105,773
892
341
23
28,696
110,791
914
349
24
29,943
115,448
937
358
25
31,191
120,358
960
367
26
32,439
125,087
983
376
27
33,686
129,924
1,006
384
28
34,934
134,690
1,029
393
29
36,181
139,527
1,052
402
30
37,429
Evolve (08:00:00 @ 90 DNA)
1,075
410
31
(5x = )
32
(5x = )
33
(5x = )
34
(5x = )
35
(5x = )
36
(5x = )
37
(5x = )
38
(5x = )
39
(5x = )
40
99,810
Max
1,520
581
Appearance
Gallery