This page needs serious attention!
---
This article does not currently meet the standards set at
Park Pedia: The Jurassic Park Wiki. Please feel free to edit it, and pose any
questions you might have on the article's talk page.
Dimorphodon was added to Jurassic World: The Game on September 30th, 2015 as a legendary pterosaur.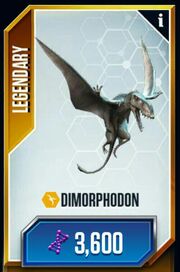 Information
It is unlocked by completing battle stage 57. More individuals can be purchased in the market for 3,600 DNA or found through card packs.
As of January 30, 2017, a level 40 Dimorphodon can be fused with a level 40 Metriacanthosaurus to create the hybrid Metriaphodon.
Cost and Time to Hatch
Availability
Legendary
Incubation Period
62:11:00
Placement Cost
3,600 DNA
Selling Reward
1,800 DNA
Maximum Earning Rate
137.7 Gold/Minute
Additional Information
Dimorphodon
Appearance
Unlocked Trivia
Evo 1
Reward: 2,630 Food
"Did you know that the Dimorphodon clones created for Jurassic World are known to chirp like birds?"
Evo 2
Reward: 22,305 Food
"Dimorphodon is Greek for 'two-form tooth' because they had two kinds of teeth. InGen's clones only have one."
Evo 3
Reward: 100 Dino Bucks and 102,200 Food
"Clones of Dimorphodon tend to have a blue-ish gray body with pink on its face."
Evo 4
Reward: 100 Dino Bucks, 431,945 Food and 288 DNA
"Did you know that the Dimorphodon are great climbers? They have large curved claws and a low center of gravity."
Level-Based Stats
| Level | Unmodified Earning Rates (19 Hours) | Feeding Costs | Life | Attack |
| --- | --- | --- | --- | --- |
| 1 | 491 | 2,628 | 283 | 108 |
| 2 | 982 | 5,183 | 299 | 114 |
| 3 | 1,472 | 7,811 | 314 | 120 |
| 4 | 1,963 | 10,366 | 330 | 126 |
| 5 | 2,453 | 12,994 | 346 | 132 |
| 6 | 2,944 | 15,549 | 362 | 138 |
| 7 | 3,434 | 18,177 | 377 | 144 |
| 8 | 3,925 | 20,732 | 393 | 150 |
| 9 | 4,416 | 23,360 | 409 | 156 |
| 10 | 4,906 | Evolve (01:00:00 @ 60 DNA) | 425 | 162 |
| 11 | 10,793 | 22,302 | 550 | 210 |
| 12 | 11,774 | 24,346 | 570 | 218 |
| 13 | 12,755 | 26,390 | 590 | 225 |
| 14 | 13,736 | 28,361 | 609 | 233 |
| 15 | 14,717 | 30,368 | 629 | 240 |
| 16 | 15,698 | 32,412 | 649 | 248 |
| 17 | 16,680 | 34,456 | 668 | 255 |
| 18 | 17,661 | 36,464 | 688 | 263 |
| 19 | 18,642 | 38,508 | 708 | 270 |
| 20 | 19,623 | Evolve (02:00:00 @ 70 DNA) | 727 | 278 |
| 21 | 41,208 | 102,200 | 896 | 342 |
| 22 | 43,170 | 106,945 | 920 | 351 |
| 23 | 45,132 | 112,019 | 943 | 360 |
| 24 | 47,094 | 116,727 | 967 | 369 |
| 25 | 49,056 | 121,691 | 991 | 378 |
| 26 | 51,019 | 126,473 | 1,014 | 387 |
| 27 | 52,981 | 131,364 | 1,038 | 396 |
| 28 | 54,943 | 136,182 | 1,061 | 405 |
| 29 | 56,905 | 141,073 | 1,085 | 414 |
| 30 | 58,868 | Evolve (08:00:00 @ 90 DNA) | 1,109 | 423 |
| 31 | 121,659 | 431,941 | 1,321 | 505 |
| 32 | 125,584 | 445,556 | 1,348 | 515 |
| 33 | 129,508 | 459,937 | 1,376 | 526 |
| 34 | 133,433 | 473,624 | 1,403 | 536 |
| 35 | 137,357 | 487,713 | 1,431 | 547 |
| 36 | 141,282 | 501,401 | 1,458 | 557 |
| 37 | 145,206 | 515,563 | 1,486 | 568 |
| 38 | 149,131 | 529,250 | 1,514 | 578 |
| 39 | 153,055 | 543,230 | 1,541 | 589 |
| 40 | 156,980 | Fuse (00:00:00 @ DNA) | 1,569 | 599 |
Gallery