This page needs serious attention!
---
This article does not currently meet the standards set at
Park Pedia: The Jurassic Park Wiki. Please feel free to edit it, and pose any
questions you might have on the article's talk page.
Dsungaripterus is able to be created in Jurassic World: The Game as a Rare pterosaur.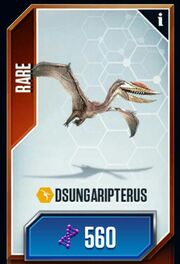 Information
It is unlocked by completing battle stage 34. More individuals can be purchased in the market for 190 DNA or found through card packs.
As of January 11th, 2016, a level 40 Dsungaripterus can be fused with a level 40 Suchomimus to make the hybrid Suchoripterus.
Cost and Time to Hatch
Availability
Rare
Incubation Period
02:00:00
Placement Cost
190 DNA
Selling Reward
??? DNA
Maximum Earning Rate
516.1 Gold/Minute
Additional Information
Dsungaripterus
Appearance
Unlocked Trivia
Evo 1
Reward: 
"Discovered in 1964 in China, the Dsungaripterus gets its name from the Junggar Basin where it was found."
Evo 2
Reward: 
"The Dsungaripterus has a low bone crest running from the base of its skull to halfway down its beak!"
Evo 3
Reward: 
"Did you know that the Dsungaripterus has the wingspan of 10 feet, the same as a modern trumpeter swan?"
Evo 4
Reward: 
"Together, the neck and head of the Dsungaripterus is roughly 3.3 feet long!"
Level-Based Stats
Level
Unmodified Earning Rates
(10 Minutes)
Feeding Costs
Life
Attack
1
17
121 (5x = 605)
70
27
2
33
240 (5x = 1,200)
74
28
3
49
361 (5x = 1,805)
77
30
4
65
478 (5x = 2,390)
81
31
5
81
599 (5x = 2995)
85
33
6
97
717 (5x = 3,585)
89
34
7
113
838 (5x = 4,190)
93
35
8
130
955 (5x = 4,775)
97
37
9
146
1,076 (5x = 5,380)
101
38
10
162
Evolve (00:30:00 @ 50 DNA)
105
40
11
355
876 (5x = 4,380)
136
52
12
388
955 (5x = 4,775)
140
54
13
420
1,035 (5x = 5,175)
145
55
14
452
1,116 (5x = 5,580)
150
57
15
484
1,197 (5x = 5,985)
155
59
16
517
1,275 (5x = 6,375)
160
61
17
549
1,356 (5x = 6,780)
165
63
18
581
1,434 (5x = 7,170)
169
65
19
613
1,515 (5x = 7,575)
174
67
20
646
Evolve (01:00:00 @ 60 DNA)
179
68
21
1,355
2,010 (5x = 10,050)
221
84
22
1,420
2,104 (5x = 10,520)
227
87
23
1,484
2,200 (5x = 11,000)
232
89
24
1,549
2,294 (5x = 11,470)
238
91
25
1,613
2,391 (5x = 11,955)
244
93
26
1,678
2,485 (5x = 12,425)
250
95
27
1,742
2,581 (5x = 12,905)
256
98
28
1,807
2,675 (5x = 13,375)
261
100
29
1,871
2,774 (5x = 13,870)
267
102
30
1,936
Evolve (02:00:00 @ 70 DNA)
273
104
31
4,000
3,186 (5x = 15,930)
325
124
32
4,129
3,291 (5x = 16,455)
332
127
33
4,258
3,394 (5x = 16,970)
339
129
34
4,387
3,495 (5x = 17,475)
346
132
35
4,516
3,600 (5x = 18,000)
352
135
36
4,645
3,701 (5x = 18,505)
359
137
37
4,774
3,804 (5x = 19,020)
366
140
38
4,903
3,905 (5x = 19,525)
373
142
39
5,032
4,010 (5x = 20,050)
379
145
40
5,161
Fuse (04:00:00 @ 350 DNA)
386
148
Gallery