This page needs serious attention!
---
This article does not currently meet the standards set at
Park Pedia: The Jurassic Park Wiki. Please feel free to edit it, and pose any
questions you might have on the article's talk page.
Dunkleosteus was added to the Aquatic Park of Jurassic World: The Game on December 11, 2015 as a legendary cavern creature.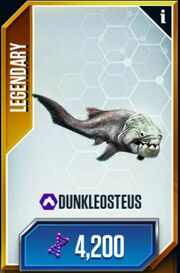 Information
Dunkleosteus is unlocked by completing its battle event. Additional individuals can be purchased in the market for 4,200 DNA or found through card packs. As of November 20, 2018 a level 40 Dunkleosteus can be fused with a level 40 Mosasaurus to create the hybrid Dunkleosaurus.
Cost and Time to Hatch
Availability
Legendary
Incubation Period
3 Days 11:00:00
Placement Cost
4,200 DNA
Selling Reward
2,100 DNA
Maximum Earning Rate
188.161 Gold/Minute
Additional Information
Dunkleosteus
Appearance
Unlocked Trivia
Evo 1
Reward: 3,025 Food
"Did you know that the Dunkleosteus is named after David Dunkle, curator of the Cleveland Museum of Natural History?"
Evo 2
Reward: 25,665 Food
"Much of the Dunkleosteus is covered with bony plates, providing protection from other predators-including fellow Dunkleosteus!"
Evo 3
Reward: 100 Bucks and 117,600 Food
"The Dunkleosteus doesn't actually have teeth. Its beak-like mouth is full of sharp, bony plates!"
Evo 4
Reward: 100 Bucks, 497,030 Food and 336 DNA
"
Level-Based Stats
| Level | Unmodified Earning Rates (12 Hours) | Feeding Costs | Life | Attack |
| --- | --- | --- | --- | --- |
| 1 | 424 | 3,024 | 290 | 91 |
| 2 | 847 | 5,964 | 306 | 96 |
| 3 | 1,271 | 8,988 | 323 | 101 |
| 4 | 1,694 | 11,928 | 339 | 106 |
| 5 | 2,117 | 14,952 | 355 | 111 |
| 6 | 2,541 | 17,892 | 371 | 116 |
| 7 | 2,964 | 20,916 | 387 | 121 |
| 8 | 3,387 | 23,856 | 403 | 126 |
| 9 | 3,811 | 26,880 | 419 | 131 |
| 10 | 4,234 | Evolve (02:00:00 @ 70 DNA) | 435 | 136 |
| 11 | 9,314 | 25,662 | 564 | 176 |
| 12 | 10,161 | 28,014 | 585 | 183 |
| 13 | 11,008 | 30,366 | 605 | 189 |
| 14 | 11,855 | 32,634 | 625 | 195 |
| 15 | 12,701 | 34,944 | 645 | 202 |
| 16 | 13,548 | 37,296 | 665 | 208 |
| 17 | 14,395 | 39,648 | 685 | 214 |
| 18 | 15,241 | 41,958 | 706 | 221 |
| 19 | 16,088 | 44,310 | 726 | 227 |
| 20 | 16,935 | Evolve (00:00:00 @ DNA) | 746 | 233 |
| 21 | 35,563 | 117,600 | 919 | 287 |
| 22 | 37,256 | 123,060 | 943 | 295 |
| 23 | 38,950 | 128,898 | 968 | 302 |
| 24 | 40,643 | 134,316 | 992 | 310 |
| 25 | 42,336 | 140,028 | 1,016 | 318 |
| 26 | 44,030 | 145,530 | 1,040 | 325 |
| 27 | 45,723 | 151,158 | 1,064 | 333 |
| 28 | 47,417 | 156,702 | 1,089 | 340 |
| 29 | 49,110 | 162,330 | 1,113 | 348 |
| 30 | 50,804 | Evolve (00:00:00 @ DNA) | 1,137 | 355 |
| 31 | | | 1,355 | 423 |
| 32 | | | | |
| 33 | | | | |
| 34 | | | | |
| 35 | | | | |
| 36 | | | | |
| 37 | | | | |
| 38 | | | | |
| 39 | | | | |
| 40 | 135,476 | Max | 1,609 | 503 |
Gallery