This page needs serious attention!
---
This article does not currently meet the standards set at
Park Pedia: The Jurassic Park Wiki. Please feel free to edit it, and pose any
questions you might have on the article's talk page.
Euoplocephalus is creatable in Jurassic World: The Game as a super rare herbivore.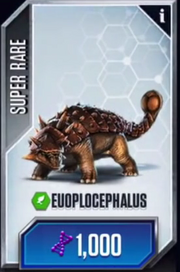 Information
Euoplocephalus is unlocked by completing Battle Stage 35. Additional individuals can be purchased in the market for 1,000 DNA or found through card packs.
As of September 30, 2015, a level 40 Euoplocephalus can be fused with a level 40 Giganotosaurus to create the hybrid Giganocephalus.
Cost and Time to Hatch
Availability
Super Rare
Incubation Period
04:58:00
Placement Cost
1,000 DNA
Selling Reward
500 DNA
Maximum Earning Rate
53 Gold/Minute
Additional Information
Euoplocephalus
Appearance
Unlocked Trivia
Evo 1
Reward: 1,080 Food
"Like the Ankylosaurus, the Euoplocephalus has armored eyelids and bone plate armor"
Evo 2
Reward: 7,050 Food
"Did you know that the Euoplocephalus weighs 2 tons? That's more than a Porsche 911!"
Evo 3
Reward:  32,310 Food and 40 Dino Bucks
"This heavily armored beast has a pair of defensive horns poking from the back of its neck."
Evo 4
Reward: 80 Dino Bucks, 136,515 Food and 80 DNA
"The name Euoplocephalus is Greek for 'well-armed head', due to this dinosaur's thick body armor!"
Level-Based Stats
Level
Unmodified Earning Rates
(24 Hours)
Feeding Costs
Life
Attack
1
241
1,080
175
45
2
481
2,130
185
47
3
721
3,210
194
50
4
961
4,260
204
52
5
1,201
5,340
214
55
6
1,441
6,390
223
57
7
1,681
7,470
233
60
8
1,921
8,520
243
62
9
2,161
9,600
253
65
10
2,401
Evolve (01:00:00 @ 60 DNA)
262
67
11
5,281
7,050
340
87
12
5,761
7,695
352
90
13
6,241
8,340
364
93
14
6,721
8,955
376
96
15
7,201
9,600
389
99
16
7,681
10,245
401
102
17
8,161
10,890
413
106
18
8,641
11,520
425
109
19
9,121
12,165
437
112
20
9,601
Evolve (02:00:00 @ 70 DNA)
449
115
21
20,161
20,340
554
142
22
21,121
21,285
568
145
23
22,081
22,290
583
149
24
23,041
23,235
597
153
25
24,001
24,225
612
156
26
24,961
25,170
627
160
27
25,921
26,145
641
164
28
26,881
27,105
656
168
29
27,841
28,080
670
171
30
28,801
Evolve (04:00:00 @ 80 DNA)
685
175
31
59,521
136,515
816
209
32
61,441
140,865
833
213
33
63,361
145,380
850
217
34
65,281
149,685
867
222
35
67,201
154,170
884
226
36
69,121
158,490
901
230
37
71,041
162,945
918
235
38
72,961
167,280
935
239
39
74,881
171,735
952
243
40
76,801
Fuse (04:00:00 @ 350 DNA)
969
248
Gallery