This page needs serious attention!
---
This article does not currently meet the standards set at
Park Pedia: The Jurassic Park Wiki. Please feel free to edit it, and pose any
questions you might have on the article's talk page.
Giganocephalus
 was made creatable in
Jurassic World: The Game
 on September 30, 2015 as a super rare hybrid herbivore.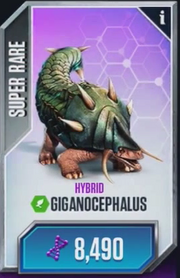 Information
It is unlocked in the market by fusing a Level 40 Giganotosaurus and a Level 40 Euoplocephalus. Additional individuals can be purchased in the market for 8,490 DNA or found through special card packs.
Cost and Time to Hatch
Availability
Super Rare
Incubation Period
14:07:00
Placement Cost
8,490 DNA
Selling Reward
4,245 DNA
Maximum Earning Rate
680.067 Gold/Minute
Appearance
Unlocked Trivia
Evo 1
Reward: 5,465 Food
"Did you know that Giganocephalus is a misnomer? Its name means 'giant head', when in fact it actually has a small head!"
Evo 2
Reward: 39,520 Food
"The Giganocephalus has smooth, armored plates and four large spikes protecting its neck and shoulders."
Evo 3
Reward: 100 Bucks and 181,125 Food
"Like the Euoplocephalus, the Giganocephalus has fused bone plates, protecting its back and neck from attack."
Evo 4
Reward: 100 Bucks, 679 DNA and 768,465 Food
"The Giganocephalus is nearly twice the size of its Euoplocephalus progenitor; weighing 4.2 tons and measuring up to 30 feet in length!"
Level-Based Stats
| Level | Umnodified Earning Rates (3 Hours) | Feeding Costs | Life | Attack |
| --- | --- | --- | --- | --- |
| 1 | 383 | 5,465 | 551 | 115 |
| 2 | 766 | 10,829 | 581 | 121 |
| 3 | 1,148 | 16,294 | 612 | 128 |
| 4 | 1,531 | 21,556 | 643 | 134 |
| 5 | 1,913 | 27,021 | 673 | 140 |
| 6 | 2,296 | 32,384 | 704 | 147 |
| 7 | 2,678 | 37,849 | 735 | 153 |
| 8 | 3,061 | 43,112 | 765 | 159 |
| 9 | 3,443 | 48,576 | 796 | 166 |
| 10 | 3,826 | Evolve (04:00:00 @ 120 DNA) | 826 | 172 |
| 11 | 8,416 | 39,519 | 1,071 | 223 |
| 12 | 9,181 | 43,086 | 1,109 | 231 |
| 13 | 9,946 | 46,730 | 1,148 | 239 |
| 14 | 10,712 | 50,221 | 1,186 | 247 |
| 15 | 11,477 | 53,839 | 1,224 | 255 |
| 16 | 12,242 | 57,406 | 1,262 | 263 |
| 17 | 13,007 | 61,049 | 1,301 | 271 |
| 18 | 13,772 | 64,541 | 1,339 | 279 |
| 19 | 14,537 | 68,260 | 1,377 | 287 |
| 20 | 15,302 | Evolve (00:00:00 @ DNA) | 1,415 | 295 |
| 21 | | | | |
| 22 | | | | |
| 23 | | | | |
| 24 | | | | |
| 25 | | | | |
| 26 | | | | |
| 27 | | | | |
| 28 | | | | |
| 29 | | | | |
| 30 | | Evolve (00:00:00 @ DNA) | | |
| 31 | | | | |
| 32 | | | | |
| 33 | | | | |
| 34 | | | | |
| 35 | | | | |
| 36 | | | | |
| 37 | | | | |
| 38 | | | | |
| 39 | | | | |
| 40 | 122,412 | MAX | 3,053 | 636 |
Gallery