Cobra Kai Season 4 - The Loop
Play Sound
This page needs serious attention!
---
This article does not currently meet the standards set at
Park Pedia: The Jurassic Park Wiki. Please feel free to edit it, and pose any
questions you might have on the article's

talk page

.
Gorgosuchus is creatable in Jurassic World: The Game as a Legendary Hybrid amphibian.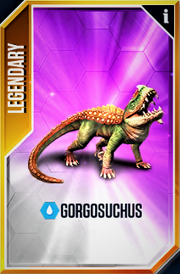 Information
It can be created by fusing a level 40 Gorgosaurus and level 40 Kaprosuchus. Additional individuals can be purchased in the market for 42,560 DNA or found in special card packs.
Cost and Time to Hatch
Availability
Legendary Hybrid
Incubation Period
Days 00:00:00
Placement Cost
42,560 DNA
Selling Reward
170,240 DNA
Maximum Earning Rate
790.7 Gold/Minute
Appearance
Unlocked Trivia
Evo 1
Reward: 21,710 Food
"Did you know that the Gorgosuchus is a distant relative to the Tyrannosaurus rex?!"
Evo 2
Reward:156,980 Food
"Combining the strongest traits of a Gorgosaurus and Kaprosuchus, the Gorgosuchus's name means 'dreadful crocodile'!"
Evo 3
Reward: 100 Bucks, 718,770 Food
"Measuring at 6700 pounds per square inch, the force of a Gorgosuchus bite rivals a modern saltwater crocodile!"
Evo 4
Reward: 100 Bucks, 3,039,485 Food, 885 Loyalty Points
"The Gorgosuchus is an exclusively terrestrial predator, preferring to hunt a range of smaller ceratopsids and hadrosaurs."
Level-Based Stats
| Level | Unmodified Earning Rates (22 Hours) | Feeding Costs | Life | Attack |
| --- | --- | --- | --- | --- |
| 1 | 3,262 | 21,711 | 1,667 | 426 |
| 2 | 6,524 | 42,752 | 1,759 | 450 |
| 3 | 9,785 | 64,379 | 1,852 | 473 |
| 4 | 13,047 | 85,421 | 1,944 | 497 |
| 5 | 16,308 | 107,048 | 2,037 | 521 |
| 6 | 19,570 | 128,090 | 2,129 | 544 |
| 7 | 22,831 | 149,716 | 2,222 | 568 |
| 8 | 26,093 | 170,758 | 2,315 | 592 |
| 9 | 29,354 | 192,385 | 2,407 | 615 |
| 10 | 32,616 | Evolve (00:00:00 @ DNA) | 2,500 | 639 |
| 11 | | | | |
| 12 | | | | |
| 13 | | | | |
| 14 | | | | |
| 15 | | | | |
| 16 | | | | |
| 17 | | | | |
| 18 | | | | |
| 19 | | | | |
| 20 | 130,461 | Evolve (00:00:00 @ DNA) | 4,282 | 1,095 |
| 21 | | | | |
| 22 | | | | |
| 23 | | | | |
| 24 | | | | |
| 25 | | | | |
| 26 | | | | |
| 27 | | | | |
| 28 | | | | |
| 29 | | | | |
| 30 | 391,382 | Evolve (00:00:00 @ DNA) | 6,527 | 1,669 |
| 31 | | | | |
| 32 | | | | |
| 33 | | | | |
| 34 | | | | |
| 35 | | | | |
| 36 | | | | |
| 37 | | | | |
| 38 | | | | |
| 39 | | | | |
| 40 | 1,043,684 | Max | 9,235 | 2,361 |
Gallery