Halloween Horror Nights is a Halloween celebration held at the Universal Studios theme parks since 1991 at Universal Studios Florida, originally once as the name Fright Nights. Near Halloween, the parks are re-themed into haunted playgrounds. As it is apart of the parks, Jurassic Park is usually re-themed in this event.
Hollywood Version
2006-2007 (The Director's Cut and Carnival of Carnage) Surprisingly, not much was done to the Jurassic Park area in Hollywood, besides it being renamed to Jurassic Park: In the Dark.
2008 (Where Nightmares Come Alive) This year, the ride was renamed "Jurassic Park: Nightmare" (To match in with the theme of nightmares, as Freddy Kruger, the villain from "A Nightmare on Elmstreet" who murdered children in their dreams was the icon this year). The only major change was that inside the building, "Welcome to the Jungle" by Guns 'N' Roses replaced the intense Jurassic Park music, and several strobe light effects illuminated violent scenes of dinosaurs(raptors to be specific) tearing apart Jurassic park workers.
2009: (You'll Wish It Were Just A Movie) Jurassic Park: The Ride has been operating during this event.
2010:
2011:
Orlando Version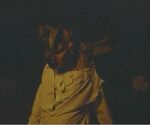 When the Halloween Horror Nights was moved to Islands of Adventure until 2005, the Jurassic Park island was more drastically changed then at Hollywood. It so far had the following themes:
2002: (Islands of Fear) Alike every other island in the park, the Jurassic Park area has morphed into a nightmarish counterpart of itself. The scare zone called JP: Extinction followed the events of the movie, where the power went out, the dinosaurs had escaped from their paddlocks, carnivores were hiding in the bushes seeking their next meal, and the remaining Jurassic Park workers were all frantically wandering around the area, screaming for help or screaming for scares. But worst of all, bizarre mutated humanoid creatures, part human, part dinosaur, roamed free, seeking for more victims.  The main house here was Project Evilution.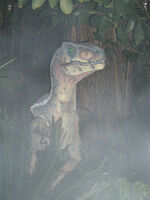 2003: (The Director will see you now) The Jurassic Park area was renamed to be Night Prey, a tropical island full of evil intelligent monsters and zombies.
2004: (Whats your breaking point?) Jurassic Park was mainly closed during this event. However, during peak nights, Jurassic Park, along with Toon Lagoon and The Lost Continent, were opened.
2005: (Tales of Terror) This year, Jurassic Park was re-themed into Gorewood Forest, a rather bleak forest which held the Cemetery Mines, a haunted mine full of strange creatures.
See Also
Community content is available under
CC-BY-SA
unless otherwise noted.