"'Ooh, ah,' that's how it always starts. But then later there's running and screaming."

---

 

This page contains spoilers from an upcoming, or newly released, installment of the Jurassic Park franchise. If you don't want spoilers, leave the page!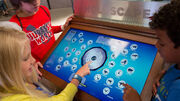 The Holoscape was a device in the Innovation Center at Jurassic World that made holograms of an animal at full size.
Creatures
The hologram animals were:
Trivia
Carnotaurus, Coelurus, Compsognathus, Euoplocephalus, Herrerasaurus, Nasutoceratops, Pachyrhinosaurus, Peloroplites, Segisaurus, Sinoceratops, Stygimoloch, Styracosaurus, Teratophoneus, and Troodon are the only dinosaurs known to exist on Isla Nublar that aren't on the Holoscape.
Gallery
Community content is available under
CC-BY-SA
unless otherwise noted.