Ichtyostega is creatable in Jurassic World: The Game as a legendary amphibian.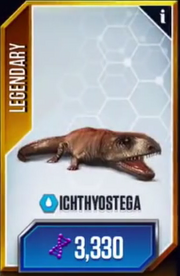 Information
Ichtyostega is unlocked by completing battle stage 38. Additional individuals can be purchased in the market with 3,330 DNA or found in card packs.
A level 40 Icthyostega can be fused with a level 40 Rajasaurus to create the hybrid Rajastega.
Cost and Time to Hatch
Availability
Legendary
Incubation Period
2 days 04:00:00
Placement Cost
3,330 DNA
Selling Reward
1,665 DNA
Maximum Earning Rate
238.697 Gold/Minute
Additional Information
Ichthyostega
Appearance
Unlocked Trivia
Evo 1
Reward: 2,400 Food
"Did you know that its name is Greek for 'fish roof'? The Ichthyostega has lungs as well as gills!"
Evo 2
Reward: 20,350 Food
"The Ichthyostega has a mixture of amphibious and fish-like features, including webbed feet and a fin on its tail!"
Evo 3
Reward: 100 Dino Bucks and 93,240 Food
"Although its head resembles that of a fish, the Ichthyostega's long body and legs allow it to walk on land!"
Evo 4
Reward: 100 Dino Bucks, 394,075 Food and 266 DNA
"At 5 feet in length, am adult Ichthyostega is as long as a modern boomslang!"
Level-Based Stats
Level
Unmodified Earning Rates (5 hrs)
Feeding Costs
Life
Attack
1
224
480

(5x = 2,400

)

269
103
2
448
946

(5x = 4,730

)

284
109
3
672
1,42

6 (5x = 7,130

)

299
114
4
896
1,89

2 (5x = 9,460

)

314
120
5
1,119
2,371

(5x = 11,855

)

329
126
6
1,343
2,838

(5x = 14,190

)

344
131
7
1,567
3,317

(5x = 16,585

)

359
137
8
1,791
3,783

(5x = 18,915

)

374
143
9
2,014
4,263

(5x = 21,315

)

389
149
10
2,238
Evolve (02:00:00 @ 70 DNA)
404
154
11
4,924
4,070

(5x = 20,350

)

524
200
12
5,371
4,443

(5x = 22,215

)

543
207
13
5,819
4,816

(5x = 24,080

)

561
214
14
6,266
5,175

(5x = 25,875

)

580
221
15
6,714
5,542

(5x = 27,710

)

599
229
16
7,161
5,915

(5x = 29,575

)

617
236
17
7,609
6,288

(5x = 31,440

)

636
243
18
8,056
6,654

(5x = 33,270

)

655
250
19
8,504
7,027 (5x = 35,135)
673
257
20
8,952
Evolve (04:00:00 @ 80 DNA)
692
264
21
18,798
93,240
853
326
22
19,693
97,569
876
334
23
20,588
102,198
898
343
24
21,483
106,494
920
352
25
22,378
111,023
943
360
26
23,273
115,385
965
369
27
24,168
119,847
988
377
28
25,063
124,243
1,010
386
29
25,953
128,705
1,033
394
30
26,854
Evolve (08:00:00 @ 90 DNA)
1,055
403
31
55,497
394,073
1,257
480
32
57,287
406,494
1,283
490
33
59,077
419,614
1,310
500
34
60,868
432,101
1,336
510
35
62,658
444,955
1,362
520
36
64,448
457,443
1,388
530
37
66,238
470,363
1,414
540
38
68,028
482,850
1,441
550
39
69,819
495,604
1,467
560
40
71,609
Fuse (00:04:00 @ 500 DNA)
1493
570
Trivia
Gallery