Wiki Targeted (Entertainment)
Play Sound
This page needs serious attention!
---
This article does not currently meet the standards set at
Park Pedia: The Jurassic Park Wiki. Please feel free to edit it, and pose any
questions you might have on the article's

talk page

.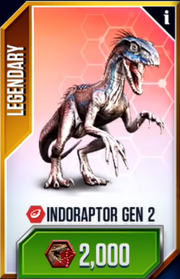 Indoraptor is a super-hybrid dinosaur that appears in Jurassic World: The Game. An additional Gen 2 version was added in June 19th, 2020.
Information
Indoraptor is unlocked in the market by fusing a Level 40 Indominus rex and 4,000 Velociraptor S-DNA. Additional individuals can be purchased in the market for 2,000 S-DNA.
Cost and Time to Hatch
Availability
Legendary Super Hybrid
Incubation Period

6 Days, 23 Hours

Placement Cost
2,000 S-DNA
Selling Reward
1,000 S-DNA
Maximum Earning Rate
1,723.68 Coins/Minute
Appearance
Unlocked Trivia
Evo 1
Reward: 35,100 Food
"This fusion of the Indominus rex and Velociraptor is possibly one of the most intelligent dinosaurs to ever exist."
Evo 2
Reward: 253,800 Food
"At a height of 7.3 meters and weighing nearly a metric ton, this dinosaur still manages to be light on its feet."
Evo 3
Reward: 80 Bucks and 1,162,080 Food
"Among all of its other unique attributes, the Indoraptor also has the ability to echolocate!"
Evo 4
Reward: 100 Bucks, 4,914,135 Food, and 100 DNA
"One handler nicknamed the Indoraptor 'the stealth fighter jet of dinosaurs!"
Level-Based Stats
| Level | Unmodified Earning Rates (10 Hours) | Feeding Costs | Life | Attack |
| --- | --- | --- | --- | --- |
| 1 | 3,232 | 35,100 | 3,402 | 1,772 |
| 2 | 6,464 | 69,120 | 3,591 | 1,870 |
| 3 | 9,696 | 104,085 | 3,780 | 1,969 |
| 4 | 12,928 | 138,105 | 3,969 | 2,067 |
| 5 | 16,160 | 173,070 | 4,158 | 2,166 |
| 6 | 19,392 | 207,090 | 4,347 | 2,268 |
| 7 | 22,624 | 242,055 | 4,536 | 2,363 |
| 8 | 25,856 | 276,075 | 4,725 | 2,461 |
| 9 | 29,088 | 311,040 | 4,914 | 2,559 |
| 10 | 32,320 | Evolve (00:00:00 @ DNA) | 5,103 | 2,658 |
| 11 | | | | |
| 12 | | | | |
| 13 | | | | |
| 14 | | | | |
| 15 | | | | |
| 16 | | | | |
| 17 | | | | |
| 18 | | | | |
| 19 | | | | |
| 20 | | Evolve (00:00:00 @ DNA) | 6,764 | 3,554 |
| 21 | | | | |
| 22 | | | | |
| 23 | | | | |
| 24 | | | | |
| 25 | | | | |
| 26 | | | | |
| 27 | | | | |
| 28 | | | | |
| 29 | | | | |
| 30 | | Evolve (00:00:00 @ DNA) | 8,550 | 4,399 |
| 31 | | | | |
| 32 | | | | |
| 33 | | | | |
| 34 | | | | |
| 35 | | | | |
| 36 | | | | |
| 37 | | | | |
| 38 | | | | |
| 39 | | | | |
| 40 | 1,034,209 | Max | 10,181 | 5,302 |
Gallery