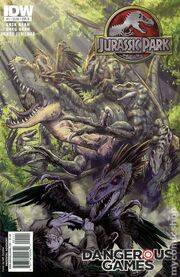 The first issue of Jurassic Park: Dangerous Games was released by IDW Publishing on September 2011. The artwork was done by Jorge Jimenez. The story was written by Erik Bear, with story consultant Greg Bear.[1]
The story revolves around CIA agent Daniel Espinoza, who has to survive on Isla Nublar.
Story
It is eleven years after the events of the Jurassic Park films. The infamously brutal Nicaraguan drug lord Gabriel Cazares has used his ties with some people in the UN to buy Isla Nublar (complete with dinosaurs) from the Costa Rican government. Cazares and his henchmen have converted the Visitor Center into a walled fortress and pleasure palace in the center of a primeval jungle.
CIA agent Daniel Espinoza is working undercover to infiltrate Cazares' drug ring. However, three months later Espinoza's real identity is discovered. Three days later he is brought to Isla Nublar and thrown into the jungle with a dagger. He has given 24 hours before the Cazares' thugs will hunt him down.
Espinoza tries to survive in the jungle and wants to find a way off the island. Espinoza then witnesses a dinosaur attack and takes down a Parasaurolophus with his knife. His would-be meal is interrupted by an Allosaurus attack. Espinoza trips on a log and is knocked out. A pack of Velociraptors appears and kills the Allosaurus. This fight is shown at the cover.
Someone announces that they have a guest.
Reception
Issue 1 got mostly negative reviews. PopApostle gave it an overall grade D. Stating it was "An absolute waste of paper. A third string story with art and colors that are a flatline in presentation. If this is the future of Jurassic Park comics, they're soon to be extinct."[2]
Characters
These human characters appear in this issue:
Daniel's female colleague
Carlos
"Tubby"
Dinosaurs
This gallery lists the dinosaurs in this issue in order of appearance.
Gallery
Sources
↑ Preview: Jurassic Park: Dangerous Games #1, comicbookresources.com.
↑ popapostle.com, Reviewed by Patrick Hayes aka PatBorg.