The third issue of Jurassic Park: Dangerous Games was released by IDW Publishing in November 9th 2011. The artwork was done by Jorge Jimenez. The story was written by Erik Bear, with story consultant Greg Bear.[1] This is an action heavy issue who's pace moves very quickly.
CIA agent Daniel Espinoza and Dr. Francis White escape from Tiburon. Espinoza finds weapons in an hydroelectric plant. On top of the waterfall Espinoza and Tiburon fight to the death.
Story
The story of the previous issue ended with Francis White captured in a net and Daniel Espinoza is taken under shot by Cazares's assassin.
White calls the raptors for backup. The assassin hears the call and looks around. In that moment of distraction Espinoza escapes. He lures the assassin away from Francis to runs towards a river.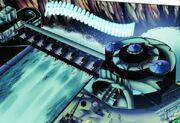 Espinoza reaches a Hydroelectric Plant near a waterfall. He enters the plant and finds weapons. The plant of the nesting ground of a group of Psittacosaurus. This scene is shown on the cover.
The end result is a battle to the death at the top of the waterfall. Espinoza kills Tiburon.
Reception
PopApostle gave Issue 3 an overall grade B. "This was the best issue so far, but in the words of Dr. Ian Malcolm, "You do have some dinosaurs in your dinosaur park?""[2]
Dinosaurs
Sources
↑ Preview: Jurassic Park: Dangerous Games #3, comicbookresources.com.
Community content is available under
CC-BY-SA
unless otherwise noted.