Wiki Targeted (Entertainment)
Play Sound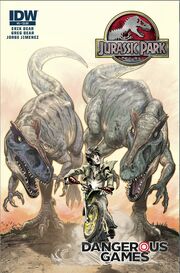 The final issue of Jurassic Park: Dangerous Games was released by IDW Publishing in January 4th 2012. The artwork was done by Jorge Jimenez. The story was written by Erik Bear, with story consultant Greg Bear.[1]
Plot summary
Agent Espinoza has done the unthinkable and survived 24 hours on an island full of predators who want to kill him— both human and dinosaur. Now the end is near, and drug kingpin Cazares is the only thing standing in the way of Espinoza's freedom. Cazares, and an entire island of angry, rampaging dinosaurs that is! It's a crazy, chaotic, climactic finish to Dangerous Games!
Story
under construction
Reception
PopApostle gave Issue 5 an overall grade F. "I don't want to read another comic written, drawn, or colored by those involved with this book. If you love Jurassic Park don't even open this book, let alone purchase the trade. IDW, you really need to think long and hard about what you want to do with this franchise. I am naturally inclined to want to see new JP tales, but if they're like this I'll favor extinction."[2]
Dinosaurs
Trivia
This issue was the last Jurassic Park liscensed comic to be published under that branding. As of 2020, it also remains the last proper official comic published of the entire Jurassic Park media franchise (including Jurassic World).
Sources
Community content is available under
CC-BY-SA
unless otherwise noted.