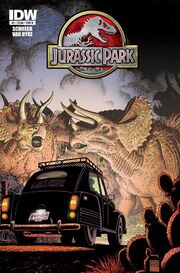 Jurassic Park: Redemption II is the second issue of the five-issue story arc Jurassic Park: Redemption. It was produced by IDW Publishing in June 2010. The story was written by IDW Senior Editor and comics veteran Bob Schreck. The interior art was provided by Nate Van Dyke, the covers were made by Tom Yeates and Frank Miller. Variant covers were provided by Art Adams, Paul Pope, and Bernie Wrightson.
Story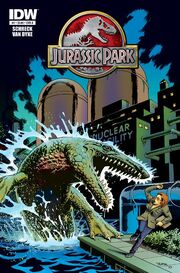 Jurassic Park: Redemption issue two is described by IDW Comics as "Lex and Tim Murphy, the well-to-do grandchildren of dearly departed John Hammond, are all grown up and carrying on Hammond's legacy. While Lex is quelling a public outcry to re-open Jurassic Park, Tim is secretly helping create a new batch of kinder, gentler dinosaurs that are currently hatching in a secret location... until one leaves the nest and begins tearing up a small Texas town!"

Dinosaurs and Other Prehistoric Creatures
Gallery
Community content is available under
CC-BY-SA
unless otherwise noted.