Jurassic Park 2K9 (also known as JP 2009) is a toy line released in 2009 by Hasbro. It featured retooled repaints such as Battle Growlers and even a retooled Bull T-Rex. It is exclusive to Toys R Us and has been discontinued as of 2011.
The main toy of the series was a repainted/Retooled Bull T-Rex that was very different from its previous versions; it has moveable legs and feet, 10 movie-accurate sounds, and stomping sound effects. Unlike the previous versions, it cannot swallow figures completely and it does not have the slit in the stomach. The legs, arms and body were made of a hard plastic (possibly to house the electronics better) , while the head and tail were made of a softer plastic. It also had a very bright color scheme, predominantly orange, with some grey and black stripes mixed in.
Dinosaur vs. Packs
Spinosaurus vs. Velociraptor
Tyrannosaurus Rex vs. Spinosaurus
Tyrannosaurus Rex vs. Triceratops
Tyrannosaurus Rex vs. Velociraptor
Humans vs. Dinosaur Packs
Forest Hunter General vs. Tyrannosaurus Rex
Dino Glide Billy Brennan vs. Pteranodon
Dino Diver vs. Spinosaurus
Desert Tracker Alan Grant vs. Velociraptor
Dinosaurs
Tyrannosaurus Rex
Velociraptor
Dilophosaurus
Triceratops
JURASSIC PARK 2K9 BULL TYRANNOSAURUS REX (WITH GENERAL).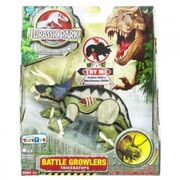 Community content is available under
CC-BY-SA
unless otherwise noted.