Jurassic World: Dominion Dominates Fandom Wikis - The Loop
Play Sound
"And then there's the merchandising..."
When Jurassic Park was released in 1993, it became an instant phenomenon. It also created a large merchandise, which consisted out of multiple toy lines and various collectables.
Many of these can now be found on the popular youTube channels 'Jurassic Collectables' http://www.youtube.com/user/JurassicCollectables, 'DinoReviews101' http://www.youtube.com/user/DinoReviews101, and 'JPToys97', following a hiatus reemerged as 'RedHannya' in 2013 http://www.youtube.com/channel/UC6hofwBcdOPXQLtE-9Ouw7w .
Key Chains
Posters
4 in 1 Poster Pen Set
Clothing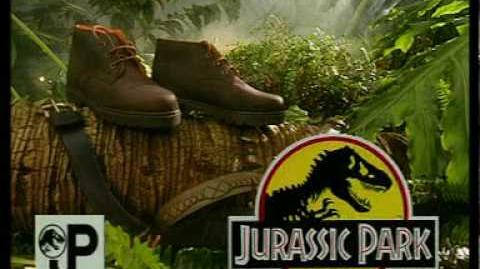 Clocks
Bed Sheets
McDonald's

Collector Cups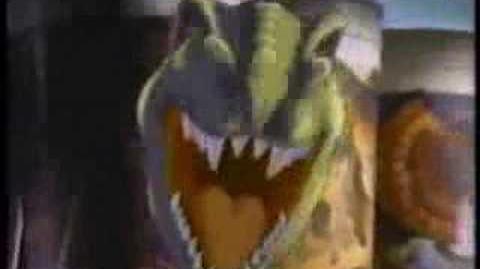 Jurassic Park Camp Bumper Stickers
Wallet Cards
ID Cards
Four Jurassic Park ID cards appear for Alan, Ellie, Lex and Tim. These cards are peculiar because the signatures of these characters are on it. Furthermore Lex and Tim's last name is Hammond instead of Murphy.
Napkin sets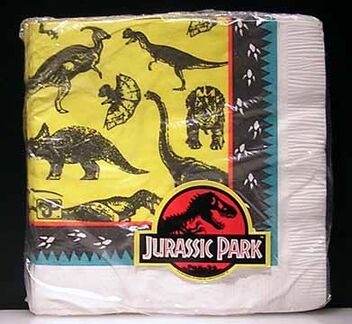 Jurassic Park Yellow Beverage Napkins. Napkins measure approximately 9 3/4" X 9 3/4" when unfolded. Pack contains 20 3 ply napkins. Napkins feature many different dinosaurs (T. rex, Dilophosaurus, Brachiosaurus, Triceratops and Parasaurolophus).

Draw and erase magic board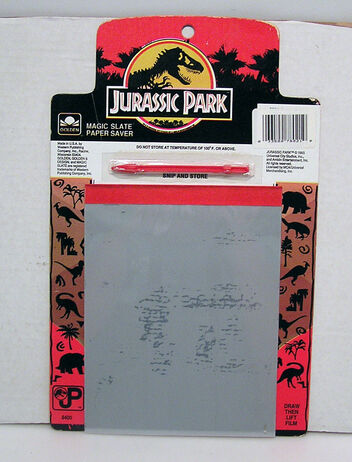 Jurassic Park themed draw and erase magic board.

Lunchbox set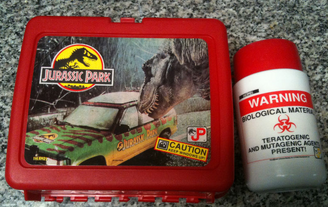 Jurassic Park lunch box with vacuum flask. It is notable as it was recalled due to the thermos being mistaken for a bottle of chemicals. Therefore it is extremely rare.

Pogs
Jurassic Park themed pogs produced by SkyBox International.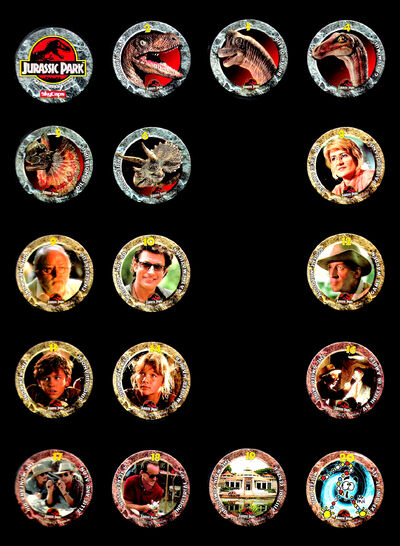 Paint by Number
see Jurassic Park: Paint by Number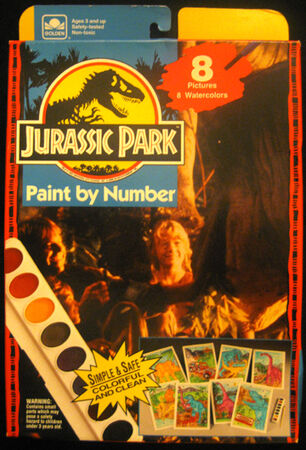 Glasses, Mugs, steins etc.
Valentine's cards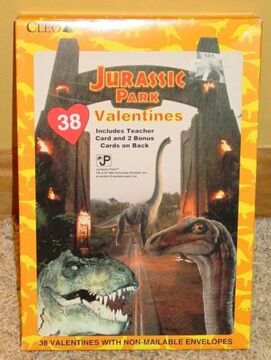 Pack of 38 Valentine's cards. Each valentine features a dinosaur, with cheesy '90's sayings, such as, "You're DINO0MITE!," "I like you something fierce!, "You're Mega Cool!, and "You're a scream!."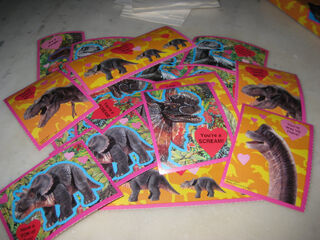 Party Crackers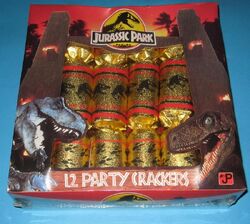 A set of 12 Jurassic Park themed party crackers that contain small Jurassic Park collectables. The back description says:

"Each cracker contains a Jurassic Park transfer, a Jurassic Park magnet or badge, a motto and snap. There are 12 Jurassic Park party hats included in the box.
These crackers contain some items not intended as toys. The toy contents comply with E.C. requirements. These crackers are unsuitable for children under 36 months as they contain small parts which could represent a choking hazard to young children."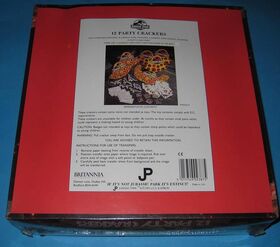 Eye Discuise Glasses
Icon Velociraptor claw and egg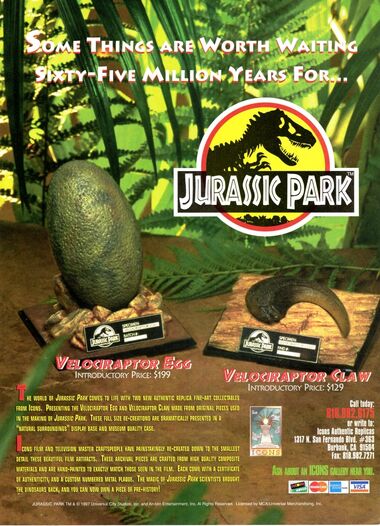 iPhone metal case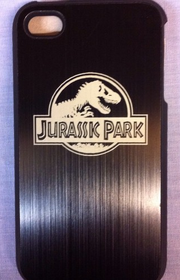 Postcards