A box set (sometimes referred to as a boxed set) is a compilation of various musical recordings, films, television programs, or other collection of related items that are contained in a box. Many box sets of the film Jurassic Park III have been released.
JPIII was released in the DVD era and therefore no VHS box sets exist for this movie. JPIII box sets can be divided in two groups: JPIII-only and trilogy sets.
Widescreen Collector's Edition
Jurassic Park III was released on DVD multiple times as a Widescreen Collector's Edition.
Jurassic Park DVD Adventure Pack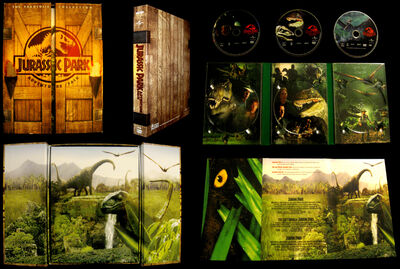 2011 Blu-ray set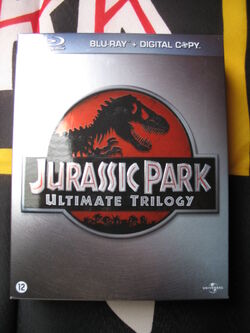 For a complete description, see Limited Edition Blu-ray Trilogy gift set.
In 2011 the Jurassic Park trilogy was released on Blu-ray Disc. The simple metal themed cover art is clearly inspired by the JPIII box set. The contains three Blu-ray discs and digital copy discs. Each film has a new main menu. This set also contains a series of new Extra's with previously unseen material.
When box set was first released, a large gift set containing the Blu-ray set was also released.
2011 DVD Trilogy set
In 2011 a DVD box set of the trilogy was released. The cover art is identical to the Blu-ray set. The DVD's have the same cover as in the fossil box set.
The box set contained the same special features as the previous sets, not the new extra's of the Blu-ray set.
Community content is available under
CC-BY-SA
unless otherwise noted.