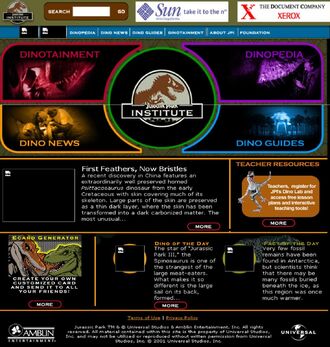 The Jurassic Park Institute was an expansive Jurassic Park-based website launched by Universal Studios that opened on June 12, 2001 and closed down in 2006. The site contained a database about dinosaurs as well as games and activities. The main point of the website was to "create the ultimate dinosaur experience". Also called "JPI", it was to have a school program where kids could learn about dinosaurs.
The ultimate goal of the Institute was to be "factual and scientifically accurate" by consulting with some of the world's leading paleontologists at the time.[1]
Dinopedia
The Dinopedia was a section that contained a list of dinosaurs from A-Z. It was the last remaining page of the website that could be viewed up until recently. It was transferred to Yahoo Kids for a short time, but has since disappeared.
Parts of the Dinopedia and site can be found at the Wayback machine.
The dinosaur profiles were copied nearly exactly to the Jurassic Park III website's dinosaur profiles when it opened, including some of the Institute artwork.
Dino News
The Dino News was a page where all of the latest dinosaur information was put.
Dino of the Day
The "Dino of the Day was a small link on the home page, that featured a different dinosaur each day, and you were able to get information on that particular dinosaur.
Dinotainment
The "Dinotainment" was a link for entertainment. This page had crafts, games, cards and more. The page was going to have a user name setting, but it never opened.
Dino Guides
The Dino Guides was a page on the JPI from which you could study dinosaur eggs, and more subjects relating to dinosaurs.
Dino Lab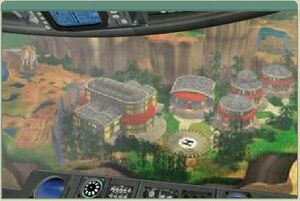 The Dino Lab could be entered through the round green button in the middle of the screen. It leads you this movie. It shows a computer screen on which you've to click. The commentary says:
Congratulations!
You have been accepted to the official Jurassic Park
Institute field study program. As a member of the
team, please report to the Dino Lab Research Center
so that you may choose your assignment and learn
more about the many adventures ahead.
The movie shows that you are transported to the Dino Lab Research Center by helicopter. After you arrived you can enter the Dino Lab.
Merchandise
The Jurassic Park: Institute has four books in its title. They are listed here:
In 2003 the Institute arranged the Jurassic Park Institute Tour in Japan.
Reason for the close
As of 2016, no official press release has been released regarding the close of the website. Many fans were disappointed by this.
Links
https://jurassic-park-institute.fandom.com/wiki/Jurassic_Park_Institute_Wiki
Cite error: <ref> tags exist, but no <references/> tag was found
Community content is available under
CC-BY-SA
unless otherwise noted.