DNN Newsland is the news of Park Pedia. It will have the latest information about the wiki including software upgrades, significant changes, community events, and any shutdowns scheduled by Wikia.

Malcolm returns in Jurassic World II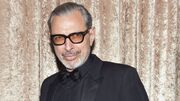 Date: 2017-04-26
Author: BastionMonk
The Hollywood Reporter released an article article saying that actor Jeff Goldblum, who portrayed the character Dr. Ian Malcolm, will star in Jurassic World II. Frank Marshall also acknowledged this on Twitter.
Are you excited about Malcolm's return? Share your thoughts here.
Jurassic World II Easter Eggs
Date: 2017-04-19
Author: BastionMonk
I hope you all had a happy Easter. On the first day of Easter, April 16th, Colin Trevorrow shared a picture on twitter of a group of dinosaur eggs in an incubator. I do not know if this is a picture from the Jurassic World II set or a stock picture of the Hammond Creation Lab set. I hope that this image indicates we will see dinosaur cloning facilities in the new film.
Want to share your thoughts about this? Head to the forum
Happy scary Halloween
Date: 2016-10-31
Author: BastionMonk
I hope you all had or going to have a nice and scary Halloween/Samhain/Bonfire Night!
We have tried to dress-up this wiki for the occasion. The Jurassic franchise has all the elements for a scary Halloween story. Abandoned spooky buildings in the forest, bloodthirsty monsters lurking in the night, mad scientists, unnatural hybrids etc. I hope Universal will one day produce a booklet or short movie about Halloween in a Jurassic setting. A well-written fan fiction would also be nice.
Care to tell how your Halloween was? Write about it over here.
Brief PSA about the raptors in Jurassic World
Date: 2016-02-14
Author: Mjamnnella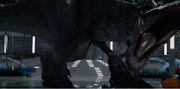 It has come to my attention that many people are having misconceptions about the ending to Jurassic World and I would like to address this. In the main street battle, one Velociraptor was burnt and the other was tossed. For a while, the burnt raptor was thought to have been Echo, and the tossed raptor was thought to be Delta.
Now that there are better photos of this scene, we can now come to the conclusion that Delta was burnt on the grill and Echo the raptor tossed.
Please don't make this mistake in the future and thank you for taking the time to read this.
Happy Holidays
Date: 2015-12-24
Author: BastionMonk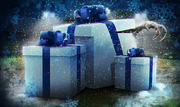 Well, the Longest Night has past us. The days are starting to get longer second by second. Even though we still have to face the coldest part of the year, we can muster hope from the knowledge that there will be another summer. That asks for a celebration :)
However, that is how I look at it. Regardless of your personal beliefs and local traditions, I wish you all a merry holiday season and a happy new year! I hope you have a good time. Please spend it offline with your loved ones. Not editing this wiki :)
2015 was probably the best year for Jurassic Park fans since 1993. We finally saw a new and fresh Jurassic film and we still enjoy the games and collectibles that were released in its wake.
I hope next year will be a good one as well. I do not know of any Jurassic activities planned by Universal for 2016. I do know of a couple of good dinosaur and caveman video games set for release in 2016. That is something.
Happy Halloween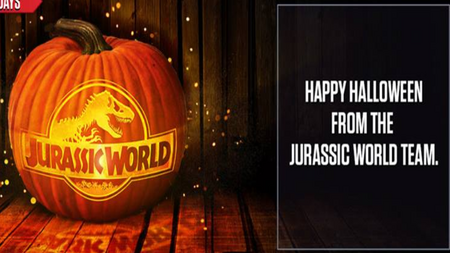 Date: 2015-10-31
Author: BastionMonk

I wish you all a very happy Halloween/Samhain/All Saints' Day/Walpurgis Night/Reformation Day this weekend!
I hope you have fun with your friends and family. If you created some nice Jurassic Park themed costumes of Jack-O-Lanterns, please show it on the forum.
I hope that one day we will have the skills to give this wiki a nice Halloween makeover for the occasion.

Mesozoica: Our only chance for a new Operation Genesis game

Date: 2015-09-24
Author: BastionMonk

Mesozoica is a for-profit indie game project that aims to create a "theme park simulator in the vein of Jurassic Park: Operation Genesis, a game where you take prehistoric creatures and create several scenarios in a theme park of your own design. A land of opportunity where the player has free control over what he/she puts into her park, what she charges to enter the park and how the prehistoric creatures look and create."
Mesozoica is our only chance for getting a new 2015-version of Jurassic Park: Operation Genesis. How do I know this?
Many fans really want an open world dinosaur shooter/survival game. Universal has tried that but failed and they never tried again.
Because of the high demand among dino fans, many fans have tried to provide the supply. I have seen many impressive fan projects to create a dinosaur survival/shooter game. Most of them dy out after a few years without even releasing a demo. All other are permanently under construction.
However, there ARE dinosaur survival games now. To name a few: ARK: Survival Evolved, Primal Carnage, Primal: The Hunter etc. NONE of these are created by Universal, major video game companies or fans. They are for-profit indie games.
The SAME will happen with the dinosaur zoo simulation/management game that many fans want. Universal will NOT create one. They have given us two simple social media management games, and there are no plans for anything greater.
Neither will any of the major video game companies create such a game. They could not be bothered to create a dinosaur shooter, neither will they create a dinosaur zoo management game.
Fans will not create a dino zoo game, either. Of course, there are a lot of fan projects out there; but there is no sign that they will be ANY more successful as their shooter counterparts.
So, our only hope for getting a dinosaur zoo building and management game is with the indie game developers. Mesozoica is the best one I have seen so far. But it won't happen if fans do not financially support it.
The Mesozoica team can only work on the project if there is money they can life on while they are creating the game. Remember, this is not something a bunch of dino fans are working on during their spare time.
Mesozoica will not happen if they do not raise $50,000 on Kickstarter before October 6. They are only at ~35,000 and there are only 11 days left. Here are the links, you know what to do.
Share your thoughts over here
Masrani Global: Jurassic World Site Launches
Date: 2014-11-20
Author: John Alfred Hammond, CEO

After much anticipation, Universal Studios recently released a "Teaser Site" for Jurassic World. The site features an in-universe look from the perspective of the Masrani Global Corporation , a multi-divisional corporate firm that has developed Jurassic World following the buyout of InGen in 1997. Also featured are exclusive photos and informative articles about the upcoming film, hidden as if advertisements. If interested, you can use the following links to:
Go to Masrani Global: http://www.masraniglobal.com/main.html
Go to my blog to discuss this exciting news: Jurassic Park Teaser Website Launches!
Maps
Date: 2014-07-23
Author: BastionMonk

Wikia has an interesting new feature. Maps! Wikia Maps is a fan-authored mapping tool that's easy to use. Upload real-world places, images, or fictional universes to chronicle and share information across the web. Watch the introduction video here. I remember that, from the early days of this wiki, users requested an interactive map of the islands that link to the articles about the places and events. Now, finally, we can create these interactive maps. I have started to create a map with all the locations in the JP novels. You can click here and create more maps.
Jurassic World expert
Date: 2014-07-04
Author: BastionMonk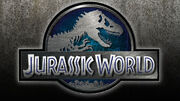 Our articles Jurassic World, Jurassic World/Rumours and Jurassic World/Production are in a very bad shape. We need someone who can write properly and will keep the articles free of vandals and update them as soon as there is new trustworthy news. And we need that someone now.
Do you want to take this job? Please respond here.
New Admin
Date: 2014-04-04
Author: BastionMonk

Collector1 has made a tsunami of edits in the last weeks. I hope this diligence was sparked by my new Mission-reward system.
I'm still busy calculation the rewards of all his edits. Nonetheless, I'm sure he has earned over 100 Experience Points. 100 XP is the threshold for becoming an admin. So, my fellow ParkPedians, welcome your new admin.
Edit rewards
Date: 2014-04-04
Author: BastionMonk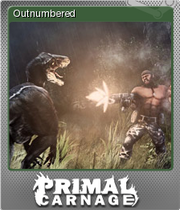 This wiki still needs a lot of work. However, most new users only add categories, speculation or reduntant statements. Still, I like to believe that those people are real Jurassic Park fans I would love to help us if they knew what to do and were better motivated. How do we manage that?
I think a bagde system that would check for quality would certainly help improving our users performance. Rewards are the main reason people play Facebook games, or keep replaying games to finally get that last rewards. However, such a system can only be maintained manually by the admins.
I would like to know what you think about this idea in general, and what kind of badges you would like to see. Please respond here!
Happy Halloween
Date: 2013-10-31
Author: BastionMonk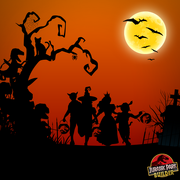 Happy Halloween (or Samhain) everyone! Halloween is a perfect holiday to celebrate in Jurassic Park style. I don't know if any of you is so hardcore JP that you own dinosaur costumes to care people, but just I hope you will all have fun tonight. Thanks JPBuilder for all the nice Halloween styled JP artwork! I hope that next year this wiki will join the Wikia's Halloween Costume Contest. A lot of users give their wiki a holiday-themed makeover by adding a custom skin (one that captures not only the spirit of Halloween, but the fun/theme/uniqueness of your particular community), a seasonal Word mark, giving every element on your home page a spooky "feel".
If you've got ideas to do this, let us know here.
Appointment of a new Bureaucrat
Date: 2013-07-07
Author: User:John Alfred Hammond, CEO

As many of you know, the extremely active user BastionMonk has been the Jurassic Park wiki's Bureaucrat for years now, running this wiki almost single handedly, with the exception of a few Administrators. I joined this wiki in February, editing for a few months until I was made an Administrator as well. Now, I am at BastionMonk's full support in running the wiki as your new Bureaucrat. A word to those of you on the wiki, we could use your help with some things: Help us get more people here! In my time here, I've noticed there are not enough editors that truly know canon-from-canon, fan-made from real, etc. If you have other friends interested in Jurassic Park, help them with making a profile. We'd love to have them! Now, we've spared no expense in trying to maintain the pages from vandals, so if you want to help out more, let us know! Thank you all, and I look forward to the helping lead this wiki.
-John Alfred Hammond, Bureaucrat & CEO

Jurassic Park is 20 years old today
Date: 2013-06-11
Author: Styracosaurus Rider

Today, the first Jurassic Park film celebrates its 20th anniversary! Besides earning the title of highest-grossing film ever at the time, it also influenced the future development of CGI technology that would grace our screens in countless movies since, brought the science of paleontology to an entirely new generation, and created one of the most passionate fandoms in the world. The movie's impact is definitely still being felt today, and I sincerely doubt that the worlds of science and entertainment would be where they are right now without Jurassic Park. Maybe I'm biased, but nonetheless we all owe a huge debt to Michael Crichton, Steven Spielberg, Stan Winston, and everyone else who contributed to the film's genesis.
Happy birthday Jurassic Park!
More colors in Jurassic Park IV
Date: 2013-04-01
Author: MismeretMonk

I saw a recent article from the Los Angeles Times featuring Jack Horner.
The article quotes Horner about what he thinks about movie dinosaurs:
Movie dinosaurs aren't nearly as glamorous as 
real ones, which were brightly colored. 
Steven has made the point several times to me 
that colorful dinosaurs are not very scary. 
Gray and brown and black are more scary. 
I worked on the television series Terra Nova 
with Steven as well, and he did get some color 
into some of those.

Horner also got some more color in the Jurassic Park III dinosaurs. In JP and TLW all dinosaurs are grey/brown (at least to the untrained eye). In JP3 all dinosaurs, and particularly the raptors have a lot of colors. If I compare the JP and TLW dinos to the JP3 dinos, they look downright boring.
If Horner could choose, the Jurassic Park IV dinosaurs have even more colors:
So I think by ['Jurassic Park] IV,' we'll have a little more colorful animals.

Say what you think about it in this blog post.
No feathers in Jurassic Park IV
Date: 2013-03-20
Author: MismeretMonk

Colin Trevorrow finally revealed something about Jurassic Park IV. He wrote on twitter:
No feathers. #JP4

This probably means we won't see (more realistic) Raptors covered with feathers, as we saw in Terra Nova. Are you upset or relieved now?
Tell us what you think over here.
Colin Trevorrow will direct Jurassic Park IV
Date: 2013-01-13
Author: MismeretMonk

Deadline announced yesterday that Colin Trevorrow will direct Jurassic Park IV. Patrick Crowley & Frank Marshall will serve as producers.
This puts and end to all hope of fans that wanted Steven Spielberg to direct JP4 (see this speculation of Screenrant).
Let us hope that Trevorrow is the right man for the job.
Tell us what you think about it here.
Jurassic Park IV release date
Date: 2013-01-13
Author: User:Jhayk' Sulliy
After Sandhu, a member on Jurassic Park Legacy received a Tweet from producer Frank Marshall on the 9th of January where Marshall hinted at incoming news, this article was just released today from ComingSoon.net that announces the planned release date of Jurassic Park IV as June 13th, 2014!
Artcile: http://www.comingsoon.net/news/movienews.php?id=98802
Coupled with the recent news of Spielberg postponing Robococalypse, we might just be seeing our favorite director returning to leading our favorite franchise. Is that last bit the hopeful musings of a fan? Yes, but a fanatic can dream, can't he?
Tell what you think about it in this blog.
Jurassic Park 3D poster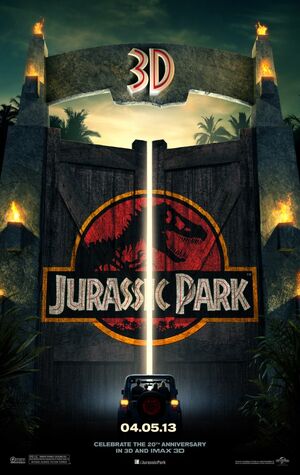 This is the poster of the upcoming 3D release of Jurassic Park! Note that it won't be released precisely at the film 20th anniversary on 2013-06-11, but instead on April 5th of the same year. The trailer was released online soon after the poster was revealed.

Video's
There is a new addition to this wiki: Videos. Of course, we have added YouTube videos of JP on this wiki for a long time. However, most of these video's are illegal and are often removed after some time. Now Wikia has made a Video Library containing all JP scenes, powered by AnyClips. Now we can add videos of every JP scene to our articles! But remember, you can only watch 10 minutes a day to the AnyClips video's.
Pictures
Date: 2012-10-16
Author: MismeretMonk

Hello fellow Park Pedians. This wiki has almost 4000 pictures. I am sure that 20% of consists of doubles. Furthermore, a lot of new users add pictures to the articles that are not from the Jurassic Park Franchise. Particularly the latter looks very sloppy.
I ask everyone to remove non-JP pictures from this wiki (unless they are needed). To prevent doubles we must organise the pictures so they are easier to find if you need them. Before you add a picture, make sure it isn't uploaded yet. If you add a picture, place it into a category. If the picture is from one of the movies, add the picture to the media page of the film.

Jurassic Park: The Game article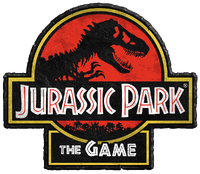 Date: 2012-09-13
Author: MismeretMonk
This wiki still needs a lot of work. One thing that I would like to have changed is the Story section of Jurassic Park: The Game. Is there anyone who would like to write the overall story of this great game?

Jurassic Park IV gets script writers of Rise of the Planet of the Apes
Date: 2012-06-20
Author: MismeretMonk
Mike Fleming wrote on deadline.com that Universal had hired new writers for JPIV. Indicating that Mark Protosevich won't be hired, and that the better-than-JPIII-story Spielberg mentioned won't be used. Instead, Universal hired Rick Jaffa & Amanda Silver, the script writers of Rise of the Planet of the Apes. The article also revealed the film will be produced (not directed) by Spielberg and Kathleen Kennedy. (see Universal Sets 'Rise Of The Planet Of The Apes' Scribes For 'Jurassic Park 4′)
19 year anniversary of Jurassic Park
Date: 2012-05-23
Author: Starscream7

June 11th, 1993, was the release date of Steven Spielberg's Jurassic Park. June 11th, 2012, is the 19th anniversary of the film's release. Jurassic Park is one of my favorite movies - and I'm sure that it's one of yours as well. So - let's celebrate the anniversary of the 21st highest grossing film ever, IMDb's 2nd best film of 1993 and also the best dinosaur picture ever made. Welcome ... to Jurassic Park.
Share your favorite moments from the film below - as well as characters, dinosaurs, music, and everything else.
User blog:Starscream7/The 19th Anniversary of "Jurassic Park"
Please support the new Telltale games petition
Date:2012-6-11 Author: Tyrant king
Recently a petition was set up to try and get Telltale to make a new Jurassic Park game based on The Lost World: Jurassic Park. Please help by signing. change.org.
15 year anniversary of The Lost World: Jurassic Park
Date: 2012-05-23
Author: MismeretMonk

Today is the 15 year anniversary of The Lost World: Jurassic Park! Why don't you watch it tonight to honour this event. 15 years old, but the dinosaurs still look as real as Avatar.

Support Jurassic Park: Origins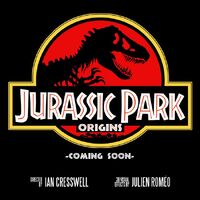 Date: 2012-05-09
Author: MismeretMonk

We have all waited for years to see a new Jurassic Park. In recent years the fans became impatient and started to create (professional) Jurassic Park art themselves.Jurassic Park: Prime Survival was the first (decent) fanmade JP movie. Now fans are making the next step: Jurassic Park: Origins! This will be a 45 minute prequel of the first movie. The crew contains professional animators and actors; it will also feature Stan Winston's son! Visit their website: JPOrigins.com
But they need our help. A large project like this needs funding, this site lists all donations fans can make and the gifts you will get in return. Gifs vary from posters tot Barbasol cans. If you can't support them financially, like and follow their facebook page and tell others about it.

Jurassic Park Fanon
Date: 2012-03-20
Author: Starscream7
Much unknown to many users is our fanon Wiki, which we should definitely start to visit more. With Jurassic Park continuing in 3D and with a fourth film, we have more dinosaurs rumbling into theaters - and more stories and adventures to be told on the Jurassic Park Fanon Wiki. Please go over and contribute now!
Jurassic Park 3D
Date: 2012-03-18
Author: MismeretMonk
The 20th anniversary of Jurassic Park won't be celebrated with a Jurassic Park IV. It is announced that on July 19, 2013, the 3D version of the classic Jurassic Park film will be released.
Source: digitalspy.co.uk
Jurassic Park Re-Release on Blu-Ray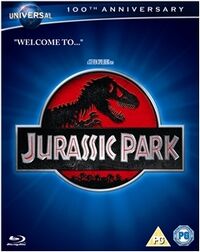 Date: 2012-03-12
Author: MismeretMonk
The first Jurassic Park movie is gonna be released again on Blu-ray. This time it is released to celebrate Universal Studios 100th anniversary.
Related links:
Main Page Overhaul Completed!
January 27, 2012
The redesign of the main page has been completed! Here are some of the highlights that have been added or changed:
A snazzy main page slider with pictures and links to some major pages (like Jurassic Park: The Game)
Links to our Facebook and YouTube pages
A Park Media section containing our wiki trailer, a JPIV fan poster and a slideshow of our 20 newest uploaded images
A new DNN logo (thanks Kneazlegirl!) and a wider DNN Newsland section
Links to our sister wikis, the Jurassic Park Fanon Wiki and Jurassic Park Answers Wiki
A list of the latest blog posts
Thanks to JoePlay of Wikia Staff for the raw coding and THE8PURPLE2 for narrowing down what features stayed, what went, and what was added. There may be a few more minor adjustments over the next few weeks, but the layout is comfortably set in stone.
Walkthrough Made Easier For You
Date: January 16, 2012
By THE8PURPLE2
Good news everyone, the walkthrough for Jurassic Park: The Game, now has a video companion on every stage of the game to enhance your Park Pedia experience. We hope that this helps you with you game play. Jurassic Park: The Game
Jurassic Park: The Game is out!
Date: November 15th, 2011
After a delay from April earlier this year, Telltale's tie-in to the original 1993 movie is out! Experience a new adventure on Isla Nublar and witness the fate of the Barbasol can! Meet new characters and dinosaurs as well as experience new exhibits and places not previously mentioned. Visit TelltaleGames.com/JurassicPark[1] to purchase the Regular or Deluxe Edition which will ship later this year with an ID Badge, Jurassic Park Map/Brochure, Jurassic Park Patch, InGen Field Guide, A Letter from John Hammond and much much more! Or purchase the retail version exclusive to Xbox 360's, which those who preordered are rewarded a T-Rex Avatar Pet! Whichever way you dive in, witness a forgotten chapter in the Jurassic Park story!
Take A Tour of Jurassic Park!
Date: November 14th, 2011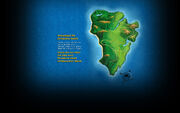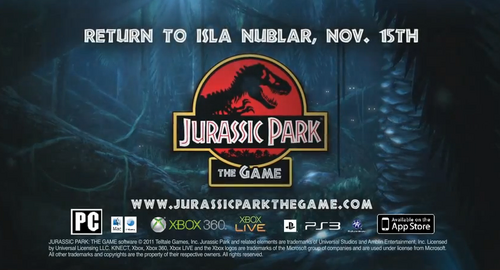 With nearly a day left till Telltale's Jurassic Park: The Game is out, why not take a new and in-depth look into the park: both its infrastructure and exhibits! See some old favorites like Tyrannosaurus rex or Velociraptor and witness some newer species like Herrerasaurus and Compsognathus!
"Welcome to Jurassic Park!" Oh and if it's asks, say "Please"! Click the arrow above or above the map!
Featured article of November
Apatosaurus is the Featured Article of November. Although Apatosaurus plays a big role in the original Jurassic Park and Lost World novels, they never appear in the movies. They don't appear comics, toy lines or games (2 exceptions) either. It is Jurassic Park's forgotten dinosaur...
Blu-ray release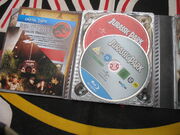 Hey everyone the new Limited Edition Blu-ray Trilogy gift set is out. I've put a number of pictures on the wiki. Enjoy!

Featured article of October
This month's featured article is the "The Lost World: Jungle Camp Figure Maker". A novel concept at the time, it allowed kids to build their own figures of dinosaurs and even a trainer! It's rare to see this type of toy anymore.
New DNN Newsland logo
Our latest member Hellraptor has used his expertise in art to create a new DNN Newsland logo. He has done a really great job. Until an even better logo is made, this logo will be the icon of our news section.
September's Featured Article
The featured article of September is Pteranodon. It still needs a few improvements, but overall it's a very good article and a nice database for the third film's flying terrors.
Don't forget to get voting for next month's featured article right here.
---
Jurassic Park: The Game Dated and Shown
As part of PAX here in Seattle this weekend, Telltale is promoting their upcoming Jurassic Park video game: Jurassic Park: The Game. In addition to demoing and having a booth up for it, they've released a new trailer showing some action scenes in the game. The game ships November 15th, 2011 on all platforms.
---
Featured article of August
By popular request the featured article of this month is The Lost World: Jurassic Park (film). It is indeed one of the better articles on this wiki. The plot summary is the longest on the www, some sites like Pop Apostle have a link to this article. But I think we still need to rewrite a thing or two in it.
---
The future of Park Pedia
I once attempted helping this site by explaining about how Wikis' die if they don't have enough activity. I'm sort of a user who soughts out stuff like that and grows knowledge about what will happen.
I must say that this is a very, and I mean very lucky Wiki. We've lasted 10 years without epic news about Jurassic Park IV - and now, we've got what we need. Another JP film is - in my mind - an incredible boost of upcoming energy for this site. If JP4 does crack out of its shell in 2013 - that should be able to save this site and, if we're lucky, JP Fanon.
Read more: Our Future! IMPORTANT!!!!!
---
Comic-Con JP Wrap-Up
Date: July 25, 2011 Asian Inferno
Other than the big news with JPIV below, the folks over at Telltale Games with Jurassic Park: The Game managed to show off a few new tidbits of the upcoming game. The marine reptile rumored for awhile now was finally revealed, and it's Mosasaurus!
The other "new" thing was the public showing of one of the Insider exclusive-concept arts showing the new Marine Facility!
If any other new Jurassic Park or Jurassic Park: The Game news comes up, keep this page bookmarked for the latest!
---
Jurassic Park IV News Update!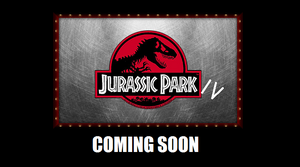 Date: July 22, 2011 Asian Inferno
Hey there fellow Parkpedia editors (and transient visitors), Asian Inferno here to introduce myself as a new contributor to the DNN Newsland section. I'm here to help out with any and all JP related news that is related to Jurassic Park and to a larger extent as information to this wiki.
I'm sure you're all aware of the recent rumors of Spielberg and Mark Protosevich (Writer of I Am Legend) talking about a potential Jurassic Park IV movie.
Well today we get confirmation of those rumors being true!
Pair this with Joe Johnston's (Director of JPIII) comments on how they are still discussing and how it would be a new trilogy and completely different, things seem to be on the movie.
Spielberg followed up today with a comment on how they have a story and a writer and expects the sequel to be out in 2-3 years.
Jurassic Park's future seems brighter than ever!
Stay tuned to DNN Newsland for all Jurassic Park News!
---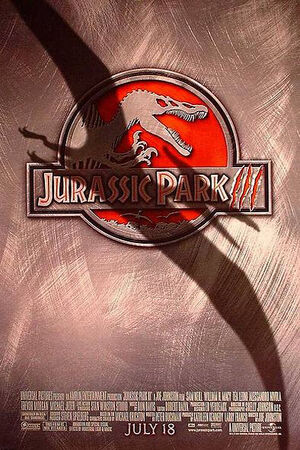 Happy 10th Anniversary of Jurassic Park III!
Date: July 18, 2011 MismeretMonk
Today it is 10 years ago that Jurassic Park III was released. I remember seeing it in the local theatre. I wasn't really into Jurassic Park anymore at that time, but I really liked it. Although it would take six years before I wanted to see it again, I never understood the criticism on JPIII. The franchise of JPIII was maybe even bigger than JPI:
One year Park Pedia Bureaucrat
Date: July 17, 2011 MismeretMonk
It was July 8 that ZEM gave me the Bureaucrat rights of Park Pedia, I never really asked for that. But I was the most active user at that time and ZEM was no longer into Jurassic Park, and this wiki REALLY needed someone to take care for it. Now a full year has past since then...
I never was really alone, there were users that became really active for a few months and received admin rights. I think I gave more people admin rights then User:Master Cheif, Vinny 2, Tom and ZEM together! There was THE8PURPLE2, Lozzy.94, Toothless99, Styracosaurus Rider and Sir Charles. They were a good help, but they almost all left Park Pedia after a few months. But that is the unique freedom of a wiki!
What I wanted was:
Protect Park Pedia against vandals.
Remove copy pasted text from articles.
Place good sources in the articles.
Change T-Rex tot T. rex.
Make sure there was a new featured article each month.
I have no illusions anymore for building a large Park Pedia community. JPLegacy has build a large community with active fora, Park Pedia will probably never have that; look here for yourself. Maybe if we have uploaded some video's on YouTube, more visitors will come.
I don't know what quality Park Pedia has compared with other Jurassic Park databases, but I dare to say a lot of things have improved a bit since I was in charge :)
I will stay here and protect Park Pedia for another year, and expand it little by little.
Featured article of June
Date: June 2
The featured article of June is Jurassic Park (novel)! It was this novel that started the whole franchise, so it was about time it was featured. But it is also a very good article, a good example of what the Jurassic Park Wiki is capable of. It contains all you need to know about the novel, the plot, characters, cover art and the writing process.
Featured article of May
Date: May 2
The featured article of May is Acrocanthosaurus. Despite the fact it does not appear in the movies or novels, its a popular Dinosaur in JPOG and other games. Its a great article with lots of proper grammar and correct spelling, and it contains all JP related information about the dinosaur.
Now the release of Jurassic Park IV and Jurassic Park: The Game lye in the far future. In the mean time we Jurassic Park fan's can be entertained by the first fanmade Jurassic Park film: Prime survival. After 3 years it is finally released.
Delayed release of Jurassic Park: The Game
Date: 25 April
Jurassic Park: The Game was planned originally to be released in the winter of 2011. But after that the release was moved to April 2011. And this e-mail I recently received of telltalegames.com says the release will be delayed until the fall this year.
April 2011
Date: 6 April
The month has started. This wiki has finally reached its 1000th article, a real accomplicement! This month will also see the release of the long expected Jurassic Park: The Game, the best JP game since Operation Genesis and also the best thing to a Jurassic Park IV we are gonna have. In this game the Troodon will be the main antagonist, therefore the article about that dino is the featured article of April.
Featured article of March
Date: 3 March
The featured article of March 2011 is Alan Grant. It is one of the most complete articles on the wiki. But since Alan has so many incarnations, some users have suggested the info should be divides over different articles. Alan is the most frequent reappearing character, so it was about time his article is featured.
What should the New Trilogy be?
Date: 7 February
Well, over a 100 people have made a vote on the question what Jurassic Park IV should be. Most people (73%) want it to become a sequal of the First Trilogy. A lot of fanmade JP4's can be found here, you can also post one yourself. Despite Jurassic Park's good graphics 7% want a remake, maybe they want a movie closer to the novel or just a movie without goofs. Others would like to have a prequal, like someone said at the JPIV talk page: "the film should be a prequel to the original movie. It could begin on Isla Sorna and illustrate the various problems that Ingen experienced and then end, fittingly, right where the first movie began (Gate keeper scene". Only 2% want a midquel. But 12% (including me) would like to see a completely new story, if I could chose a story about the current theories to resurrect the dinosaurs and with modern science in it.
New Admin
Date: 28 January 2011
Congratulations to Sir Charles, our newest admin!
New wordmark
Date: 17 January 2011
Since the change from Monaco left us logo-less, Styracosaurus Rider has made us a new wordmark from the old logo.
Poll of december
Date: 16 January 2011
The poll Who Was Your Favourite Villain In Jurassic Park? has been open for 40 days and 117 people have voted. The winner was of course Dennis Nedry with 50% of the votes. Lewis Dodgson (28%) and Peter Ludlow (22%) had almost equal votes, but Dodgson is a bit more evil than Ludlow so he has 6% more votes.
Latest JPIV rumour
Date: 12 January 2011
It is a new year, so it is time for new rumours of Jurassic Park IV. Did anyone heard already that the shooting of Jurassic Park IV has began on last Sunday, January 9? Well, look here for more details.
Jurassic Park Fanon Wiki
Date: 21 December 2010
Yesterday was agreat day for us. Wefinally received the rights to adopt the Jurassic Park Fanon Wiki! It is a place where you can build up and write your fanfiction or movies. It was created by Clonehunter on February 7, 2010, but since Clonehunter has been inactive for months we have adopted this wiki.
Now finally the Three-headed Hydra of the Jurassic Park wiki's is complete:
Lets all join to make this trinity the best Jurassic Park sites on the www.
Trike Encounter Re-Opens
Date: 20 December
Behind The Thrills has reported that the Triceratops Encounter at Universal Studios Islands of Adventure in Orlando has re-opened its paddock to the public.[2]
New Admin
Date: 6 December 2010
Congratulations to Styracosaurus Rider, our newest admin!
Poll of November
Date: 6 December 2010
Last month we made a poll to see what was there Favourite Sub-Plot Dinosaur in Jurassic Park, a total of 102 people voted, the results were.
The Dilophosaurus (Jurassic Park) (73 votes)
The Compys (The Lost World: Jurassic Park) (19 votes)
The Pteranodons (Jurassic Park III) (10 votes)
Be sure to vote for this month's poll on who was your favourite Villain in Jurassic Park.
Featured article of december 2010
Date: 4 December 2010 The featured article of December is: Jurassic Park, the Film! It's what started the whole thing, after all... Furthermore it's one of the best on the wiki. It has lots of information, pictures, and a lot of links. I wish other articles were as complete as this one. It was about time the movie was featured.
Featured article of november 2010
Date: 5 November 2010
The new featured article iiiiiiiis: Dimetrodon. Of course, it isn't a dinosaur and it didn't appear in any movies or novels, but the article is well-written and contains all information there is about the creatures in the Jurassic Park Franchise. Even appearances that are very hard no notice. It is a perfect example of what the Park Pedia community is capable of.
Poll of October
Date: 31 October 2010
This month we made a poll to see what people thought the main Dinosaur of Jurassic Park IV should be, a total of 166 people voted, the results were.
T-Rex (86 votes)
Spinosaurus (32 votes)
A new dinosaur completely (48 votes)
be sure to vote for Novembers poll on what was your favourite sub-plot dinosaur in Jurassic Park.
Another comic book series
Date: 29 October 2010
IDW the creaters of the new Jurassic Park: Redemtion comic book series are making a second four part series called Jurassic Park: Devils in the Desert. Issue one is set to be released on January 12th, 2011. [3]
More work
Date: 25 October 2010
Alex had hoped this wiki would see its 1000th article at the end of this month, but we still need 62 more articles. Please vote for the next featured article.
Park Pedia has two sister-sites now, askjurassicpark (we're still working to fuse this wiki with jurassic park answers) and the JP Fanon wiki. But I have found an other place where we can do constructive work. There are two Jurassic Park pages at Wikiquote:
Park Pedia on YouTube
Date: 17 October 2010
Park Pedia now has a Youtube Account! Our reason to make such an account in the first place was an attract new users. Currently we've only uploaded the trailers of JPI and TLW, but these have probably been posted on YouTube for millions of times. To become a bit more popular we have to make YouTube vids ourselves, so if you have a nice idea, make a vid and we can post it.
New look
Date: 7 October 2010
Oasis is the new skin that Wikia replaced with Monaco. This new skin is mandatory, and we will be unable to revert to Monaco.
Autumn
Date: 4 October 2010
The featured article of October is Brachiosaurus. Five people had voted, for this wiki that is woodstock. Thanks, and be sure to vote for the next article.
We hoped to reach our 1000th article at the end of this month. I we want that, we will ahve to work hard this month! But there is a chance, because this wiki isn't so quite anymore. It is still VERY quite compared to other wiki's, but at least I'm not the only active user anymore. Also on the Fanon wiki it is not so quite anymore, fanfictions are popping up left and right and the Bureaucrat Clonehunter has also logged in recently for the first time in weeks. So, it all looks hopefull again.
Since it has became autumn, most of us have to stay inside all our evenings. It would have been nice if Jurassic Park 4 had come out now. But all we have now is a promise that once it will come. But the fist JP fan movie Prime Survival will come out very soon, that is something to look out for. On YouTube a couple of other JP fan vids can be seen:
Jurassic Park: The Mainland. A very good fan made claymation inspired by Jurassic Park.
Jurassic Time. A walkthrough of Jurassic Park: Trespasser, featuring all the memoires of John Hammond that can be found in the game with the corresponding scenes. A must-see for a JP fan.
New Jurassic Park Mobile Game!
Date: 22 August 2010
Mobile game developers Gameloft have just released a brand new game for mobile phones, called Jurassic Park! It's available to buy on their website for $4.99 it's available for mobiles such as Nokia and Samsung. It is unknown wether it will come out on iPhone.
New Administrator
Date: 20 August 2010
This site is a bit like a ghost town, but we must try to attract new users and encourage existing users to continue to edit on this site. Today I've given Alex "Lozzy.94" the rights of Administrator. In his request he promised to make big changes.
Unregestered Users
Hi, to all the unregestered users we thank you so much for editing but we would really appreciate it if you make a user it's really easy and regestred users win awards and points for editing here at Park Pedia--THE8PURPLE2 11:26, August 18, 2010 (UTC)
Facebook
Can you believe how fast this wiki is growing? We now have a Park Pedia Facebook. This is Park Pedia history. So I'm betting that most of wikia users have Facebook so heres the steps to find it:
go on the search people
type jurassicpark@hotmail.com
you will see the Park Pedia logo
then you know what to do
If you don't have Facebook then go on to the Facebook home page
go on the search people
type jurassicpark@hotmail.com
you will see the Park Pedia logo
then you know what to do
Remember this wikia will be BIGGER THAN EVER so maybe next time we might have a YouTube profile--THE8PURPLE2 10:48, July 30, 2010 (UTC)
Walkthroughs
Date: 30 July 2010
Because the Jurassic Park Series contains more games than all the movies and novel combined this Wiki also needs Walkthroughs of each game. The new user Dr.Mollica lately made a few 'game reviews' of some JP inspired games. Probably because there already existed articles of those games and Dr. Mollica's playful language, many used recognised it as spam and deleted the reviews.
Because I thought Park Pedia needed Walkthroughs for some time, I was willing to give these 'reviews' a second chance and changed them into Walkthrough articles. The first Walkthroughs of Park Pedia! These Walkthroughs are listed here. Do you know a JP game you can write a walkthrough for? Start an article yourself, this is the backbone of a Walkthrough article title:
Walkthrough:game title/your user name
MismeretMonk 09:03, July 30, 2010 (UTC)
Next featured article
Date: 29 July 2010
Noticing anything unusual? Yes, the featured article of this month isn't the Jurassic Park (pinball) article like it has been for months. It is now the InGen Compound article. Why? Because most users voted for it, namely: one! A bid sad isn't it? Please users, vote for the featured article of August 2010. There are more than 1 users active at the moment so more than 1 can vote. MismeretMonk 08:46, July 30, 2010 (UTC)
Jurassic Park Fanon Wiki
Good news everyone Park Pedia now has a fanon http://jpfanon.wikia.com visit it, but don't forget to keep editing on Park Pedia. Now we are one step closer to being BIGGER THEN EVER. --THE8PURPLE2 07:56, July 18, 2010 (UTC)
The change is here
9th anniversary Jurassic Park 3: Jurassic Park Today, July 18 2010 it's nine years ago that Jurassic Park III was released. It was the last film of the first Jurassic Park Trilogy, and since then the fan community has been waiting for Jurassic Park IV. The popularity of JPIII triggered the foundation of the Jurassic Park Institute.
This important day is the right moment to summarise what has happened on Wiki last period. As you can see on this page MismeretMonk has been promoted from nothing to Administrators, Bureaucrats and rollback. This was mostly because ZEM didn't liked the job anymore and is no longer into Jurassic Park.
Now I'm in charge I want to improve a lot of things on this wiki. Jurassic Park Wiki has been the Biosyn of the JP community, because it mostly copy-pastes info from other JP fansites and hasn't got a research group of its own. I think I'm the George Baselton that might be able to improve this image. I've made a couple of articles that are as far as I know unique like Basiliscus amoratus, Serenna veriformans, Timeline (Jurassic Park Adventures canon).
We also need to place a new article in the featured article section because the old one has been there since last year. So please vote here for a new featured article.
I urge all visitors to the site to help in any way they can to improve or popularize this wiki. MismeretMonk 07:49, July 18, 2010 (UTC)
A change is coming
Change is coming to Park Pedia. Soon there will be a new Beurocrat to this wki, though I can not reveal the name of this user yet. I know that there will be big changes to this wikia, so I urge all users and visitors to Park Pedia to help as much as you can to make this wiki BIGGER THAN EVER! THE8PURPLE2 09:19, July 10, 2010 (UTC)
If you have any questions visit http://askjurassicpark.answers.wikia.com/ or ask me - THE8PURPLE2 09:19, July 10, 2010 (UTC)
17th anniversary Jurassic Park
Today, June 11, it is 17 years ago that the film Jurassic Park was released. This revolutionairy movie caused a huge radiation in the Jurassic Park Series. This is a good moment to summarize what this Wiki has achieved.
More than 2 years ago Vinny2 said: "My hope is that JP wiki will become one of the top ten wikis ever!" Well, this Wiki has now 840 articles. The 840th article was Electric-powered Safari Jeeps and was written by Kuchipatchi9. Lets compare this with other wiki's about media with a large fan community:
Well, it is clear that this Wiki is still very small and grows very slow. So, we are still lightyears away from becoming a popular Wiki.
But even within the Jurassic Park fan community this Wiki hasn't an important place. Many big JP fansites have no links to this Wiki, nor has this Wiki produced something special. Last year a visitor said about this Wiki: "This wikia sucks, all wrong or stolen info." Jack de la Mare, who is the spider in the web of the JP fan community, made a new Jurassic Park IV site. One page contained a list of links to the biggest JP fansites. Our Wiki wasn't one of them. When I asked Jack to put this Wiki to that list he answered: "I would add them if they changed their JPIV page. It's completely wrong information...a lot of the stuff they have on their is actually wrong." All this shows that we are still lightyears away from becoming a popular JP fansite in the first place!
But still this Wiki is growing:
MismeretMonk is the third user who has more edits than ZEM, who started this Wiki. Other active members of the last half year that I want to thanks are:
The first WikiaProject of this Wiki has started: WikiaProject Dinopedia, the aim of this Project (called after the dinosaur encyclopedia of Jurassic Park: Operation Genesis) is to set absolute standards that every creature-article has to meet.
I urge all visitors to the site to help in any way they can to improve or popularize this wiki. MismeretMonk 21:30, June 11, 2010 (UTC)
200th article!
The first in I hope many milestones reached by the Jurassic Park wiki. The 200th artile was Billy Brennan and was written by Vinny2. --Vinny2 18:09, 14 May 2007 (UTC)
New Admin
Due to the inactivity of the site creator, I, Vinny2 adopted this wiki and was given admin status. I urge all visitors to the site to help in any way they can to improve this wiki. My hope is that JP wiki will become one of the top ten wikis ever! --Vinny2 23:05, 1 May 2007 (UTC)