Wiki Targeted (Entertainment)
Play Sound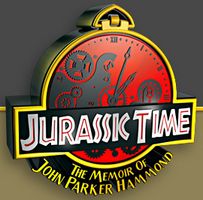 Jurassic Time is a memoir written by John Hammond in the Jurassic Park: Trespasser-universe. The memoir tells about the rise and fall of InGen and its secret project to recreate the dinosaurs. Fragments of the memoir appear in Anne's memory during the Trespasser gameplay.
Cause of publication
According to the Trespasser Guide Book John Hammond wrote the memoir after a Tyrannosaurus terrorised San Diego because of InGen.
This incident took place in 1997. In that year John Hammond published Jurassic Time, probably because he felt that the public had a right to know how the incident was caused.
The memoir
Jurassic Time contains the full history of the secret dinosaur project. It tells when Hammond left home, how Hammond came up with the idea to use blood sucking insects in amber as a source of dinosaur-DNA, the foundation of InGen, a list a vehicles, a description of Isla Sorna, the incident in the park etc.
Fragments of the memoir appear in Anne's memory during the Trespasser gameplay. All these fragments are listed in the Trespasser Voiceover List.
Not the entire book is shown in Trespasser since a lot of things are never mentioned in Anne's memories. However, the Hammond script from Trespasser briefly mentions most of the following, but not into much detail.
This is a list of such missing things:
Reception
According to the Trespasser Guide Book most of the public was very skeptical about the book and regarded it as fiction. This was because apart from the San Diego Incident there was no other evidence to validate Hammond's story.
Anne was very skeptical about the book too.
Production
The script of the memoir was written by Austin Grossman.
Videos
Fans have created a list of video's featuring all quotes from Jurassic Time with film fragments from the Trespasser game.
Fandom
TresCom has a sister site Jurassic Time that is devoted to the Trespasser audio files. It has even made a download friendly version of the audio files, complete with cover art for the CD on which users can burn the files. Two newer versions are in production to be released, one "Excavated" version that tells the original story, and an "Annotated" version that has monologues from Hammond's fictitious son, Thomas Hammond, a fan-made for the production.[1]
Links
Sources
Community content is available under
CC-BY-SA
unless otherwise noted.