She-Hulk Trailer Dropped - The Loop
Play Sound
This page needs serious attention!
---
This article does not currently meet the standards set at
Park Pedia: The Jurassic Park Wiki. Please feel free to edit it, and pose any
questions you might have on the article's talk page.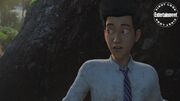 Jurassic World: Camp Cretaceous is an animated action-adventure series set in the Jurassic Park universe. Created by DreamWorks Animation, the series debuted exclusively on Netflix on September 18th, 2020.
The first season of the series is set during the time-frame of the events of 2015's Jurassic World and the third season is set during the opening scenes of 2018's Jurassic World: Fallen Kingdom. The second season was confirmed during October 2020 and later released on January 22, 2021. The third season was confirmed during March of 2021 and was released on May 21, 2021. Season 4 was announced on October 15, 2021, and released on December 3, 2021. Season 5 was confirmed to be the final season and it will be released on July 21, 2022.
Premise
Jurassic World: Camp Cretaceous follows the adventures of six teenagers who are chosen for a once-in-a-lifetime experience at a state of the art adventure camp on the opposite side of Isla Nublar: Camp Cretaceous.
However, once the events of Jurassic World occur and the dinosaurs get loose, the teens find themselves stranded. Cut off from the outside world, the six have to rely on each other to survive.
Characters and Cast
In addition to these characters, Jack and the Lead Mercenary from Jurassic World: Fallen Kingdom, as well as a soldier named Hansen appear in season 3 but do not have credited voice actors.
Episodes
Season 1
Six teens invited to attend a state-of-the-art adventure camp on Isla Nublar must band together to survive when the dinosaurs break out of captivity.
| Number | Summary | Episode title | Airdate |
| --- | --- | --- | --- |
| 1 | After waiting his whole life to see dinosaurs, Darius wins the chance to join five other campers on Isla Nublar for a once-in-a-lifetime adventure. | Camp Cretaceous | September 18, 2020 |
| 2 | With the rest of the crew off visiting a genetics lab, Kenji sneaks Darius into the park's top-secret underbelly and straight into danger. | Secrets | September 18, 2020 |
| 3 | The campers hop into their Gyrospheres to help move a dinosaur herd toward fresh grazing lands. But an incoming storm stirs up unexpected trouble. | The Cattle Drive | September 18, 2020 |
| 4 | Darius remembers the promise he made to his dad. Elsewhere on the island, the campers find themselves face-to-face with a newly freed threat. | Things Fall Apart | September 18, 2020 |
| 5 | After a close encounter with the Indominus, the gang seeks shelter in the genetics lab, where a scientist reveals the truth about Dr. Wu. | Happy Birthday, Eddie! | September 18, 2020 |
| 6 | Sammy's secret shocks everyone, but there's no time for anger when an accident unleashes a flock of Pteranodon and forces the crew below ground. | Welcome to Jurassic World | September 18, 2020 |
| 7 | The campers leave the Mosasaurus lagoon and fight their way onto the monorail, where Ben gets a chance to face his fears. | Last Day of Camp | September 18, 2020 |
| 8 | It's a race against time as the campers make their way to the main dock to catch the last ferry leaving the island. | End of the Line | September 18, 2020 |
Season 2
Season 2 was officially announced in October 2020 and was released on January 22, 2021. The season will find the stranded campers struggling to survive on Isla Nublar as the series charges forward beyond the events of the Jurassic World film.
With no hope of rescue for the stranded campers, the arrival of a small group of eco-tourists could spell salvation — but things aren't what they seem.
| Number | Summary | Episode title | Airdate |
| --- | --- | --- | --- |
| 1 | Still stranded on the island — and still reeling from the apparent loss of Ben — the campers make a last-ditch attempt at rescue by sending out an SOS. | A Beacon of Hope | January 22, 2021 |
| 2 | Darius and Sammy face a moral dilemma while searching the park for supplies. The campers start building a new treehouse. Brooklynn sees something odd. | The Art of Chill | January 22, 2021 |
| 3 | Brooklynn, Sammy and Yasmina team up to investigate strange noises in the park. Elsewhere, Darius and Kenji go exploring and witness a majestic sight. | The Watering Hole | January 22, 2021 |
| 4 | A bonfire in the distance signals that the campers have company: a pair of posh eco-tourists and their disgruntled security guy. But can they be trusted? | Salvation | January 22, 2021 |
| 5 | The campers reunite with a long-lost friend, who shares an inspiring story — then reveals that Mitch, Tiff and Hap aren't who they seem. | Brave | January 22, 2021 |
| 6 | Darius must make a difficult choice to save Sammy and Yasmina. Meanwhile, the remaining campers are trying to decide if Hap is a friend... or a foe. | Misguided | January 22, 2021 |
| 7 | Brooklynn, Ben, Kenji and Yasmina work to uncover a secret and restore power to the park as Darius leads Mitch and Tiff straight into a T. rex trap. | Step One | January 22, 2021 |
| 8 | A guilty Darius is determined to protect the island's innocent dinos — even if he has to do it all alone. But with luck, maybe he won't have to... | Chaos Theory | January 22, 2021 |
Season 3
Season 3 was officially announced during March of 2021 and was released on May 21, 2021 with 10 episodes rather than eight. The season finds the stranded campers facing a new threat on Isla Nublar, and they finally escape Isla Nublar. The teaser trailer was released on March 11, 2021. The official trailer was released on April 22, 2021, teasing new creatures; Monolophosaurus and Scorpios rex. A clip also confirmed the sudden & unexpected appearance of the Ouranosaurus.
In search of supplies to engineer their own rescue, the determined campers explore new parts of the island — only to confront a frightening new threat.
| Number | Summary | Episode title | Airdate |
| --- | --- | --- | --- |
| 1 | The campers catch a lift to Lookout Point in search of materials to make a sail, then must quickly find a way back down. Ben worries about leaving Bumpy. | View from the Top | May 21, 2021 |
| 2 | After finding Mitch and Tiff's abandoned yacht, the happy campers celebrate. But the party's over when something big goes bump in the night. | Safe Harbor | May 21, 2021 |
| 3 | Kenji takes the campers to his father's penthouse to gather supplies — but they've soon got company. Sammy reflects on what life must be like back home. | Casa De Kenji | May 21, 2021 |
| 4 | A thrilling chase brings Darius, Kenji and Yaz to the old Jurassic Park Visitors Center. Elsewhere on the island, Brooklynn and Sammy find a secret lab. | Clever Girl | May 21, 2021 |
| 5 | Sammy and Brooklynn rush to warn the others about a sinister new threat while Darius, unaware of the danger, searches for his dad's favorite dinosaur. | Eye of the Storm | May 21, 2021 |
| 6 | As a poisoned camper fights to survive, it's up to Yaz — the fastest among them — to fetch the antidote before it's too late. | The Long Run | May 21, 2021 |
| 7 | It's crunch time for the campers to get to the boat and make their escape... until Ben disappears, deciding he'd rather stay. Can Darius change his mind? | A Shock to the System | May 21, 2021 |
| 8 | With multiple threats running rampant on the island, dinosaur lover Darius must put his feelings aside and make a difficult decision. | Escape from Isla Nublar | May 21, 2021 |
| 9 | The group is forced to switch gears when a familiar face returns to Isla Nublar. Now, getting off the island is no longer the most important thing. | Whatever It Takes | May 21, 2021 |
| 10 | With Brooklynn being held prisoner, the remaining campers hatch a plan to rescue her — and it won't be easy. | Stay on Mission | May 21, 2021 |
Season 4
On October 15th 2021, DreamWorks confirmed that season 4 of the series will take place on another island than Isla Nublar, which is where the previous seasons were set. Isla Sorna from Jurassic Park III was the rumored island, but it is revealed to be a different island (Mantah Corp. Island) and not one of "The Five Deaths" following the release of the trailer on November 10, 2021. The trailer teased the return of the Spinosaurus, and new animals/species being the Smilodon and the Kentrosaurus. The Spinosaurus is confirmed to be the same one from Jurassic Park III. This season features 11 episodes.
The campers leave Isla Nublar behind, only to wash ashore on strange new terrain that's crawling with threats — and closely guarded secrets.
| Number | Summary | Episode title | Airdate |
| --- | --- | --- | --- |
| 1 | Out at sea, the campers see sunny skies... then discover a stowaway on board. A surprise attack from the deep leaves them stranded on unfamiliar shores. | Beneath the Surface | December 3, 2021 |
| 2 | The weary crew dodges danger in the desert while trying to figure out where they are. But they unearth more questions than answers. | At Least... | December 3, 2021 |
| 3 | A strange tunnel takes the teens to a lush forest, where they meet a mysterious scientist studying dino behavior. The question is: Can they trust her? | Turning Dr. Turner | December 3, 2021 |
| 4 | With Dr. Turner's help, the campers hatch a plan to get off the island that finds them crossing a snowy arctic biome - and making a selfless rescue. | Rude Awakening | December 3, 2021 |
| 5 | After learning the truth about Mae's boss, Sammy's ready to go rogue to take him down... just as Mae gets ready to confront him. Cue the killer robots! | The Long Game | December 3, 2021 |
| 6 | With Mae in serious condition and Kash's end game clear, the campers vow to save the dinosaurs and stop Mantah Corp. But evil BRADs are everywhere. | Mission Critical | December 3, 2021 |
| 7 | Darius has to think fast to distract Kash and protect the others, so he pretends to hate dinos as much as Kash does - while learning everything he can. | Staying Alive | December 3, 2021 |
| 8 | Brooklynn must devise a hack to help Darius, who's being tailed by an upgraded BRAD-X. Meanwhile, Kash prepares to woo a group of dangerous investors. | Technical Difficulties | December 3, 2021 |
| 9 | Darius keeps Kash busy with competitive video gaming while the others break into the nursery. Yaz asks Brooklynn how she feels about Kenji. | Dino-Sitting | December 3, 2021 |
| 10 | Ben's refusal to bond with a new friend leads to regret - and a realization that it's time to take Kash down. Kenji and Brooklyn face their feelings. | Taking Control | December 3, 2021 |
| 11 | Just when it feels like things are getting back to normal, Kash's boss arrives on Mantah Corp. island and begins moving forward with a devastating plan. | Who's the Boss? | December 3, 2021 |
Season 5
Season 5 is set to release on July 21 2022 with an unknown number of episodes.
List of Prehistoric Creatures in the Show
See: category:Jurassic World: Camp Cretaceous animals
Production
In the 1990's, Steven Spielberg and Universal Studios attempted to create an animated series based on Jurassic Park due to that films unprecedented level of critical and commercial success. Despite genuine interest the series never made it past pre-production. Another animated series which was meant to tie in with the Chaos Effect toy line would later enter development but also was never made.
In 2018, after the critical and commercial successes of Jurassic World and Jurassic World: Fallen Kingdom, Universal stated its commitment to making expanded media for the Jurassic World franchise. This included books, the toylines, video games, and rumored to include animated TV series.
In 2019 rumors circulated that Universal Studios and DreamWorks Animation's partnership to adapt animated series based on Universal film franchises would include Jurassic World. That summer, a teaser was released online announcing that Jurassic World: Camp Cretaceous would release sometime in 2020. Scott Kreamer and Aaron Hammersley are the showrunners and executive producers. The series also sees Steven Spielberg, Frank Marshall, Colin Trevorrow, and Lane Lueras serving as executive producer; with Zack Stentz serving as a consulting producer.
Season 2
Production of season 2 began right at the outbreak of COVID-19, but was not interrupted because the entirety of the series was animated and the cast were able to work remotely.[1]
Season 3
Season 4
Season 5
Marketing
At the San Diego Comic Con 2019, Mattel revealed that several of the Jurassic World toylines would be tie ins with this show. In 2020 aforementioned toys modeled after dinosaurs and characters from the show were released.
In September 2020, fast-food chain McDonald's began including Happy Meal toys based on Camp Cretaceous. Included were booklets as well as four eggs containing toy dinosaurs from the show.
Trivia
Jurassic World: Camp Cretaceous is the first official canon Jurassic Park TV series. It is also the second animated series and the first mainline series to actually make it past the production stage and make it to airing.

Jurassic World: Camp Cretaceous is not, however, the first Jurassic Park TV series overall. That honor goes to LEGO Jurassic World: Legend of Isla Nublar, a Canadian animated miniseries that aired on Nickelodeon and the Family Channel in Canada, and then later Netflix, internationally.

Jurassic World: Camp Cretaceous is the first animated TV series to be co-produced by Amblin Television since 2007's The Land Before Time TV series.
Jurassic World: Camp Cretaceous is the second DreamWorks Animation TV series based on a Universal Studios film property after Fast & Furious: Spy Racers.
Jurassic World: Camp Cretaceous appears to take inspiration, both stylistically and thematically from films & pop culture from the 1980s, 1990s and other works which were influenced by those periods.

Camp Cretaceous shares a numerous similarities to films directed by Steven Spielberg such as the original Jurassic Park, Jaws, E.T. The Extra-Terrestrial, Hook as well as the Spielberg produced Super 8.

Jurassic World: Camp Cretaceous is the first canonical Jurassic Park media that takes place concurrently with a film, in this case being Jurassic World. This is demonstrated most as Claire Dearing and Simon Masrani are mentioned repeatedly throughout the series but do not physically appear.
Mr. DNA retains his traditionally-animated form in the series.
Apatosaurus has made no appearance in the series (so far) although the animal is featured in the promotional book.
For the first time in the franchise, Brontosaurus is acknowledged to be a separate genus from Apatosaurus. When Kenji identifies an unseen dinosaur as Brontosaurus, Darius corrects him that the park doesn't have that sauropod, rather than referring to Apatosaurus which the park does have.
This is first time that Ceratosaurus makes appearance in Jurassic World: Camp Cretaceous ever since the cameo in Jurassic Park III on Isla Sorna.
Pocket Sandwich Theaters originally planned a parody of Jurassic Park named "Camp Cretaceous", but had to rename their parody to Triassic Trek after Netflix acquired the rights to "Camp Cretaceous".[2]
This is the third film canon entity to refer to the Nublar Tyrannosaurus rex as "Rexy." The first was Jurassic Park: The Game the second is The Evolution of Claire in 2018.
This series confirms Compsognathus to be venomous in the film canon.
Main Street is shown to still be in the center of the island like it was in Jurassic World, further contradicting the digital map seen in Jurassic World: Fallen Kingdom.
According to executive producer Scott Kreamer, in his mind, it took 6 to 8 weeks for the campers to build their tree house from the time Yaz began sketching it, making the length of season 2 at least more than a month's time.[3]
Season 3 marks first time that Dimorphodon makes appearance in Jurassic World: Camp Cretaceous after a six-year hiatus since its appearance in Jurassic World.
Season 3 also marks the first time Ouranosaurus and Monolophosaurus appear in the franchise.
Season 4 shows more Velociraptors and T-rexes despite it being assumed that Blue and Rexy are the last of their kind.
Season 4 marks the first time Kentrosaurus and Smilodon appear in the franchise.
Season 4 marks the return of Spinosaurus after a 20-year hiatus since its appearance in Jurassic Park III and the return of the Dilophosaurus after 28 years since Jurassic Park.
It remains unknown whether Triceratops, Allosaurus, Stygimoloch, Apatosaurus, Mamenchisaurus, Corythosaurus, Nasutoceratops and Pachycephalosaurus will return in the series.
Camp Cretaceous' monorail briefly appears in the penultimate episode of Fast & Furious Spy Racers' 6th season.
According to some promotional material from outside the US, season five will air on Netflix in July. See this video for more information.
As season 5 will be the end of the series it is possible that Mantah Corp will be defeated. It is also possible that the campers will finally come home.
Gallery
Videos
Posters
Photos
Activity Pack
Books
Toys
Concept Art
References