Rule the EarthTagline.
Jurassic World: Dominion is the upcoming third film in the Jurassic World trilogy and the direct sequel to the 2018 film Jurassic World: Fallen Kingdom. It is the sixth film in the Jurassic Park film series and will serve as the conclusion to the Jurassic World saga as a whole.
The sequel was first confirmed by Fallen Kingdom director, Juan Antonio Bayona.[1] Filming began in Canada in February, 2020 and the film is set to be released internationally on June 10, 2022. It was previously set for release on June 11, 2021, but it was pushed back a year due to the COVID-19 pandemic.
While Dominion will round out a trilogy of films that began in 2015 with Jurassic World, an interview with Frank Marshall revealed that Dominion will be the beginning of a "new era", hinting at further sequels as a result of Fallen Kingdom's ending.[2]
The film will be released theatrically on June 10, 2022.
Plot
Cast
Jurassic World: Dominion features an ensemble cast of actors reprising their roles from previous Jurassic Park and Jurassic World films.
List of Prehistoric Creatures in the film
Production
2010
In January 2010, Joe Johnston was interviewed by the Box Office Magazine. He talked about the upcoming Jurassic Park sequel trilogy:
"Well, there is going to be a Jurassic Park IV. It breaks away from the first three - it's essentially the beginning of the second Jurassic Park trilogy".[9]
2015
Colin Trevorrow in an interview with JurassicCast confirmed that there will be a trilogy. Throughout the trilogy, Claire's character would evolve the most, mirroring the changing world.[10]
In an interview with LRM Online, Juan Antonio Bayona also confirmed that a trilogy is being made with Fallen Kingdom being the second chapter in it.[1]
2018
On February 2018, Universal listed Jurassic World: Dominion with a tentative release date of June 11, 2021.[11]
On March 2018, Jeff Goldblum hinted that characters from the original trilogy could cameo in the film.[12]
Trevorrow later stated that the movie would focus more on real dinosaurs as opposed to hybrids. Additionally, Trevorrow aims for a more science-thriller based film with regards to Jurassic World: Dominion's tone, akin to the original Jurassic Park.[13][14]
Jurassic World: Dominion may be the first film that Legendary Pictures may not be involved with to co-produce alongside Amblin Entertainment.[15]
Owen Grady, Claire Dearing, and Maisie Lockwood, portrayed by Chris Pratt, Bryce Dallas Howard and Isabella Sermon respectively, are confirmed to return.
A source confirmed that two new characters so far will be in the film: dinosaur hunter Zane Maxin and an unnamed female Dinosaur Protection Group paleo-veterinarian.
Trevorrow announced that the sixth film won't involve dinosaurs destroying cities.[16]
2019
Trevorrow stated that filming will likely commence in early 2020.
On July 27th, Colin said that the sixth film will be the last movie, however later in May 2020 producer Frank Marshall confirmed that Jurassic World: Dominion will be the start of a new era and won't be the end of the franchise
On August 11th, Kevin Jenkins became the production designer of the sixth film.
It was confirmed on September 24th that Sam Neill and Laura Dern would reprise their roles as Alan Grant and Ellie Sattler-Degler, as well as Jeff Goldblum as Ian Malcolm.[17]
The film will be set in Malta, Mediterranean.
On September 17th, the Dark Crystal animatronic creator John Nolan heads of to work with the sixth film.
On October 17th, Mamoudou Athie has joined the cast of the movie in a major but unspecified role.[18] On October 18th, DeWanda Wise has joined the cast.[19]
On November 7, it was announced that Justice Smith and Daniella Pineda will reprise their roles as Franklin Webb and Zia Rodriguez.[20]
On December 13, Trevorrow posted a video of a dinosaur animatronic.
2020
On January 26, Trevorrow teases the final title, stating that it will not have anything to do with the word "extinction."
On January 31, Trevorrow posted another video of a dinosaur animatronic.
On February 6, casting for extras began in British Columbia.
On February 13, Trevorrow announced Jake Johnson and Omar Sy would be reprising their roles as Lowery Cruthers and Barry Sembène respectively.[21]
On February 18, BD Wong confirmed that he would be reprising his role as Henry Wu.
On February 18, it was announced that Dichen Lachman is cast in an unknown role.[22]
On February 19, it was announced that Scott Haze is cast in an unknown role.[23]
On February 19, filming began on Vancouver Island, Canada.
On February 25, it was announced that Jurassic World: Dominion would be the title of the film and that filming had commenced.
On March 9, filming was teased near London.
On March 11, it was announced that Michael Giacchino will compose Jurassic World: Dominion.[24]
On March 13, Universal had decided to halt production indefinitely due to the worldwide coronavirus pandemic.[25]
On April 20, the movie will show dinosaurs in the snow.
On May 22, the producer Frank Marshall confirmed that Jurassic World: Dominion will be the start of a new era and won't be the end of the franchise.
On June 15, Universal is set to resume filming of Dominion on July 6th in the United Kingdom with some safety protocols over the coronavirus pandemic.[26]
On June 25, it was announced that Campbell Scott will portray Lewis Dodgson, replacing Cameron Thor who portrayed him in Jurassic Park.[27]
On July 6, filming resumed at Pinewood Studios.[28]
On August 7, an image of the InGen box first seen in Jurassic World has been posted, with the label "Site B, Isla Sorna" on the bottom, hinting at a nod at Sorna in the film.[29]
On August 28, a new image showing the head maquette of a new theropod dinosaur.[30]
On October 6, the film was delayed by a year; until June 10, 2022 due to the pandemic.[31]
On October 7, Colin Trevorrow tweeted a new animal maquette which appears to be a dicynodont species which he later confirmed it to be a Lystrosaurus.[32][6]
On October 14, DJ and music producer Dimitri Vegas joined the cast.[33]
On October 23, filming resumed.[34]
On November 7, filming has wrapped.[35]
On November 20, Sam Neill stated the Giganotosaurus is set to appear in the film. However, others involved in the film declined any comment when asked about the Giganotosaurus.
2021
On January 20, Colin Trevorrow confirmed Jurassic World: Dominion will be connected to Jurassic World: Camp Cretaceous.
On April 24, a photo leak on Twitter revealed the animatronic for the Giganotosaurus that will be used in the film.
On May 2, Michael Giacchino completed the score for the film. Director Colin Trevorrow later shared some of the score over Instagram.
On May 12, Chris Pratt shared a behind the scene photo on Instagram with Omar Sy, with the two being directed by Trevorrow.
On May 29, Colin Trevorrow teases the trailer for Jurassic World: Dominion is coming sooner than we think (possibly in June).[36]
On May 30, Elva Trill confirms her appearance in Jurassic World: Dominion.[37]
On June 9, a new teaser image of Jurassic World: Dominion shows a feathered dinosaur, Moros,[38] the jaw of a Giganotosaurus,[39] as well as a picture of a Atrociraptor pack surfaced. He also announced that a special preview of the film will be shown with F9 on IMAX theaters.[40]
On June 18, the clip of the IMAX preview of Jurassic World: Dominion was leaked.[41]
On June 21, the official first look teaser trailer was released.[42]
On June 25, the 5 minute preview of Jurassic World: Dominion was released in IMAX.
On July 27, it has been reported that Jake Johnson will not be in Jurassic World: Dominion. [43]
On August 18, new pictures of the Atrociraptor pack, as well as a photo of Rexy, Blue, the Atrociraptor Red and a new Parasaurolophus design as well as two photos with an Allosaurus and a Carnotaurus.
On August 24, a photo surfaced on the internet of a Baryonyx that will appear in the movie.
On August 25, Universal and Amblin showed 90 second footage of Jurassic World: Dominion in CinemaCon in Las Vegas.
On September 24, leaks of a render of the Dilophosaurus from the movie was seen online.
On October 8, leaks of the Mattel toys for the movie's Giganotosaurus, Therizinosaurus, Pyroraptor, Quetzalcoatlus, Yangchuanosaurus, and Kosmoceratops were seen on the internet.
On October 15, Ariana Richards teases her return in the franchise.
On October 20, Jurassic World: Dominion was test screened by Universal Studios and Amblin Entertainment.
On November 3, the movie's new dinosaur Pyroraptor was leaked online.
On November 8, Colin Trevorrow confirmed that Jurassic World: Dominion has officially wrapped up post-production.
Gallery
Promo Screenshots
Preview
Pre-production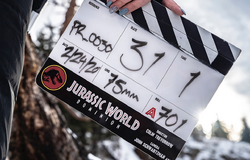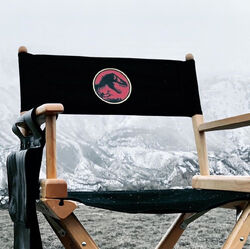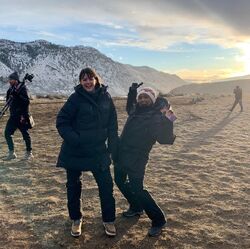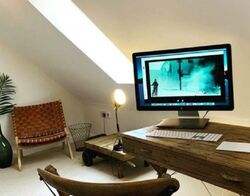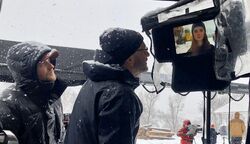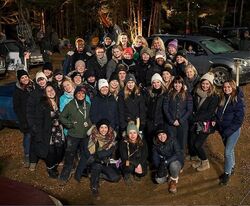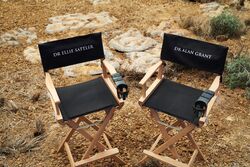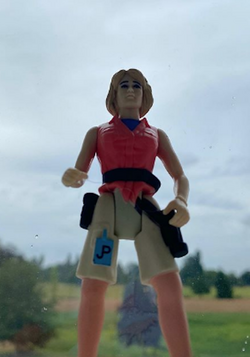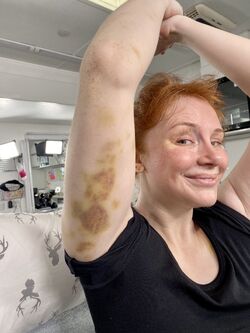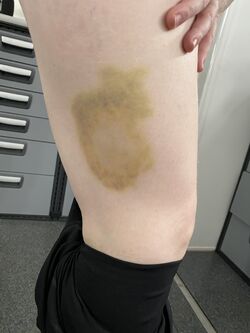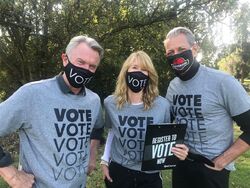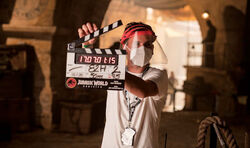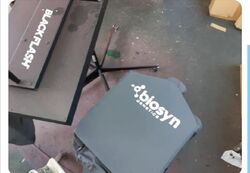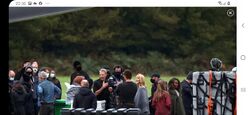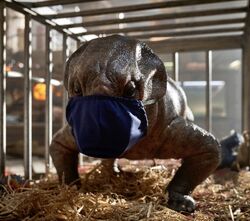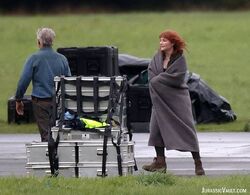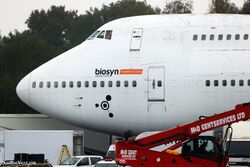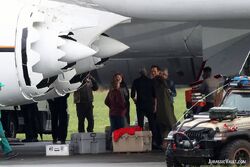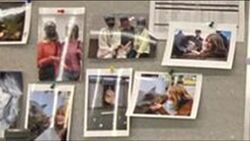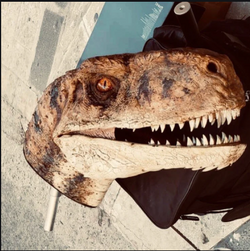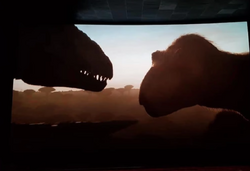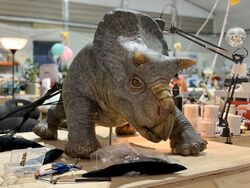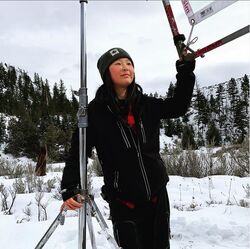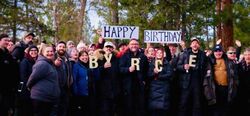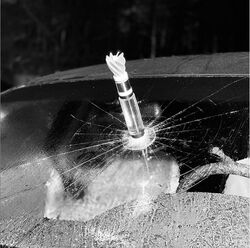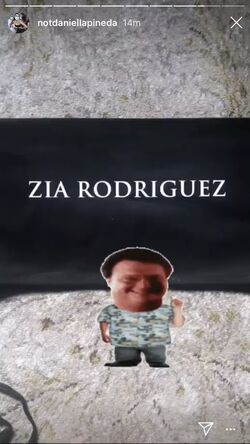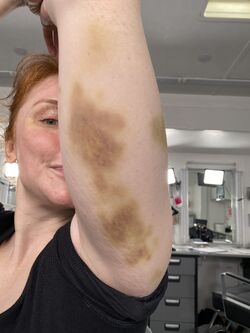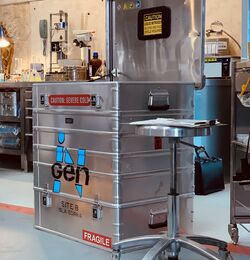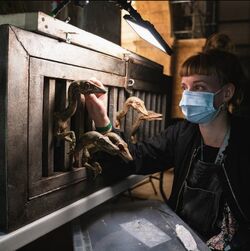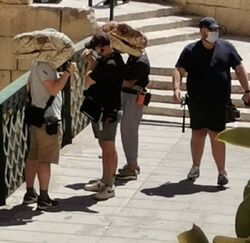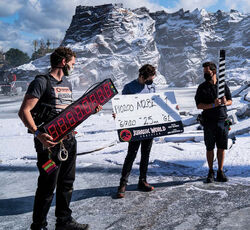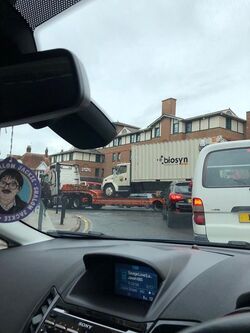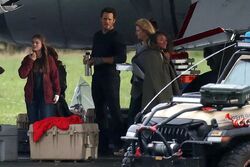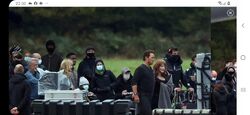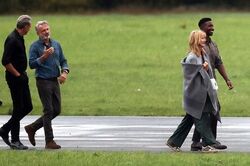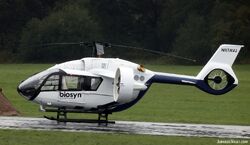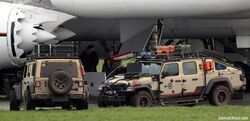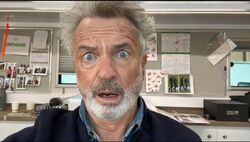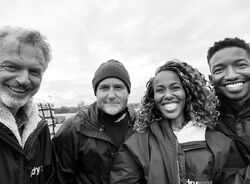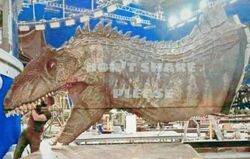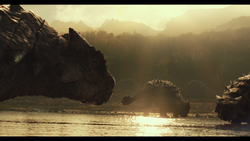 Posters
Toys
Trivia
Jurassic World: Dominion will mark the first time since the original Jurassic Park that Sam Neill, Laura Dern, and Jeff Goldblum reprised their original roles together in a Jurassic Park movie. Dominion also marks twenty years since Neil and Dern reprised their roles as Alan Grant and Ellie Sattler together in film.

Dominion, however, is not the first time Neill, Dern, and Goldblum reprised their roles together in Jurassic Park media since the original film. The three reprised their respective roles in the non canon "Return to Jurassic Park" DLC of the video game Jurassic World Evolution.

Jurassic World: Dominion marks the fourth film appearance of actors B. D. Wong and Jeff Goldblum as their respective characters Henry Wu and Ian Malcolm in Jurassic Park movies. This makes both Wong and Goldblum tied as the actors appearing the most in Jurassic Park movies in total.
Nearly all of the cast is comprised of actors and characters who originated in prior Jurassic Park or Jurassic World films:
This is also the first time in the franchise that an entire trilogy of films in the franchise is composed by the same person, in this case, Michael Giacchino.
Its delay to the new release date, June 10, 2022, marks the second time a Jurassic Park/World film has ever been delayed from an original release date, the first being Jurassic Park III.
References
↑ 1.0 1.1 Scott, Ryan (September 11, 2016). Jurassic World 2 Director Confirms New Trilogy Is Coming. MovieWeb. Retrieved June 14, 2018
↑ Scribner, Herb. (May 23, 2020). 'Jurassic World: Dominion' is unlikely to be the final 'Jurassic Park' film DeseretNews. Retrieved June, 14, 2020
↑ 4.00 4.01 4.02 4.03 4.04 4.05 4.06 4.07 4.08 4.09 4.10 Lane, Carly. (June 9, 2021). 'Jurassic World: Dominion': New Dinosaurs, Cretaceous-Era Prologue, and Everything Else We Learned From the IMAX Preview Footage Collider.
↑ Nicholson, Amy (January 13, 2010). EXCLUSIVE: 'Captain America' & 'JP4' News Box Office. Retrieved June 14, 2018
↑ Christ (September 21, 2015) Colin Trevorrow reveals the plot direction for Jurassic World 2 and confirms a Jurassic World trilogy! Scified. Retrieved June 14, 2018
↑ (February 21, 2018). JURASSIC WORLD 3 WILL BE RELEASED JUNE 11, 2021. Jurassic World. Retrieved June 30, 2018
↑ Cotter, Padraig (March 28, 2018). Jurassic World 3: Jeff Goldblum Hints at Special Cameos Screenrant. Retrieved June 14, 2018
↑ Squires, John (May 7, 2018). No More Hybrid Dinosaurs in 'Jurassic World 3,' Colin Trevorrow Says Bloody Disgusting. Retrieved June 14, 2018
↑ Squires, John (April 19, 2018). Colin Trevorrow Teases That 'Jurassic World 3' Will Be a "Science Thriller". Bloody Disgusting. Retrieved June 24, 2018
↑ Evans, Josh (July 25, 2018). Legendary Entertainment May Not Be Involved with Jurassic World 3. Jurassic Outpost. Retrieved July 25, 2018
↑ Jack (December 13, 2018). Exclusive: Colin Trevorrow Shares His Experiences with 'Fallen Kingdom' + Talks Hopes for 'Jurassic World 3'! Jurassic Outpost. Retrieved June 14, 2020
↑ Fleming Jr, Mike (September 24, 2019). 'Jurassic Park' Trio Laura Dern, Sam Neill & Jeff Goldblum Returning For 'Jurassic World 3' Deadline. Retrieved June 14, 2020
↑ Hemmert, Kylie (October 17, 2019). Mamoudou Athie Joins Jurassic World 3 ComingSoon. Retrieved June 14, 2020
↑ Kroll, Justin (October 18, 2019). 'Jurassic World 3' Casts DeWanda Wise in Leading Role (EXCLUSIVE) Variety. Retrieved June 14, 2020
↑ Hermanns, Grant (November 7, 2019). Daniella Pineda & Justice Smith Set to Return For Jurassic World 3 ComingSoon. Retrieved June 14, 2020
↑ Kit, Borys (February 13, 2020). Jake Johnson, Omar Sy to Return for New 'Jurassic World' Movie The Hollywood Reporter. Retrieved June 14, 2020
↑ Foutch, Haleigh (February 18, 2020). 'Jurassic World 3' Adds 'Altered Carbon' and 'Agents of S.H.I.E.L.D.' Star Dichen Lachman Collider. Retrieved June 14, 2020
↑ D'Alessandro, Anthony (February 19, 2020). 'Jurassic World 3': 'Venom' & 'Antlers' Actor Scott Haze Joins Colin Trevorrow Pic Deadline. Retrieved June 14, 2020
↑ filmmusicreporter (March 11, 2020). Michael Giacchino to Return for 'Jurassic World: Dominion' Film Music Reporter. Retrieved June 14, 2020
↑ Kroll, Justin (March 13, 2020). Universal Halts Production on Live-Action Films Including 'Jurassic World: Dominion' Due to Coronavirus Variety. Retrieved June 14, 2020
↑ Wiseman, Andreas (June 15, 2020). Universal's 'Jurassic World: Dominion' On Course To Be First Major Studio Movie Back Underway In UK, Detailed Safety Protocols Revealed Deadline. Retrieved June 15, 2020
↑ https://comicbook.com/movies/news/jurassic-world-dominion-park-return-lewis-dodgson-campbell-scott/
↑ https://www.jurassicoutpost.com/trevorrow-teases-a-return-to-isla-sorna-in-new-set-picture-from-jurassic-world-dominion/
↑ Trevorrow, Colin (October 7, 2020). "Woke up to the news...". Twitter.
↑ https://variety.com/2020/film/news/jurassic-world-dominion-resumes-production-coronavirus-1234814255/
↑ https://deadline.com/2020/11/jurassic-world-chris-pratt-bryce-dallas-howard-universal-covid-tests-wrap-1234610291/
↑ "'Jurassic World: Camp Cretaceous' Season 4 Teased by Colin Trevorrow". May 29, 2021. THR.
↑ https://www.sundayworld.com/showbiz/irish-actress-elva-trill-set-for-stardom-as-she-gears-up-for-release-of-new-jurassic-world-movie-40483060.html
External links