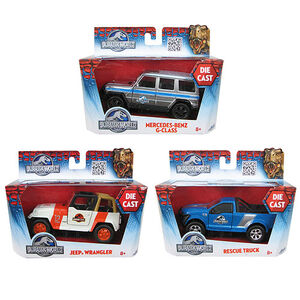 Jurassic World is a line of toys based on the film Jurassic World. It is manufactured by Jada Toys and was released to coincide with Hasbro's own toy line based on the film. It focuses primarily on the vehicles depicted in the movie. They come in two varieties: basic die cast and radio controlled (RC). The RC cars are larger than the die cast ones.
Vehicles
Die Cast 1:24 Scale
Die Cast 1:32 Scale
Peterbilt Model 387 Hauler
Die Cast 1:43 Scale
Die Cast 1:64 Scale
Peterbilt Model 387 Long Hauler
RC
In 12 IN (G 63) and 1:16 scale (Jeep).
Gallery
Notes
Although the die cast Jeep Wrangler is ostensibly from Jurassic World, the one actually utilized in that film is Jeep 29. Jeep 12 is Dennis Nedry's Jeep from Jurassic Park. The RC version of the Jeep gives the film-accurate vehicle number.
The Mercedes-Benz G 63 is the largest of the four die cast vehicles due to its scale and it comes in a much larger box than the others.
The "Rescue Truck" is a generic vehicle and doesn't appear to be based on an actual vehicle from Jurassic World.
Likewise, the Peterbilt tractor trailer never appeared in the film.
The RC model of Jeep 29 is the wrong model year, although the paint scheme is mostly accurate. The model represents a Jeep Wrangler JK, introduced in 2007, instead of a 1992 Wrangler YJ. Differences include round headlights (instead of square) and different fenders, among other details.
Community content is available under
CC-BY-SA
unless otherwise noted.