Kenner Products was a toy company founded in 1947 by three brothers, Albert, Phillip, and Joseph L. Steiner, in Cincinnati, Ohio, United States, and was named after the street where the original corporate offices were located. It produced multiple toy lines of the Jurassic Park movies.
Ownership & Production
In 1970, General Mills merged its Rainbow Crafts division into Kenner Products, bringing Play-Doh into the Kenner product line.
Kenner Products obtained the rights to produce Star Wars action figures and playsets for the Star Wars trilogy from 1977 through 1985. After Kenner acquired the license to produce Star Wars toys when the Mego Corporation rejected it in 1976, Kenner popularized the 3.75 inch action figure that became an industry standard that continues to dominate the action figure toy market.
In 1985, General Mills spun off its Kenner and Parker toy divisions to form Kenner Parker Toys, Inc. Kenner Parker was acquired by Tonka in 1987. Under Tonka management, Kenner Products was reconstituted as a division.
Tonka (including Kenner) was purchased by the toy company Hasbro in mid-1991. Hasbro closed the Cincinnati offices of Kenner in 2000, and Kenner's product lines were merged into Hasbro's.
Jurassic Park toy lines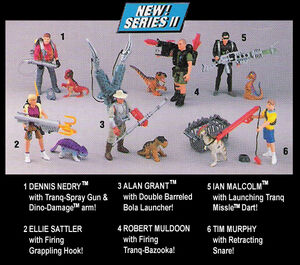 Kenner produced multiple toylines for the Jurassic Park and The Lost World movies.
Jurassic Park
The Lost World: Jurassic Park
Notable Kenner Product Lines
Alien
Batman & Robin
Batman Forever
Batman Returns
Batman: The Animated Series
Batman Total Justice
Beetlejuice
Bill and Ted's Excellent Adventures
The Bionic Woman
Butch and Sundance: The Early Days
Care Bears
Chuck Norris Karate Kommandos
Congo
Easy Bake Oven
Jurassic Park
Knight Rider
Littlest Pet Shop
Mega Force
M.A.S.K.
Play-Doh
Predator
Raiders of the Lost Ark
The Real Ghostbusters
Robin Hood: Prince of Thieves
Robocop: The Animated Series
Run Joe Run
The Shadow
The Six Million Dollar Man
Star Wars
Stretch Armstrong
Superman: The Animated Series
Swamp Thing
Terminator
Waterworld
E.T.
Community content is available under
CC-BY-SA
unless otherwise noted.