This article is a stub. You can help the Jurassic Park Wiki by expanding it.

Martin Ferrero (born September 29, 1947) is an American actor who played Gennaro in Jurassic Park. Other notable films Ferrero has appeared in include Planes, Trains and Automobiles (1987), Oscar (1991) and Heat (1995). Aside from his work in film, Ferrero has had an extensive career in television and theater; on TV he is perhaps best-known for his recurring role as small-time crook Izzy Moreno in Miami Vice (1984-1990).
Trivia
During a Q&A session after the Early April Preview Screening of Jurassic Park 3D at Academy's Goldwyn Theater, Ferrero explained how he was asked for the role.[1] "Steven called me in to me and told me, 'I'm thinking about casting you as Donald Gennaro and I do want to let you know how you're going to die'. I said, 'Wait a minute, Donald Gennaro survives. In fact he saves the children in the book.' And [Spielberg] said, 'No, he's going to die on a toilet. A Tyrannosaurus rex is going to eat you.'" In the early production he had tried to convince Steven Spielberg that it was better for the movie if Gennaro would live and Ian Malcolm would die. "Of course if it was going to be a heroic Donald Gennaro they would have gotten a big star," he said. "I told him it was a terrific plan."
Ferrero has stated that whenever he is spotted in public, he is almost always recognized as being "...that guy who died on the toilet in Jurassic Park."
Because Jurassic Park had popularised dinosaurs the surnames of its main actors were used to make the species name of the Tianchisaurus genus. The species name has become nedegoapeferima, in which the part fe are the first two letters of Ferrero.
Gallery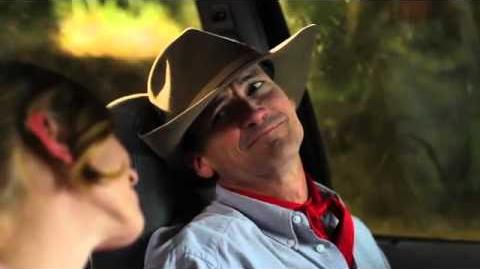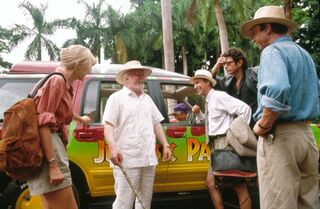 References
Community content is available under
CC-BY-SA
unless otherwise noted.