This page needs serious attention!
---
This article does not currently meet the standards set at
Park Pedia: The Jurassic Park Wiki. Please feel free to edit it, and pose any
questions you might have on the article's talk page.
Mastodonsaurus is creatable in Jurassic World: The Game as a VIP amphibian.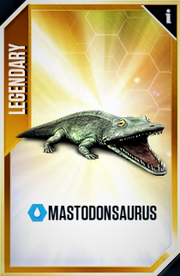 Information
Mastodontosaurus can only be obtained through VIP card packs.
Cost and Time to Hatch
Availability
VIP
Incubation Period
06:00:00
Placement Cost
10,000 DNA
Selling Reward
5,000 DNA
Maximum Earning Rate
560 Gold/Minute
Additional Information
Mastodonsaurus
Appearance
Unlocked Trivia
Evo 1
Reward: 9,000 Food
"Did you know that Mastodonsaurus means 'breast-tooth lizard'? It gets its name from its rows of conical teeth."
Evo 2
Reward: 76,375 Food
"Fossils of the Mastodonsaurus were first identified in 1828. They have been found in Great Britain, Germany, and Russia."
Evo 3
Reward: 100 Dino Bucks and 350,000 Food
"Because the Mastodonsaurus has short limbs with poorly developed joints, it rarely leaves the swampy water of its habitat."
Evo 4
Reward: 100 Dino Bucks, 1,479,250 Food, and 208 VIP Points
"
Level-Based Stats
| Level | Unmodified Earning Rates (12 Hours) | Feeding Costs | Life | Attack |
| --- | --- | --- | --- | --- |
| 1 | 1,260 | 9,000 | 864 | 270 |
| 2 | 2,520 | 17,750 | 912 | 285 |
| 3 | 3,780 | 26,750 | 960 | 300 |
| 4 | 5,040 | 35,500 | 1,008 | 315 |
| 5 | 6,300 | 44,500 | 1,056 | 330 |
| 6 | 7,560 | 53,250 | 1,104 | 345 |
| 7 | 8,820 | 62,250 | 1,152 | 360 |
| 8 | 10,080 | 71,000 | 1,200 | 375 |
| 9 | 11,340 | 80,000 | 1,248 | 390 |
| 10 | 12,600 | Evolve (00:00:00 @ DNA) | 1,296 | 405 |
| 11 | 27,720 | 76,375 | 1,680 | 525 |
| 12 | 30,240 | 83,375 | 1,740 | 544 |
| 13 | 32,760 | 90,375 | 1,800 | 563 |
| 14 | 35,280 | 97,125 | 1,860 | 581 |
| 15 | 37,800 | 104,000 | 1,920 | 600 |
| 16 | 40,320 | 111,000 | 1,980 | 619 |
| 17 | 42,840 | 118,000 | 2,040 | 638 |
| 18 | 45,360 | 124,875 | 2,100 | 656 |
| 19 | 47,880 | 131,875 | 2,160 | 675 |
| 20 | 50,400 | Evolve (00:00:00 @ DNA) | 2,220 | 694 |
| 21 | | | | |
| 22 | | | | |
| 23 | | | | |
| 24 | | | | |
| 25 | | | | |
| 26 | | | | |
| 27 | | | | |
| 28 | | | | |
| 29 | | | | |
| 30 | 151,200 | Evolve (00:00:00 @ DNA) | 3,384 | 1,058 |
| 31 | | | | |
| 32 | | | | |
| 33 | | | | |
| 34 | | | | |
| 35 | | | | |
| 36 | | | | |
| 37 | | | | |
| 38 | | | | |
| 39 | | | | |
| 40 | 403,200 | MAX | 4,788 | 1,496 |
Gallery