This page needs serious attention!
---
This article does not currently meet the standards set at
Park Pedia: The Jurassic Park Wiki. Please feel free to edit it, and pose any
questions you might have on the article's talk page.
Mauisaurus was added to the Aquatic Park of Jurassic World: The Game on March 16, 2016 as a Super Rare surface creature.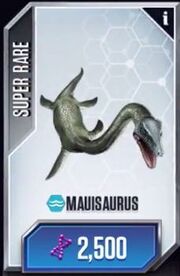 Information
Mauisaurus is unlocked by completing its battle event. Additional individuals can be purchased in the market for 2,500 DNA or found through card packs.
Cost and Time to Hatch
Availability
Super Rare
Incubation Period
12:41:00
Placement Cost
2,500 DNA
Selling Reward
1,250 DNA
Maximum Earning Rate
107.52 Gold/Minute
Additional Information
Mauisaurus
Appearance
Unlocked Trivia
Evo 1
Reward: 1,730 Food
"The Mauisaurus was first discovered in New Zealand, and gets its name from the Māori mythical demigod, Māui."
Evo 2
Reward: 11,280 Food
"Did you know that the Mauisaurus has one of the longest necks of the plesiosaurs? It has 68 cervical vertebrae!"
Evo 3
Reward: 100 Dino Bucks and 51,700 Food
"
Evo 4
Reward: 200 DNA, 218,425 Food and 100 Dino Bucks
"
Level-Based Stats
| Level | Unmodified Earning Rates (12 Hours) | Feeding Costs | Life | Attack |
| --- | --- | --- | --- | --- |
| 1 | 242 | 346 (5x = 1,730) | 100 | 73 |
| 2 | 484 | 682 (5x = 3,410) | 105 | 77 |
| 3 | 726 | 1,028 (5x = 5,140) | 111 | 81 |
| 4 | 968 | 1,364 (5x = 6,820) | 116 | 85 |
| 5 | 1,210 | 1,709 (5x = 8,545) | 122 | 89 |
| 6 | 1,452 | 2,045 (5x = 10,225) | 127 | 93 |
| 7 | 1,694 | 2,391 (5x = 11,955) | 133 | 97 |
| 8 | 1,936 | 2,727 (5x = 13,635) | 138 | 101 |
| 9 | 2,178 | 3,072 (5x = 15,360) | 144 | 105 |
| 10 | 2,420 | Evolve (01:00:00 @ 60 DNA) | 149 | 109 |
| 11 | 5,323 | 2,256 (5x = 11,280) | 194 | 141 |
| 12 | 5,807 | 2,463 (5x = 12,315) | 200 | 146 |
| 13 | 6,290 | 2,669 (5x = 13,345) | 207 | 151 |
| 14 | 6,774 | 2,866 (5x = 14,330) | 214 | 156 |
| 15 | 7,258 | 3,072 (5x = 15,360) | 221 | 161 |
| 16 | 7,742 | 3,279 (5x = 16,395) | 228 | 166 |
| 17 | 8,226 | 3,485 (5x = 17,425) | 235 | 171 |
| 18 | 8,710 | 3,687 (5x = 18,435) | 242 | 176 |
| 19 | 9,193 | 3,893 (5x = 19,465) | 249 | 181 |
| 20 | 9,677 | Evolve (02:00:00 @ 70 DNA) | 256 | 186 |
| 21 | | (5x = ) | | |
| 22 | | (5x = ) | | |
| 23 | | (5x = ) | | |
| 24 | | (5x = ) | | |
| 25 | | (5x = ) | | |
| 26 | | (5x = ) | | |
| 27 | | (5x = ) | | |
| 28 | | (5x = ) | | |
| 29 | | (5x = ) | | |
| 30 | 29,031 | Evolve (04:00:00 @ 80 DNA) | 390 | 284 |
| 31 | | (5x = ) | | |
| 32 | | (5x = ) | | |
| 33 | | (5x = ) | | |
| 34 | | (5x = ) | | |
| 35 | | (5x = ) | | |
| 36 | | (5x = ) | | |
| 37 | | (5x = ) | | |
| 38 | | (5x = ) | | |
| 39 | | (5x = ) | | |
| 40 | 77,415 | MAX | 552 | 402 |
Gallery