Microposaurus can be created in Jurassic World: The Game as a legendary amphibian.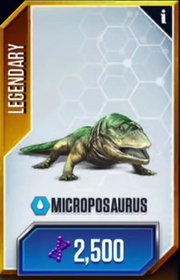 Information
It is unlocked by completing battle stage 50. More individuals can be purchased in the market for 2,500 DNA or found through card packs.
As of March 16th, 2016, a level 40 Microposaurus can be fused with a level 40 Ostafrikasaurus to create the hybrid Ostaposaurus.
Cost and Time to Hatch
Availability
Legendary
Incubation Period
29:10:00
Placement Cost
2,500 DNA
Selling Reward
1,250 DNA
Maximum Earning Rate
256 Gold/Minute
Additional Information
Microposaurus
Appearance
Unlocked Trivia
Evo 1
Reward: 1,800 Food
"Did you know that Microposaurus means 'small-eyed lizard'?"
Evo 2
Reward: 15,275 Food
"InGen's clones of the Microposaurus have rich, emerald mottling that allows them to blend into swamp water!"
Evo 3
Reward: 70,000 Food and 100 Dino Bucks
"The Microposaurus's jaw, while not nearly as destructive as the SuperCroc, is lined with super sharp edged teeth."
Evo 4
Reward: 200 DNA, 295,850 Food and 100 Dino Bucks
"This awe-inducing clone can reach lengths of 30 feet, although InGen scientists have predicted lengths of near 40!"
Level-Based Stats
| Level | Unmodified Earning Rates (3 Hours) | Feeding Costs | Life | Attack |
| --- | --- | --- | --- | --- |
| 1 | 144 | 360 (5x = 1,800) | 283 | 89 |
| 2 | 288 | 710 (5x = 3,550) | 299 | 93 |
| 3 | 432 | 1,070 (5x = 5,350) | 315 | 98 |
| 4 | 576 | 1,420 (5x = 7,100) | 331 | 103 |
| 5 | 720 | 1,780 (5x = 8,900) | 346 | 108 |
| 6 | 864 | 2,130 (5x = 10,650) | 362 | 113 |
| 7 | 1,008 | 2,490 (5x = 12,450) | 378 | 118 |
| 8 | 1,152 | 2,840 (5x = 14,200) | 394 | 123 |
| 9 | 1,296 | 2,840 (5x = 14,200) | 394 | 123 |
| 10 | 1,440 | Evolve (02:00:00 @ 70 DNA) | 425 | 133 |
| 11 | 3,168 | 3,055 (5x = 15,275) | 551 | 172 |
| 12 | 3,456 | 3,335 (5x = 16,675) | 571 | 178 |
| 13 | 3,744 | 3,615 (5x = 18,075) | 590 | 185 |
| 14 | 4,032 | 3,885 (5x = 19,425) | 610 | 191 |
| 15 | 4,320 | 4,160 (5x = 20,800) | 630 | 197 |
| 16 | 4,608 | 4,440 (5x = 22,200) | 649 | 203 |
| 17 | 4,896 | 4,720 (5x = 23,600) | 669 | 209 |
| 18 | 5,184 | 4,995 (5x = 24,975) | 689 | 215 |
| 19 | 5,472 | 5,275 (5x = 26,375) | 708 | 221 |
| 20 | 5,760 | Evolve (04:00:00 @ 80 DNA) | 728 | 228 |
| 21 | 12,096 | 6,995 (5x = 34,975) | 897 | 280 |
| 22 | 12,672 | 7,320 (5x = 36,600) | 921 | 288 |
| 23 | 13,248 | 7,665 (5x = 38,325) | 945 | 295 |
| 24 | 13,824 | 7,990 (5x = 39,950) | 968 | 303 |
| 25 | 14,400 | 8,330 (5x = 41,650) | 992 | 310 |
| 26 | 14,976 | 8,655 (5x = 43,275) | 1,015 | 317 |
| 27 | 15,552 | 8,990 (5x = 44,950) | 1,039 | 325 |
| 28 | 16,128 | 9,325 (5x = 46,625) | 1,063 | 332 |
| 29 | 16,704 | 9,655 (5x = 48,275) | 1,086 | 339 |
| 30 | 17,280 | Evolve (08:00:00 @ 90 DNA) | 1,110 | 347 |
| 31 | 35,712 | 14,745 (5x = 73,725) | 1,322 | 413 |
| 32 | 36,864 | 15,210 (5x = 76,050) | 1,350 | 422 |
| 33 | 38,016 | 15,700 (5x = 78,500) | 1,378 | 431 |
| 34 | 39,168 | 16,170 (5x = 80,850) | 1,405 | 439 |
| 35 | 40,320 | 16,650 (5x = 83,250) | 1,433 | 448 |
| 36 | 41,472 | 17,115 (5x = 85,575) | 1,460 | 456 |
| 37 | 42,624 | 17,600 (5x = 88,000) | 1,488 | 465 |
| 38 | 43,776 | 18,065 (5x = 90,325) | 1,515 | 474 |
| 39 | 44,928 | 18,545 (5x = 92,725) | 1,543 | 482 |
| 40 | 46,080 | Fuse () | 1,570 | 491 |
Gallery