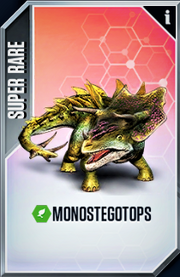 Monostegotops is a super-hybrid dinosaur that appears in Jurassic World: The Game.  
Information
Monostegotops is unlocked in the market by fusing a Level 40 Stegoceratops and 2,000 Monolophosaurus S-DNA. Additional individuals can be purchased in the market for 1,000 S-DNA.
Cost and Time to Hatch
Availability
Super Rare Super Hybrid
Incubation Period

3 Days, 07 Hours

Placement Cost
1,000 S-DNA
Selling Reward
??? DNA
Maximum Earning Rate
TBA Coins/Minute
Appearance
Unlocked Trivia
Evo 1
Reward: 12,960 Food
"Fusion with carnivore DNA makes the Monostegotops more aggressive than its herbivore ancestors."
Evo 2
Reward: TBA Food
"Monostegotops prefers to forage alone instead of in groups like the Triceratops or Stegosaurus."
Evo 3
Reward: TBA Bucks and TBA Food
"Monostegotops' solitary behavior may be due to its carnivore DNA."
Evo 4
Reward: TBA Bucks, TBA Food, and TBA DNA
"Monostegotops is heavily armored and can inflict serious damage with its powerful charging attacks."
Level-Based Stats
| Level | Unmodified Earning Rates (3 Hours) | Feeding Costs | Life | Attack |
| --- | --- | --- | --- | --- |
| 1 | | | | |
| 2 | | | | |
| 3 | | | | |
| 4 | | | | |
| 5 | | | | |
| 6 | | | | |
| 7 | | | | |
| 8 | | | | |
| 9 | | | | |
| 10 | 9,084 | Evolve (00:00:00 @ DNA) | 3,084 | 964 |
| 11 | | | | |
| 12 | | | | |
| 13 | | | | |
| 14 | | | | |
| 15 | | | | |
| 16 | | | | |
| 17 | | | | |
| 18 | | | | |
| 19 | | | | |
| 20 | 36,288 | Evolve (00:00:00 @ DNA) | 4,085 | 1,277 |
| 21 | | | | |
| 22 | | | | |
| 23 | | | | |
| 24 | | | | |
| 25 | | | | |
| 26 | | | | |
| 27 | | | | |
| 28 | | | | |
| 29 | | | | |
| 30 | 108,864 | Evolve (00:00:00 @ DNA) | 5,076 | 1,586 |
| 31 | | | | |
| 32 | | | | |
| 33 | | | | |
| 34 | | | | |
| 35 | | | | |
| 36 | | | | |
| 37 | | | | |
| 38 | | | | |
| 39 | | | | |
| 40 | 290,304 | Max | 6,033 | 1,885 |
Gallery