Ophiacodon was added to Jurassic World: The Game on August 4, 2015 as a Rare carnivore.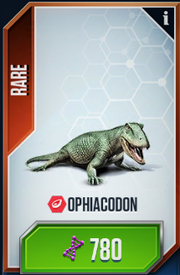 Information
It is unlocked by completing battle stage 51. More individuals can be purchased in the market for 780 DNA or found through card packs.
Cost and Time to Hatch
Availability
Rare
Incubation Period
03:33:00
Placement Cost
780 DNA
Selling Reward
390 DNA
Maximum Earning Rate
69.818 Gold/Minute
Additional Information
Ophiacodon
Appearance
Unlocked Trivia
Evo 1
Reward: 810 Food
"Meaning 'snake-tooth', the Ophiacodon lived mainly in the swamps of North America during the Carboniferous Period!"
Evo 2
Reward: 5,865 Food
"Did you know Ophiacodon fossils have been found in England, France, Canada, as well as 8 American states?"
Evo 3
Reward: 31 Dino Bucks and 13,455 Food
"The Ophiacodon has massive but very precise jaws. It can snap up fish, insects, small reptiles and amphibians with ease!"
Evo 4
Reward: 62 Dino Bucks, 21,330 Food and 62 DNA
"Did you know that the Ophiacodon is one of the species in the evolutionary line leading to mammals?"
Level-Based Stats
| Level | Unmodified Earning Rates (11 Hours) | Feeding Costs | Life | Attack |
| --- | --- | --- | --- | --- |
| 1 | 144 | 810 | 68 | 50 |
| 2 | 288 | 1,605 | 72 | 53 |
| 3 | 432 | 2,415 | 76 | 55 |
| 4 | 576 | 3,195 | 80 | 58 |
| 5 | 720 | 4,005 | 84 | 61 |
| 6 | 864 | 4,800 | 87 | 64 |
| 7 | 1,008 | 5,610 | 91 | 67 |
| 8 | 1,152 | 6,390 | 95 | 69 |
| 9 | 1,296 | 7,200 | 99 | 72 |
| 10 | 1,440 | Evolve (00:30:00 @ 50 DNA) | 103 | 75 |
| 11 | 3,168 | 1,173 (5x = 5,865) | 133 | 97 |
| 12 | 3,456 | 1,278 (5x = 6,390) | 138 | 100 |
| 13 | 3,744 | 1,386 (5x = 6,930) | 143 | 104 |
| 14 | 4,032 | 1,494 (5x = 7,470) | 147 | 107 |
| 15 | 4,320 | 1,602 (5x = 8,010) | 152 | 111 |
| 16 | 4,608 | 1,707 (5x = 8,535) | 157 | 114 |
| 17 | 4,896 | 1,815 (5x = 9,075) | 162 | 118 |
| 18 | 5,184 | 1,920 (5x = 9,600) | 166 | 121 |
| 19 | 5,472 | 2,028 (5x = 10,140) | 171 | 125 |
| 20 | 5,760 | Evolve (01:00:00 @ 60 DNA) | 176 | 128 |
| 21 | 12,096 | 2,691 (5x = 13,455) | 217 | 158 |
| 22 | 12,672 | 2,817 (5x = 14,085) | 222 | 162 |
| 23 | 13,248 | 2,946 (5x = 14,730) | 228 | 166 |
| 24 | 13,824 | 3,072 (5x = 15,360) | 234 | 170 |
| 25 | 14,400 | 3,201 (5x = 16,005) | 240 | 175 |
| 26 | 14,976 | 3,327 (5x = 16,635) | 245 | 179 |
| 27 | 15,552 | 3,456 (5x = 17,280) | 251 | 183 |
| 28 | 16,128 | 3,582 (5x = 17,910) | 257 | 187 |
| 29 | 16,704 | 3,714 (5x = 18,570) | 262 | 191 |
| 30 | 17,280 | Evolve (02:00:00 @ 70 DNA) | 268 | 195 |
| 31 | 35,712 | 4,266 (5x = 21,330) | 319 | 233 |
| 32 | 36,864 | 4,407 (5x = 22,035) | 326 | 238 |
| 33 | 38,016 | 4,545 (5x = 22,725) | 333 | 243 |
| 34 | 39,168 | 4,680 (5x = 23,400) | 339 | 247 |
| 35 | 40,320 | 4,821 (5x = 24,105) | 346 | 252 |
| 36 | 41,472 | 4,956 (5x = 24,780) | 353 | 257 |
| 37 | 42,624 | 5,094 (5x = 25,470) | 359 | 262 |
| 38 | 43,776 | 5,229 (5x = 26,145) | 366 | 267 |
| 39 | 44,928 | 5,370 (5x = 26,850) | 373 | 272 |
| 40 | 46,080 | Max | 379 | 277 |
Gallery