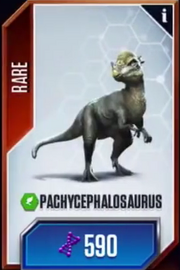 Pachycephalosaurus is an available dinosaur on the iOS and Android application, Jurassic World: The Game as a rare herbivore.
Information
It is unlocked by beating battle stage 44. More individuals can be purchased in the market for 590 DNA or found through card packs.
As of September 30th 2015, a level 40 Pachycephalosaurus can be fused with a level 40 Nasutoceratops to make the hybrid Pachyceratops.
Cost and Time to Hatch
Availability
Rare
Incubation Period
02:12:00
Placement Cost
590 DNA
Selling Reward
300 DNA
Maximum Earning Rate
120.83 Gold/Minute
Additional Information
Pachycephalosaurus
Appearance
Unlocked Trivia
Evo 1
Reward: 640 Food
"Did you know that Pachycephalosaurus, while a mouthful to say, means 'thick-headed lizard'?"
Evo 2
Reward: 4,615 Food
"Pachycephalosaurus has an extra thick skull to protect their brain when they ram their heads together in battle!"
Evo 3
Reward: 14 Dino Bucks and 40,585 Food
"Jurassic World's Pachycephalosaurus are closer to the original in size, standing a 6 feet in height and weighing 990 pounds!"
Evo 4
Reward: 47 Dino Bucks, 16,780 Food and 47 DNA
"By butting heads, the Pachycephalosaurus frequently disable their implants, allowing them to temporarily escape their enclosure!"
Level-Based Stats
| Level | Unmodified Earning Rates (3 hours) | Feeding Costs | Life | Attack |
| --- | --- | --- | --- | --- |
| 1 | 68 | 638 | 82 | 25 |
| 2 | 136 | 1,263 | 86 | 27 |
| 3 | 204 | 1,900 | 91 | 28 |
| 4 | 272 | 2,514 | 95 | 30 |
| 5 | 340 | 3,151 | 100 | 31 |
| 6 | 408 | 3,776 | 104 | 33 |
| 7 | 476 | 4,414 | 109 | 34 |
| 8 | 544 | 5,027 | 113 | 35 |
| 9 | 612 | 5,664 | 118 | 37 |
| 10 | 680 | Evolve (00:30:00 @ 50 DNA) | 122 | 38 |
| 11 | 1,496 | 4,614 | 159 | 50 |
| 12 | 1,632 | 5,027 | 164 | 51 |
| 13 | 1,768 | 5,452 | 170 | 53 |
| 14 | 1,904 | 5,877 | 176 | 55 |
| 15 | 2,040 | 6,302 | 181 | 57 |
| 16 | 2,175 | 6,715 | 187 | 58 |
| 17 | 2,311 |  7,139 | 193 | 60 |
| 18 | 2,447 | 7,552 | 198 | 62 |
| 19 | 2,583 | 7,977 | 204 | 64 |
| 20 | 2,719 | Evolve (01:00:00 @ 60 DNA) | 210 | 65 |
| 21 | 5,710 | 10,585 | 258 | 81 |
| 22 | 5,982 | 11,081 | 265 | 83 |
| 23 | 6,254 | 11,588 | 272 | 85 |
| 24 | 6,525 | 12,084 | 279 | 87 |
| 25 | 6,797 | 12,591 | 285 | 89 |
| 26 | 7,069 | 13,087 | 292 | 91 |
| 27 | 7,341 | 13,594 | 299 | 93 |
| 28 | 7,613 | 14,090 | 306 | 96 |
| 29 | 7,885 | 14,609 | 313 | 98 |
| 30 | 8,157 | Evolve (02:00:00 @ 70 DNA) | 319 | 100 |
| 31 | 16,857 | 16,780 | 381 | 119 |
| 32 | 17,400 | 17,335 | 389 | 121 |
| 33 | 17,944 | 17,877 | 396 | 124 |
| 34 | 18,488 | 18,408 | 404 | 126 |
| 35 | 19,032 | 18,963 | 412 | 129 |
| 36 | 19,575 | 19,494 | 420 | 131 |
| 37 | 20,119 | 20,037 | 428 | 4,008 |
| 38 | 20,663 | 20,568 | 436 | 136 |
| 39 | 21,207 | 21,122 | 444 | 139 |
| 40 | 21,750 | Fuse (04:00:00 @ 200 DNA) | 452 | 141 |
Gallery