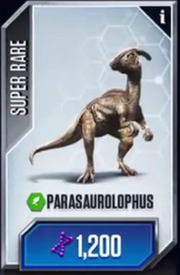 Parasaurolophus can be created in Jurassic World: The Game as a super rare herbivore.
Information
It is unlocked by completing battle stage 42. More individuals can be purchased in the market for 1,200 DNA or found through card packs.
As of June 29, 2016, a level 40 Parasaurolophus can be fused with a level 40 Bonitasaura to create the hybrid Parasaura.
Cost and Time to Hatch
Availability
Super Rare
Incubation Period
07:09:00
Placement Cost
1,200 DNA
Selling Reward
600 DNA
Maximum Earning Rate
184.32 Gold/Minute
Additional Information
Parasaurolophus
Appearance
Unlocked Trivia
Evo 1
Reward: 1,300 Food
"The Parasaurolophus roam freely on Isla Nubar and Isla Sorna, usually in the company of other herbivores."
Evo 2
Reward: 8,460 Food
"Did you know that the Parasaurolophus can communicate by pushing air into its crest to create a deep sound?"
Evo 3
Reward: 48 Dino Bucks and 38,775 Food
"Greek for 'near crested lizard', the Parasaurolophus gets its name from its distinct horn-like crest, which resembles Elvis's hair!"
Evo 4
Reward: 96 Dino Bucks, 163,820 Food and 96 DNA
"When Parasaurolophus fossils were discovered, its crest attracted wild ideas, includin a weapon, a snorkel, and even a nose!"
Level-Based Stats
| Level | Unmodified Earning Rates (3 hours) | Feeding Costs | Life | Attack |
| --- | --- | --- | --- | --- |
| 1 | 104 | 260 (5x = 1,300) | 159 | 50 |
| 2 | 208 | 512 (5x = 2,560) | 168 | 52 |
| 3 | 312 | 771 (5x = 3,855) | 177 | 55 |
| 4 | 415 | 1,023 (5x = 5,115) | 185 | 58 |
| 5 | 519 | 1,282 (5x = 6,410) | 194 | 61 |
| 6 | 623 | 1,534 (5x = 7,670) | 203 | 63 |
| 7 | 726 | 1,793 (5x = 8,965) | 212 | 66 |
| 8 | 830 | 2,045 (5x = 10,225) | 221 | 69 |
| 9 | 934 | 2,304 (5x = 11,520) | 230 | 72 |
| 10 | 1,037 | Evolve (01:00:00 @ 60 DNA) | 238 | 75 |
| 11 | 2,281 | 1,692 (5x = 8,460) | 309 | 97 |
| 12 | 2,489 | 1,847 (5x = 9,235) | 320 | 100 |
| 13 | 2,696 | 2,002 (5x = 10,010) | 331 | 104 |
| 14 | 2,904 | 2,150 (5x = 10,750) | 342 | 107 |
| 15 | 3,111 | 2,304 (5x = 11,520) | 353 | 110 |
| 16 | 3,318 | 2,459 (5x = 12,295) | 364 | 114 |
| 17 | 3,526 | 2,614 (5x = 13,070) | 375 | 117 |
| 18 | 3,733 | 2,765 (5x = 13,825) | 386 | 121 |
| 19 | 3,940 | 2,920 (5x = 14,600) | 397 | 124 |
| 20 | 4,148 | Evolve (02:00:00 @ 70 DNA) | 408 | 128 |
| 21 | 8,710 | 3,874 (5x = 19,370) | 503 | 157 |
| 22 | 9,124 | 4,054 (5x = 20,270) | 517 | 161 |
| 23 | 9,539 | 4,245 (5x = 21,225) | 530 | 166 |
| 24 | 9,954 | 4,425 (5x = 22,125) | 543 | 170 |
| 25 | 10,369 | 4,612 (5x = 23,060) | 556 | 174 |
| 26 | 10,783 | 4,792 (5x = 23,960) | 570 | 178 |
| 27 | 11,198 | 4,979 (5x = 24,895) | 583 | 182 |
| 28 | 11,613 | 5,163 (5x = 25,815) | 596 | 186 |
| 29 | 12,027 | 5,346 (5x = 26,730) | 609 | 190 |
| 30 | 12,442 | Evolve (04:00:00 @ 80 DNA) | 623 | 195 |
| 31 | 25,713 | 8,165 (5x = 40,825) | 742 | 232 |
| 32 | 26,543 | 8,424 (5x = 42,120) | 757 | 237 |
| 33 | 27,372 | 8,694 (5x = 43,470) | 773 | 242 |
| 34 | 28,201 | 8,954 (5x = 44,770) | 788 | 246 |
| 35 | 29,031 | 9,220 (5x = 46,100) | 804 | 251 |
| 36 | 29,860 | 9,479 (5x = 47,395) | 819 | 256 |
| 37 | 30,690 | 9,746 (5x = 48,730) | 835 | 261 |
| 38 | 31,519 | 10,005 (5x = 50,025) | 850 | 266 |
| 39 | 32,349 | 10,271 (5x = 51,355) | 866 | 270 |
| 40 | 33,178 | Fuse (04:00:00 @ 350 DNA) | 881 | 275 |
Trivia
Gallery