This page needs serious attention!
---
This article does not currently meet the standards set at
Park Pedia: The Jurassic Park Wiki. Please feel free to edit it, and pose any
questions you might have on the article's talk page.
Priotrodon was made creatable in Jurassic World: The Game on March 16, 2016 as a legendary hybrid carnivore.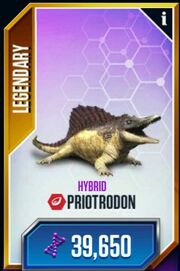 Information
It is unlocked in the market by fusing a Level 40 Prionosuchus and a Level 40 Dimetrodon. Additional individuals can be purchased in the market for 39,650 DNA or found through special card packs.
Cost and Time to Hatch
Availability
Legendary Hybrid
Incubation Period
6 days 23 hours
Placement Cost
39,650 DNA
Selling Reward
19,825 DNA
Maximum Earning Rate
1903.10555556 Gold/Minute
Appearance
Unlocked Trivia
Evo 1
Reward:
"
Evo 2
Reward:
"
Evo 3
Reward:
"
Evo 4
Reward:
"
Level-Based Stats
| Level | Unmodified Earning Rates () | Feeding Costs | Life | Attack |
| --- | --- | --- | --- | --- |
| 1 | 1,071 | 18,408 | 1,156 | 442 |
| 2 | 2,141 | 36,250 | 1,220 | 466 |
| 3 | 3,212 | 54,587 | 1,285 | 491 |
| 4 | 4,282 | 72,429 | 1,349 | 515 |
| 5 | 5,353 | 90,766 | 1,413 | 540 |
| 6 | 6,423 | 108,608 | 1,477 | 564 |
| 7 | 7,494 | 126,945 | 1,542 | 589 |
| 8 | 8,564 | 144,786 | 1,606 | 613 |
| 9 | 9,635 | 163,124 | 1,670 | 638 |
| 10 | 10,705 | Evolve (00:08:00 @  140 DNA) | 1,734 | 662 |
| 11 | | | | |
| 12 | | | | |
| 13 | | | | |
| 14 | | | | |
| 15 | | | | |
| 16 | | | | |
| 17 | | | | |
| 18 | | | | |
| 19 | | | | |
| 20 | | Evolve (00:00:00 @ DNA) | | |
| 21 | | | | |
| 22 | | | | |
| 23 | | | | |
| 24 | | | | |
| 25 | | | | |
| 26 | | | | |
| 27 | | | | |
| 28 | | | | |
| 29 | | | | |
| 30 | | Evolve (00:00:00 @ DNA) | | |
| 31 | | | | |
| 32 | | | | |
| 33 | | | | |
| 34 | | | | |
| 35 | | | | |
| 36 | | | | |
| 37 | | | | |
| 38 | | | | |
| 39 | | | | |
| 40 | | Evolve (00:00:00 @ DNA) | | |
Gallery