This page needs serious attention!
---
This article does not currently meet the standards set at
Park Pedia: The Jurassic Park Wiki. Please feel free to edit it, and pose any
questions you might have on the article's talk page.
Pyroraptor can be created in Jurassic World: The Game as a Rare carnivore.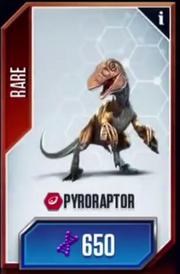 Information
It is unlocked by completing Battle Stage 48. More individuals can be purchased in the market for 650 DNA or found through card packs.
As of June 10, 2016, a level 40 Pyroraptor can be fused with a level 40 Carnotaurus to create the hybrid Carnoraptor.
Cost and Time to Hatch
Availability
Rare
Incubation Period
02:40:00
Placement Cost
650 DNA
Selling Reward
325 DNA
Maximum Earning Rate
132.922 Gold/Minute
Additional Information
Pyroraptor
Appearance
Unlocked Trivia
Evo 1
Reward: 705 Food
"The Pyroraptor lived in the plains of Western Europe in the Cretaceous Period. It was discovered in Southern France."
Evo 2
Reward: 5,085 Food
"While not the largest raptor, the Pyroraptor has scythe-like claws on its back feet measuring up to 2.5 inches in length!"
Evo 3
Reward: 28 Dino Bucks and 11,665 Food
"Its name, Pyroraptor, means 'fire thief.' It has nothing to do with the dinosaur, but the forest fire that led to its discovery."
Evo 4
Reward: 54 Dino Bucks, 18,490 Food and 52 DNA
"Did you know that the Pyroraptor weighed 100-150 pounds? That's the same as an adult male Rottweiler!"
Level-Based Stats
| Level | Unmodified Earning Rates (3 Hours) | Feeding Costs | Life | Attack |
| --- | --- | --- | --- | --- |
| 1 | 75 | 702 | 81 | 31 |
| 2 | 150 | 1,391 | 85 | 33 |
| 3 | 225 | 2,.093 | 90 | 34 |
| 4 | 300 | 2,769 | 94 | 36 |
| 5 | 375 | 3,471 | 99 | 38 |
| 6 | 450 | 4,160 | 103 | 39 |
| 7 | 525 | 4,862 | 108 | 41 |
| 8 | 600 | 5,538 | 112 | 43 |
| 9 | 674 | 6,240 | 117 | 45 |
| 10 | 749 | Evolve (00:30:00 @ 50 DNA) | 121 | 46 |
| 11 | 1,648 | 5,083 | 157 | 60 |
| 12 | 1,798 | 5,538 | 163 | 62 |
| 13 | 1,947 | 6,006 | 168 | 64 |
| 14 | 2,097 | 6,474 | 174 | 66 |
| 15 | 2,247 | 6,942 | 180 | 69 |
| 16 | 2,397 | 7,397 | 185 | 71 |
| 17 | 2,546 | 7,865 | 191 | 73 |
| 18 | 2,696 | 8,320 | 197 | 75 |
| 19 | 2,846 | 8,788 | 202 | 77 |
| 20 | 2,996 | Evolve (01:00:00 @ 60 DNA) | 208 | 79 |
| 21 | 6,290 | 2,333 (5x = 11,665) | 256 | 98 |
| 22 | 6,590 | 2,442 (5x = 12,210) | 263 | 100 |
| 23 | 6,889 | 2,554 (5x = 12,770) | 270 | 103 |
| 24 | 7,189 | 2,663 (5x = 13,315) | 276 | 106 |
| 25 | 7,488 | 2,775 (5x = 13,875) | 283 | 108 |
| 26 | 7,788 | 2,884 (5x = 14,420) | 290 | 111 |
| 27 | 8,088 | 2,996 (5x = 14,980) | 297 | 113 |
| 28 | 8,387 | 3,105 (5x = 15,525) | 303 | 116 |
| 29 | 8,687 | 3,219 (5x = 16,095) | 310 | 118 |
| 30 | 8,986 | Evolve (02:00:00 @ 70 DNA) | 317 | 121 |
| 31 | 18,571 | 3,698 (5x = 18,490) | 377 | 144 |
| 32 | 19,170 | 3,820 (5x = 19,100) | 385 | 147 |
| 33 | 19,769 | 3,939 (5x = 19,695) | 393 | 150 |
| 34 | 20,368 | 4,056 (5x = 20,280) | 401 | 153 |
| 35 | 20,967 | 4,179 (5x = 20,895) | 409 | 156 |
| 36 | 21,566 | 4,296 (5x = 21,480) | 417 | 159 |
| 37 | 22,165 | 4,415 (5x = 22,075) | 425 | 162 |
| 38 | 22,764 | 4,532 (5x = 22,660) | 432 | 165 |
| 39 | 23,363 | 4,654 (5x = 23,270) | 440 | 168 |
| 40 | 23,962 | Fuse (04:00:00 @ 200 DNA) | 448 | 171 |
Trivia
Gallery