This page needs serious attention!
---
This article does not currently meet the standards set at
Park Pedia: The Jurassic Park Wiki. Please feel free to edit it, and pose any
questions you might have on the article's talk page.
Rhamphorhynchus can be created in Jurassic World: The Game as a Rare pterosaur.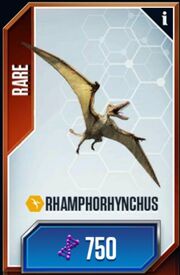 Information
It is unlocked by beating Battle Stage 67. More individuals can be purchased in the market for 750 DNA or found through card packs.
A level 40 Rhamphorhynchus can be fused with a level 40 Unaysaurus to create the hybrid Unayrhynchus.
Cost and Time to Hatch
Availability
Rare
Incubation Period
03:32:00
Placement Cost
750 DNA
Selling Reward
375 DNA
Maximum Earning Rate
55.68 Gold/Minute
Additional Information
Rhamphorhynchus
Appearance
Unlocked Trivia
Evo 1
Reward: 810 Food
"Did you know that Ramphorhynchus means 'beak snout'? Its name comes from the shape of, you guessed it, its beak!"
Evo 2
Reward: 5,865 Food
"The Ramphorhynchus has a sharp beak and needle-like teeth, ideal for snapping up fish and small cephalopods!"
Evo 3
Reward: 30 Bucks and 13,455 Food
"Ramphorhynchus fossils were believed to belong to an ancient bird, it wasn't until 1831 that it was recognized to be a pterosaur!"
Evo 4
Reward: 60 Bucks, 21,330 Food and 60 DNA
"The Rhamphorhynchus has a wingspan of 6 feet. That's the same as a Great blue heron!"
Level-Based Stats
| Level | Unmodified Earning Rates (20 Hours) | Feeding Costs | Life | Attack |
| --- | --- | --- | --- | --- |
| 1 | 209 | 162 (5x = 810) | 104 | 32 |
| 2 | 418 | 321 (5x = 1,605) | 109 | 34 |
| 3 | 627 | 483 (5x = 2,415) | 115 | 36 |
| 4 | 836 | 639 (5x = 3,195) | 121 | 38 |
| 5 | 1,044 | 801 (5x = 4,005) | 127 | 40 |
| 6 | 1,253 | 960 (5x = 4,800) | 132 | 41 |
| 7 | 1,462 | 1,122 (5x = 5,610) | 138 | 43 |
| 8 | 1,671 | 1,278 (5x = 6,390) | 144 | 45 |
| 9 | 1,880 | 1,440 (5x = 7,200) | 150 | 47 |
| 10 | 2,088 | Evolve (00:30:00 @ 50 DNA) | 156 | 49 |
| 11 | 4,594 | 1,173 (5x = 5,865) | 202 | 63 |
| 12 | 5,012 | 1,278 (5x = 6,390) | 209 | 65 |
| 13 | 5,429 | 1,386 (5x = 6,930) | 216 | 68 |
| 14 | 5,847 | 1,494 (5x = 7,470) | 223 | 70 |
| 15 | 6,264 | 1,602 (5x = 8,010) | 230 | 72 |
| 16 | 6,682 | 1,707 (5x = 8,535) | 238 | 74 |
| 17 | 7,100 | 1,815 (5x = 9,075) | 245 | 77 |
| 18 | 7,517 | 1,920 (5x = 9,600) | 252 | 79 |
| 19 | 7,935 | 2,028 (5x = 10,140) | 259 | 81 |
| 20 | 8,352 | Evolve (01:00:00 @ 60 DNA) | 266 | 83 |
| 21 | 17,540 | 13,455 | 328 | 103 |
| 22 | 18,375 | 14,085 | 337 | 105 |
| 23 | 19,210 | 14,730 | 346 | 108 |
| 24 | 20,045 | 15,360 | 354 | 111 |
| 25 | 20,880 | 16,005 | 363 | 113 |
| 26 | 21,716 | 16,635 | 372 | 116 |
| 27 | 22,551 | 17,280 | 380 | 119 |
| 28 | 23,386 | 17,910 | 389 | 122 |
| 29 | 24,221 | 18,570 | 397 | 124 |
| 30 | 25,056 | Evolve (02:00:00 @ 70 DNA) | 406 | 127 |
| 31 | 51,783 | 21,330 | 484 | 151 |
| 32 | 53,453 | 22,035 | 494 | 154 |
| 33 | 55,124 | 22,725 | 504 | 158 |
| 34 | 56,794 | 23,400 | 514 | 161 |
| 35 | 58,464 | 24,105 | 524 | 164 |
| 36 | 60,135 | 24,780 | 534 | 167 |
| 37 | 61,805 | 25,470 | 544 | 170 |
| 38 | 63,476 | 26,145 | 554 | 173 |
| 39 | 65,146 | 26,850 | 564 | 176 |
| 40 | 66,816 | MAX | 575 | 180 |
Gallery