Spinoraptor is creatable in Jurassic World: The Game as a Super Rare Hybrid carnivore.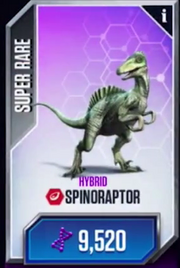 Information
It is unlocked in the market by fusing a level 40 Utahraptor and a level 40 Spinosaurus. Additional individuals can be purchased in the market with 9,520 DNA or found in special card packs.
Cost and Time to Hatch
Availability
Super Rare
Incubation Period
19 hours and 50 minutes
Placement Cost
9,520 DNA
Selling Reward
4,760 DNA
Maximum Earning Rate
806.4 Coins/Minute
Appearance
Unlocked Trivia
Evo 1
Reward: 6,480 Food
"Did you know that Spinoraptor means 'spined thief'?"
Evo 2
Reward: 46,860 Food
"The Spinoraptor is a hybrid dinosaur cloned from Spinosaurus and Utahraptor DNA!"
Evo 3
Reward: 100 Bucks and 214,770 Food
"While smaller than its' giant progenitor, the Spinosaurus, the Spinoraptor is still formidable at 15 feet tall."
Evo 4
Reward: 100 Bucks, 911,220 Food and 762 DNA
"With a 4 foot tall sail, what strikes fear into the Spinoraptor's enemies are her 8 inch claws designed for disembowelment."
Level-Based Stats
| Level | Unmodified Earning Rates (3 hours) | Feeding Costs | Life | Attack |
| --- | --- | --- | --- | --- |
| 1 | 454 | 6,480 | 490 | 187 |
| 2 | 908 | 12,840 | 517 | 198 |
| 3 | 1,361 | 19,320 | 544 | 208 |
| 4 | 1,815 | 25,560 | 572 | 218 |
| 5 | 2,268 | 32,040 | 599 | 229 |
| 6 | 2,722 | 38,400 | 626 | 239 |
| 7 | 3,176 | 44,880 | 653 | 249 |
| 8 | 3,629 | 51,120 | 680 | 260 |
| 9 | 4,083 | 57,600 | 708 | 270 |
| 10 | 4,536 | Evolve (04:00:00 @ 120 DNA) | 735 | 281 |
| 11 | 9,980 | 46,860 | 953 | 364 |
| 12 | 10,887 | 51,090 | 987 | 377 |
| 13 | 11,794 | 55,410 | 1,021 | 390 |
| 14 | 12,701 | 59,550 | 1,055 | 403 |
| 15 | 13,608 | 63,840 | 1,089 | 416 |
| 16 | 14,516 | 68,070 | 1,123 | 429 |
| 17 | 15,423 | 72,390 | 1,157 | 442 |
| 18 | 16,330 | 15,306 (5x = 76,530) | 1,191 | 455 |
| 19 | 17,237 | 16,188 (5x = 80,940) | 1,225 | 468 |
| 20 | 18,144 | Evolve (08:00:00 @ 140 DNA) | 1,259 | 481 |
| 21 | 38,103 | 214,770 | 1,551 | 593 |
| 22 | 39,917 | 224,730 | 1,592 | 608 |
| 23 | 41,732 | 235,140 | 1,633 | 624 |
| 24 | 43,546 | 245,220 | 1,674 | 639 |
| 25 | 45,360 | 255,630 | 1,715 | 655 |
| 26 | 47,175 | 265,590 | 1,755 | 670 |
| 27 | 48,989 | 276,000 | 1,796 | 686 |
| 28 | 50,804 | 286,080 | 1,837 | 702 |
| 29 | 52,618 | 296,490 | 1,878 | 717 |
| 30 | 54,432 | Evolve (12:00:00 @ 160 DNA) | 1,919 | 733 |
| 31 | | (5x = ) | | |
| 32 | | (5x = ) | | |
| 33 | | (5x = ) | | |
| 34 | | (5x = ) | | |
| 35 | 127,008 | 129,474 (5x = ) | 2,477 | 946 |
| 36 | | (5x = ) | | |
| 37 | | (5x = ) | | |
| 38 | | (5x = ) | | |
| 39 | | (5x = ) | | |
| 40 | 145,152 | MAX | 2,715 | 1,037 |
Gallery