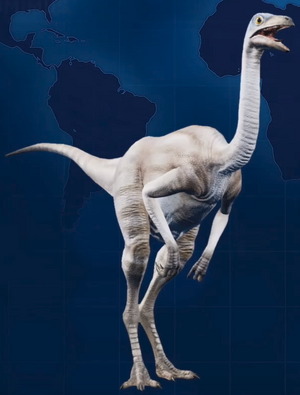 Struthiomimus is a starting dinosaur in Jurassic World: Evolution.
Information
Struthiomimus is available from the start of the game.
Base Stats (at 100% Genome)
Attack
9
Defense
0
Lifespan
61
Resilience
54
Rating
9
Incubation Cost
$30,000
Digsites
Dinosaur Park Formation
Lance Formation
Skins
Tundra Pattern
Savannah Pattern
Woodland Pattern
Rainforest Pattern
Arid Pattern
Tour Information
Release From Hatchery
Dr. Kajal Dua: "A Struthiomimus...interesting. Another dinosaur that furthers the case of a direct linkage to our modern birds."
Jurassic Tour
"
"
Genome
Struthiomimus has 7 Gap ID slots to modify.
Cosmetic
Lifespan
Resilience
Habitat
Stress
Social
Lifespan
Bio
Profile
Struthiomimus is a small ornithomimid which eats small amounts from ground herbivore feders.
They live in very large social groups to help survive predation and prefer to be within a large population of other dinosaur species.
Their territory needs a very small area of grassland with a tiny amount of forest cover.
They are vulnerable to all predators.
Classification

Small Herbivore
Ornithomimidae

Health Requirement

Appetite
30
Metabolism
1.58

Comfort Requirement

Comfort Threshold
10%
Grassland
178 m2
Forest
41 m2
Wetland
0 m2
Ideal Population
0 - 22
Social Group
1 - 20

Disease

Susceptible
Common Cold
Immune
N/A

Medical

Health Recovery
Comfort Recovery
Sedative Resistance
Medical Dart Resistance
Poison Resistance

Food Preferences

Primary Preference
Horsetails
Secondary Preference
Grasses
Palms
Harmed By: 
Paw Paw
Mosses
Cycads
InGen Database
Stats
Era
Late Cretaceous
Family
Ornithomimidae
Genus
Struthiomimus
Height
1.6 m
Weight
150 kg
Length
4.3 m
Feeder Type
Ground Feeder
Description
Struthiomimus was an ornithomimid (bird-like) dinosaur that lived across North America. Its name means 'ostrich mimic' from the long, developed hind legs and bipedal structure indicating a fast runner.
It had large eyes, and no teeth, but with forelimbs and longer claws than other genera of its type. Large numbers of these dinosaurs lived across a vast range.
Discovery
An incomplete holotype species of Struthiomimus was first retrieved in 1901, with a more complex skeleton found at Red Deer River, Alberta in 1914. Other specimens have been found in the Oldman Formationin southern Alberta, and the Lance Formation in Wyoming.
Paleoecology
Sites where Struthiomimus have been found show a remarkable diversity in animal and plant life. There is evidence of freshwater animals indicating water bodies like rivers and lakes.
Trivia
Struthiomimus is the only dinosaur in the game that starts with a viable genome. All the others need to be found in dig sites or researched in the Research Center.
Gallery
Community content is available under
CC-BY-SA
unless otherwise noted.