Stygimoloch
was made creatable in
Jurassic World: The Game
 on July 27, 2018 as a VIP exclusive herbivore.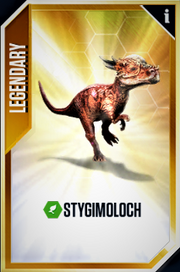 Information
Stygimoloch can only be obtained in VIP exclusive card packs.
Cost and Time to Hatch
Availability
VIP Exclusive
Incubation Period
00:00:00
Placement Cost
N/A
Selling Reward
??? DNA
Maximum Earning Rate
??? Gold/Minute
Additional Information
Appearance
Unlocked Trivia
Evo 1
Reward: 9,000 Food
"Stygimoloch communicates primarily through snorts and grunts, like today's antelopes."
Evo 2
Reward: 76,375 Food
"While their dome heads offer them a defensive weapon, these dinosaurs are usually wary. Most of their aggressive interactions are with each other."
Evo 3
Reward: 100 Bucks and 350,000 Food
"Stygimoloch has a beak as well as teeth, allowing it to effectively nip bite-sized parts of the plants it eats."
Evo 4
Reward: 100 Bucks, 209 VIP Points and 1,479,250 Food
"The spikes at the back of this dinosaur change as they grow, being more prominent in younger Stygimoloch and shorter in the adults."
Level-Based Stats
| Level | Unmodified Earning Rate (6 Hours) | Feeding Costs | Life | Attack |
| --- | --- | --- | --- | --- |
| 1 | 900 | 9,000 | 864 | 270 |
| 2 | 1,800 | 17,750 | 912 | 285 |
| 3 | 2,700 | 26,750 | 960 | 300 |
| 4 | 3,600 | 35,500 | 1,008 | 315 |
| 5 | 4,500 | 44,500 | 1,056 | 330 |
| 6 | 5,400 | 53,250 | 1,104 | 345 |
| 7 | 6,300 | 62,250 | 1,152 | 360 |
| 8 | 7,200 | 71,000 | 1,200 | 375 |
| 9 | 8,100 | 80,000 | 1,248 | 390 |
| 10 | 9,000 | Evolve (00:00:00 @ DNA) | 1,296 | 405 |
| 11 | | | | |
| 12 | | | | |
| 13 | | | | |
| 14 | | | | |
| 15 | | | | |
| 16 | | | | |
| 17 | | | | |
| 18 | | | | |
| 19 | | | | |
| 20 | | Evolve (00:00:00 @ DNA) | | |
| 21 | | | | |
| 22 | | | | |
| 23 | | | | |
| 24 | | | | |
| 25 | | | | |
| 26 | | | | |
| 27 | | | | |
| 28 | | | | |
| 29 | | | | |
| 30 | | Evolve (00:00:00 @ DNA) | | |
| 31 | | | | |
| 32 | | | | |
| 33 | | | | |
| 34 | | | | |
| 35 | | | | |
| 36 | | | | |
| 37 | | | | |
| 38 | | | | |
| 39 | | | | |
| 40 | | Max | | |
Gallery