This page needs serious attention!
---
This article does not currently meet the standards set at
Park Pedia: The Jurassic Park Wiki. Please feel free to edit it, and pose any
questions you might have on the article's talk page.
Suchoripterus
 was made creatable in
Jurassic World: The Game
 on December 11, 2015 as a Legendary hybrid pterosaur.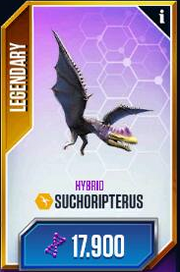 Information
It can be unlocked in the market by fusing a level 40 Dsungaripterus and a level 40 Suchomimus. Additional individuals can be purchased in the market for 17,900 DNA or found through card packs.
Cost and Time to Hatch
Rank
Legendary
Incubation Period
2 Days 17:00:00
Placement Cost
17,900 DNA
Selling Reward
??? DNA
Maximum Earning Rate
1,008 Gold/Minute
Appearance
Unlocked Trivia
Evo 1
Reward:
"Did you know that Suchoripterus means 'crocodile wing'? It gets its name from the shape of its snout, which resembles a crocodile!"
Evo 2
Reward:
"With a wingspan of 10.5 feet, the Suchoripterus is slightly larger than a Griffon vulture!"
Evo 3
Reward:
"The Suchoripterus is an excellent swimmer and it's not uncommon to see flocks of Suchoripterus bathing in shallow water."
Evo 4
Reward:
"Unlike the Dsungaripterus, the Suchoripterus lacks a tweezers-like beak. Instead of prying open shellfish, it crushes it."
Level-Based Stats
| Level | Unmodified Earning Rates (3 hrs) | Feeding Costs | Life | Attack |
| --- | --- | --- | --- | --- |
| 1 | 567 | 9,750 | 680 | 213 |
| 2 | 1,134 | 19,200 | 718 | 224 |
| 3 | 1,701 | 28,913 | 756 | 236 |
| 4 | 2,268 | 38,363 | 794 | 248 |
| 5 | 2,835 | 48,075 | 832 | 260 |
| 6 | 3,402 | 57,525 | 869 | 272 |
| 7 | 3,969 | 67,238 | 907 | 284 |
| 8 | 4,536 | 76,688 | 945 | 295 |
| 9 | 5,103 | 86,400 | 983 | 307 |
| 10 | 5,670 | Evolve (08:00:00 @ 140 DNA) | 1,021 | 319 |
| 11 | 12,474 | 70,500 | 1,323 | 413 |
| 12 | 13,608 | 76,763 | 1,370 | 428 |
| 13 | 14,742 | 83,250 | 1,418 | 443 |
| 14 | 15,876 | 89,588 | 1,465 | 458 |
| 15 | 17,010 | 96,075 | 1,512 | 473 |
| 16 | 18,144 | 102,338 | 1,559 | 487 |
| 17 | 19,278 | 108,825 | 1,607 | 502 |
| 18 | 20,412 | 115,163 | 1,654 | 517 |
| 19 | 21,546 | 121,650 | 1,701 | 532 |
| 20 | 22,680 | Evolve () | 1,748 | 546 |
| 21 | | | | |
| 22 | | | | |
| 23 | | | | |
| 24 | | | | |
| 25 | | (5x = ) | | |
| 26 | | | | |
| 27 | | | | |
| 28 | 65,504 | 68,273 (5x = 341,365) | 2,552 | 797 |
| 29 | 65,772 | 70,740 (5x = 353,700) | 2,608 | 815 |
| 30 | 68,040 | Evolve (24:00:00 @ 180 DNA) | 2,665 | 833 |
| 31 | 140,616 | 171,810 (5x = 859050) | 3,175 | 992 |
| 32 | 145,152 | 177,263 (5x = 886315) | 3,241 | 1,013 |
| 33 | 149,688 | 182,880 (5x = 914400) | 3,308 | 1,034 |
| 34 | 154,224 | 188,333 (5x = 941665) | 3,374 | 1,054 |
| 35 | 158,760 | 193,958 (5x = 969790) | 3,440 | 1,075 |
| 36 | 163,296 | 199,418 (5x = 997090) | 3,506 | 1,096 |
| 37 | 167,832 | 205,043 (5x = 1025215) | 3,572 | 1,116 |
| 38 | 172,368 | 210,518 (5x = 1052590) | 3,638 | 1,137 |
| 39 | 176,904 | 216,113 (5x = 1080565) | 3,705 | 1,158 |
| 40 | 181,440 | Max | 3,771 | 1,178 |
Gallery