This page needs serious attention!
---
This article does not currently meet the standards set at
Park Pedia: The Jurassic Park Wiki. Please feel free to edit it, and pose any
questions you might have on the article's talk page.
Suprannotitan is creatable in Jurassic World: The Game as a super rare hybrid carnivore.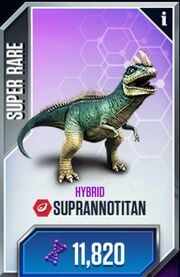 Information
It is unlocked in the market by fusing a level 40 Supersaurus and a level 40 Tyrannotitan. Additional individuals can be purchased in the market for 11,820 DNA or found in special card packs.
Cost and Time to Hatch
Availability
Super rare Hybrid
Incubation Period
1D:03H
Placement Cost
11,820 DNA
Selling Reward

5,910

 DNA
Maximum Earning Rate
502.66 Gold/Minute
Unlocked Trivia
Evo 1
Reward: 7,605 Food
"Did you know that Suprannotitan means 'super tyrant titan'? What a title!"
Evo 2
Reward: 54,985 Food
"Weighting a staggering 15 tons, the Suprannotitan is one of the largest carcharodontosaurids (shark-toothed lizards)!"
Evo 3
Reward: 100 Bucks and 252,000 Food
"An adult Suprannotitan can reach up to 50 feet in length and 20 feet in height!"
Evo 4
Reward: 100 Bucks, 1,069,165 Food and 945 DNA
"The Suprannotitan is much stockier than its Tyrannotitan progenitor. Its powerful legs allow it run up to 40 mph!"
Level-Based Stats
| Level | Unmodified Earning Rates (8Hours) | Feeding Costs | Life | Attack |
| --- | --- | --- | --- | --- |
| 1 | 754 | 7,604 | 607 | 210 |
| 2 | 1,508 | 15,066 | 640 | 221 |
| 3 | 2,262 | 22,669 | 674 | 233 |
| 4 | 3,016 | 29,991 | 708 | 245 |
| 5 | 3,770 | 37,594 | 742 | 256 |
| 6 | 4,524 | 45,056 | 775 | 268 |
| 7 | 5,278 | 52,660 | 809 | 279 |
| 8 | 6,032 | 59,981 | 843 | 291 |
| 9 | 6,786 | 67,584 | 876 | 303 |
| 10 | 7,540 | Evolve (04H:00M @ DNA 120) | 910 | 314 |
| 11 | | | | |
| 12 | | | | |
| 13 | | | | |
| 14 | | | | |
| 15 | | | | |
| 16 | | | | |
| 17 | | | | |
| 18 | | | | |
| 19 | | | | |
| 20 | 30,160 | Evolve (00:00:00 @ DNA) | 1559 | 538 |
| 21 | | | | |
| 22 | | | | |
| 23 | | | | |
| 24 | | | | |
| 25 | | | | |
| 26 | | | | |
| 27 | | | | |
| 28 | | | | |
| 29 | | | | |
| 30 | 90,479 | Evolve (00:00:00 @ DNA) | 2376 | 821 |
| 31 | | | | |
| 32 | | | | |
| 33 | | | | |
| 34 | | | | |
| 35 | | | | |
| 36 | | | | |
| 37 | | | | |
| 38 | | | | |
| 39 | | | | |
| 40 | 241,275 | MAX | 3362 | 1161 |
Gallery