This page needs serious attention!
---
This article does not currently meet the standards set at
Park Pedia: The Jurassic Park Wiki. Please feel free to edit it, and pose any
questions you might have on the article's talk page.
Suprannotitan is creatable in Jurassic World: The Game as a super rare hybrid carnivore.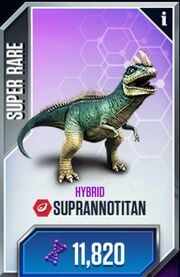 Information
It is unlocked in the market by fusing a level 40 Supersaurus and a level 40 Tyrannotitan. Additional individuals can be purchased in the market for 11,820 DNA or found in special card packs.
Cost and incubation time
Type
Hybrid
Subtype
Carnivore
Rarity
Super Rare
Maximum earning rate
(coins per minute)
503
Costs and Incubation Times
Level
Cost
Incubation time
(D:HH:MM)
Selling cost
1
11,820
1:03:00
5,910
11
120
0:04:00
21
0:00:00
31
0:00:00
Trivia
Level
Rewards
Trivia
Bucks
Food
DNA
LP
Evo 1
—
7,605
—
—
Did you know that Suprannotitan means 'super tyrant titan'? What a title!
Evo 2
—
54,985
—
—
Weighting a staggering 15 tons, the Suprannotitan is one of the largest carcharodontosaurids (shark-toothed lizards)!
Evo 3
100
252,000
—
—
An adult Suprannotitan can reach up to 50 feet in length and 20 feet in height!
Evo 4
100
1,069,165
945
—
The Suprannotitan is much stockier than its Tyrannotitan progenitor. Its powerful legs allow it run up to 40 mph!
Stats
Level
Health
Attack
Earning rates
(per 8 hours)
Feeding costs
1
607
210
754
7,604
2
640
221
1,508
15,066
3
674
233
2,262
22,669
4
708
245
3,016
29,991
5
742
256
3,770
37,594
6
775
268
4,524
45,056
7
809
279
5,278
52,660
8
843
291
6,032
59,981
9
876
303
6,786
67,584
10
910
314
7,540
Evolve
11
1,180
408
16,588
54,983
12
1,222
422
18,096
59,946
13
1,264
437
19,604
65,015
14
1,306
451
21,112
69,872
15
1,348
466
22,620
74,906
16
1,390
480
24,128
79,869
17
1,433
495
25,636
84,938
18
1,475
509
27,144
89,796
19
1,517
524
28,652
94,970
20
1,559
538
30,160
Evolve
21
22
23
24
25
26
27
28
29
30
2,376
821
90,479
Evolve
31
32
33
34
35
36
37
38
39
40
3,362
1,161
241,275
Max
Gallery