This page needs serious attention!
---
This article does not currently meet the standards set at
Park Pedia: The Jurassic Park Wiki. Please feel free to edit it, and pose any
questions you might have on the article's talk page.
Tapejalosaurus
is creatable in
Jurassic World: The Game
as a rare hybrid pterosaur.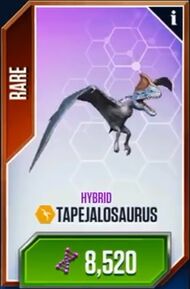 Information
It is unlocked in the market by fusing a level 40 Tapejara and a level 40 Monolophosaurus. Afterward, it can be bought from the market for 8,520 DNA. It can also be found in special card packs.
Cost and Time to Hatch
Availability
Rare
Incubation Period
00:14:03
Placement Cost
8,520 DNA
Selling Reward
4,260 DNA
Maximum Earning Rate
351.625 Coins/Minute
Appearance
Unlocked Trivia
Evo 1
Reward: 
"The Tapejalosaurus is a hybrid of the fruit eating pterosaur, Tapejara, and the carniverous Monolophosaurus!"
Evo 2
Reward: 35,105 Food
"The two strong legs of the Tapejalosaurus make it one of the best dinosaurs at snatching prey from the air!"
Evo 3
Reward: 100 Dino Bucks and 80,225 
"Although it has sharp teeth, the Tapejalosaurus is actually an omnivore, eating both fruit and meat!"
Evo 4
Reward: 100 Dino Bucks, 169,775 Food and 681 DNA
"As Tapejalosaurus grow, so do their impressive fringes. They use them mostly to intimidate each other!"
Level-Bases Stats
| Level | Unmodified Earning Rates (12 Hours) | Feeding Costs | Life | Attack |
| --- | --- | --- | --- | --- |
| 1 | 792 | 4,844 | 543 | 170 |
| 2 | 1,583 | 9,598 | 573 | 179 |
| 3 | 2,374 | 14,442 | 603 | 188 |
| 4 | 3,165 | 19,107 | 633 | 198 |
| 5 | 3,956 | 23,950 | 663 | 207 |
| 6 | 4,747 | 28,704 | 693 | 217 |
| 7 | 5,539 | 33,548 | 723 | 226 |
| 8 | 6,330 | 38,213 | 754 | 235 |
| 9 | 7,121 | 43,056 | 784 | 245 |
| 10 | 7,912 | Evolve (00:02:00 @ 100 DNA) | 814 | 254 |
| 11 | 17,406 | 35,103 | 1055 | 330 |
| 12 | 18,988 | 38,272 | 1093 | 341 |
| 13 | 20,571 | 41,502 | 1130 | 353 |
| 14 | 22,153 | 44,611 | 1168 | 365 |
| 15 | 23.735 | 47,840 | 1206 | 377 |
| 16 | 25,317 | 51,010 | 1243 | 389 |
| 17 | 29,300 | 54,239 | 1281 | 400 |
| 18 | 20,482 | 57,349 | 1319 | 412 |
| 19 | 30,064 | 60,638 | 1356 | 424 |
| 20 | 31,647 | Evolve (00:04:00 @ 120 DNA) | 1394 | 436 |
| 21 | 66,457 | 80,222 | 1718 | 537 |
| 22 | 69,622 | 83,960 | 1763 | 551 |
| 23 | 72,787 | 87,847 | 1808 | 565 |
| 24 | 75,951 | 91,584 | 1854 | 579 |
| 25 | 79,116 | 95,501 | 1899 | 593 |
| 26 | 82,281 | 99,239 | 1944 | 608 |
| 27 | 85,445 | 103,126 | 1989 | 622 |
| 28 | 88,610 | 106,863 | 2035 | 636 |
| 29 | 91,774 | 110,720 | 2080 | 650 |
| 30 | 94,939 | Evolve (00:08:00 @ 140 DNA) | 2125 | 664 |
| 31 | 196,207 | 169,773 | 2532 | 791 |
| 32 | 202,536 | 175,155 | 2585 | 808 |
| 33 | 208,865 | 180,716 | 2637 | 824 |
| 34 | 215,184 | 186,098 | 2690 | 841 |
| 35 | 221,524 | 191,630 | 2743 | 857 |
| 36 | 227,853 | 197,041 | 2796 | 874 |
| 37 | 234,182 | 202,603 | 2846 | 890 |
| 38 | 240,511 | 207,985 | 2901 | 907 |
| 39 | 246,841 | 213,546 | 2954 | 923 |
| 40 | 253,170 | MAX | 3,007 | 940 |
Gallery