Tupuxuara
was made creatable in
Jurassic World: The Game
on September 14, 2018 as a Tournament pterosaur.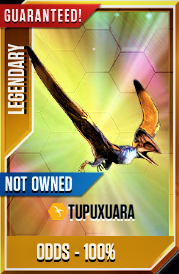 Information
Tupuxuara is unlocked by winning a Tupuxuara pack from either the roulette or if the player places in the top 1% of the Tupuxuara tournament. Additional individuals can be purchased in the market for 8000 DNA or found through card packs.
Cost and Time to Hatch
Availability
Tournament
Incubation Period
7 Days
Placement Cost

8,000 DNA

Selling Reward
4,000 DNA
Maximum Earning Rate
??? Gold/Minute
Additional Information
Appearance
Unlocked Trivia
Evo 1
Reward: 5,580 Food
"Tupuxuara is named after a spirit in Tupi mythology."
Evo 2
Reward: 47,355 Food
"Tupuxuara's wingspan can reach up to 5 meters (15 feet) or more!"
Evo 3
Reward: 217,000 Food and 100 Dino Bucks
"Paleontologists believe the crest of the Tupuxuara grew as the creature aged, like a lion's mane."
Evo 4
Reward: 134,135 Food, 100 Dino Bucks and ??? Loyalty Points
"Tupuxuara is a member of the Thalassodromidae family, which flourished in Brazil during the early Cretaceous."
Level-Based Stats
| Level | Unmodified Earning Rates (1 hour) | Feeding Costs | Life | Attack |
| --- | --- | --- | --- | --- |
| 1 | 372 | 5,580 | 536 | 167 |
| 2 | 744 | 11,005 | 565 | 177 |
| 3 | 1,116 | 16,585 | 595 | 186 |
| 4 | 1,488 | 22,010 | 625 | 195 |
| 5 | 1,860 | 27,590 | 655 | 205 |
| 6 | 2,232 | 33,015 | 684 | 214 |
| 7 | 2,604 | 38,595 | 714 | 223 |
| 8 | 2,976 | 44,020 | 744 | 233 |
| 9 | 3,348 | 49,600 | 774 | 242 |
| 10 | 3,720 | 2 hours @ 70 DNA | 804 | 251 |
| 11 | 8,184 | 47,353 | 1,042 | 326 |
| 12 | 8,928 | 51,693 | 1,079 | 337 |
| 13 | 9,672 | 56,033 | 1,116 | 349 |
| 14 | 10,416 | 60,218 | 1,153 | 360 |
| 15 | 11,160 | 64,480 | 1,190 | 372 |
| 16 | 11,904 | 68,820 | 1,228 | 384 |
| 17 | 12,648 | 73,160 | 1,265 | 395 |
| 18 | 13,392 | 77,423 | 1,302 | 407 |
| 19 | 14,136 | 81,763 | 1,339 | 419 |
| 20 | 14,880 | 4 hours @ 80 DNA | 1,376 | 430 |
| 21 | 31,248 | 217,000 | 1,696 | 530 |
| 22 | 32,736 | 227,075 | 1,741 | 544 |
| 23 | 34,224 | 237,848 | 1,786 | 558 |
| 24 | 35,712 | 247,845 | 1,830 | 572 |
| 25 | 37,200 | 258,385 | 1,875 | 586 |
| 26 | 38,688 | 268,538 | 1,920 | 600 |
| 27 | 40,176 | 278,923 | 1,964 | 614 |
| 28 | 41,664 | 289,153 | 2,009 | 628 |
| 29 | 43,152 | 299,538 | 2,053 | 642 |
| 30 | 44,640 | 8 hours @ 90 DNA | 2,098 | 656 |
| 31 | 92,256 | 917,135 | 2,500 | 781 |
| 32 | 95,232 | 946,043 | 2,552 | 797 |
| 33 | 98,208 | 976,578 | 2,604 | 814 |
| 34 | 101,184 | 1,005,640 | 2,656 | 830 |
| 35 | 104,160 | 1,035,555 | 2,708 | 846 |
| 36 | 107,136 | 1,064,618 | 2,760 | 863 |
| 37 | 110,112 | 1,094,688 | 2,812 | 879 |
| 38 | 113,088 | 1,123,750 | 2,864 | 895 |
| 39 | 116,064 | 1,153,433 | 2,916 | 911 |
| 40 | 119,040 | MAX LEVEL | 2,969 | 928 |
Gallery